50 of the Best Golf Courses to Play in Autumn
By: Golfshake Editor | Thu 10 Sep 2020 |
Comments
---
The nights are drawing in and winter is within reach, but thankfully we have that glorious transition season of autumn to enjoy first. Temperatures are a little cooler, you'll start to see those striking red and brown leaves on the fairways, but golf courses remain in magnificent shape and are just waiting to be experienced.
Where should you play? The Golfshake Course Section is a helpful tool to help you discover Highly Recommended venues to visit, packed with over a quarter of a million independent reviews submitted by the Golfshake Community. However, for this time of year, we wanted to guide you a little more specifically, delving into the key data to uncover the layouts that are most appropriate to play in the autumn.
Analysing over 15,000 reviews, we have isolated those entered during the past three years in the months of September, October and November, pointing you in the direction of courses that are highly rated for this season.
Located throughout each corner of the United Kingdom and coming at a variety of prices, it's the moment to start planning your schedule for the months ahead and selecting which of our 50 of the Best Golf Courses to Play in Autumn that you are going to sample!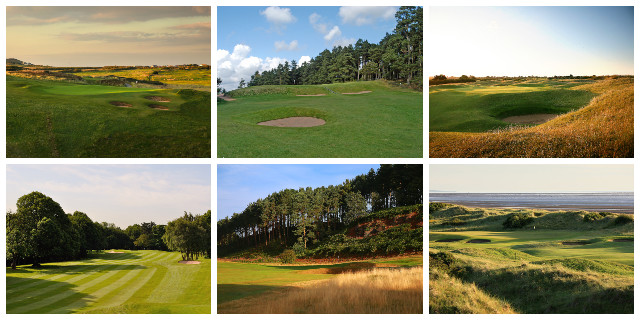 Region: West Midlands
Autumn Rating: 5.00
Region: Scotland
Autumn Rating: 5.00
Region: Scotland
Autumn Rating: 5.00
Region: East Midlands
Autumn Rating: 5.00
Conwy (Caernarvonshire) Golf Club
Region: Wales
Autumn Rating: 5.00
Region: North of England
Autumn Rating:
Region: East of England
Autumn Rating: 4.91
Region: North of England
Autumn Rating: 4.89
Region: East of England
Autumn Rating: 4.89
Region: North of England
Autumn Rating: 4.88
Region: South West of England
Autumn Rating: 4.88
Region: South West of England
Autumn Rating: 4.86
Region: South of England
Autumn Rating: 4.84
Region: South of England
Autumn Rating: 4.83
Region: South East of England
Autumn Rating: 4.83
Region: East Midlands
Autumn Rating: 4.83
Region: South of England
Autumn Rating: 4.83
Region: East of England
Autumn Rating: 4.83
Region: South East of England
Autumn Rating: 4.83
Region: Scotland
Autumn Rating: 4.83
Churchill & Blakedown Golf Club
Region: West Midlands
Autumn Rating: 4.82
Region: East Midlands
Autumn Rating: 4.80
Region: East Midlands
Autumn Rating: 4.80
Region: West Midlands
Autumn Rating: 4.80
Region: East Midlands
Autumn Rating: 4.80
Region: North of England
Autumn Rating: 4.80
Region: North of England
Autumn Rating: 4.80
Region: Scotland
Autumn Rating: 4.80
Region: East of England
Autumn Rating: 4.80
Region: East of England
Autumn Rating: 4.80
Region: South East of England
Autumn Rating: 4.80
Region: Wales
Autumn Rating: 4.80
Region: North of England
Autumn Rating: 4.79
Region: Scotland
Autumn Rating: 4.75
Region: West Midlands
Autumn Rating: 4.75
Region: Scotland
Autumn Rating: 4.73
Region: West Midlands
Autumn Rating: 4.72
Southport & Ainsdale Golf Club
Region: North of England
Autumn Rating: 4.71
Region: North of England
Autumn Rating: 4.71
Region: South East of England
Autumn Rating: 4.71
Region: Northern Ireland
Autumn Rating: 4.71
Region: South of England
Autumn Rating: 4.71
Region: Wales
Autumn Rating: 4.71
Region: East Midlands
Autumn Rating: 4.71
Region: East of England
Autumn Rating: 4.71
The Point of Polzeath Golf Club
Region: South West of England
Autumn Rating: 4.71
Region: South East of England
Autumn Rating: 4.70
Region: North of England
Autumn Rating: 4.70
Region: South West of England
Autumn Rating: 4.70
Region: South West of England
Autumn Rating: 4.67
---
Related Content
100 Must Play Golf Courses in 2020
50 Great Value Golf Courses to Play in 2020
---
Related Content: Wales travel Scotland Northern Ireland golfshake England Courses Best of
What do you think? leave your comments below (Comments)
---
Leave your comments below
comments powered by

Disqus
Plan Your Next Round
Ardglass Golf Club
County Down
from £22.00
Save 50%
Castlerock Golf Club
County Londonderry
Galgorm Castle Golf Club
County Antrim
from £13.00
Save 23%
More Golf Course & Travel Features
Plan your next golf break with Golfbreaks.com