Golf Score Tracker & Game Analysis
Track your scores & stats online, benchmark your game and identify strengths & weaknesses on your quest to playing better golf

Our Golf Score Tracker will allow your to track your golf rounds & stats online. Add unlimited rounds to our Golf Score Tracker for free including advanced stats; GIR, FIR, Putts - to get in-depth analysis of your game & stats to see how you really stack up. Track your scores online or via the Golfshake iOS or Android Apps.
Signup Today Free - get access to our system for free today
BENEFITS | FEATURES | PRICING | WHY TRACK YOUR STATS? | WHAT OUR MEMBERS SAY | JOIN FREE
NEW ON COURSE STAT TRACKING: Track your stats, visual performance & practise sessions with our stat tracking cards. Find out more >>>
---
What we provide - Benchmark your game
Track Scores & Stats
Benchmark your game to improve.
Track your scores plus add advance stats including; GIR, FIR, Putts
In depth round analysis & overall scoring performance
Easy to use reports in graphical format
Golf rounds inputted in minutes
Easy to use basic or advanced records
Add detailed golf analysis of every round
History of all rounds kept
Detailed summary of Course Stats
Eclectic golf performance
Get Inside Your Game
Indentify your strength & weaknesses plus set goals & targets.
Set goals & targets to focus your game
Your game benchmarked across 14 key stats
Access to over 50 stats & 30 reports
Proven to help save on average 3 shots
24 / 7 access 365 days a year
No additional software needed
Tracks golf handicap online
Records UK stableford points
Compare golf scores with Buddies
Track your game & analyse your stats to identify your strengths & weaknesses! Our golf score tracking and golf handicap service enables you to track your rounds, analyse your game and get a golf handicap for free. Above all it enables you to improve your golf!
---
Features: See How Your Game Stacks Up
Track Unlimited Rounds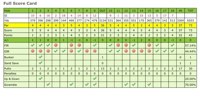 Free online golf handicap and golf score tracking service, track unlimited rounds on multiple courses. Track your scores online no need to retain old score cards, analyse every round & improve your game!
Set Goals Monitor Your Game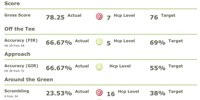 Set goals and monitor your performance per round and for all rounds across 14 key stats to help improve your game.
In-depth Reports & Analysis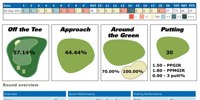 With access to over 30 reports and 50 individual round stats you can really get into your game and see how your golf game stacks up.
Know Your Strengths & Weaknesses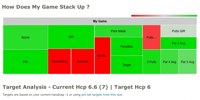 Are you a 10 handicapper who putts like a 24 handicap golfer ? Track your rounds online and we will show your your strengths and weaknesses.
Maintain Your Golf Handicap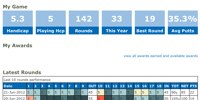 Maintain your golf handicap online, get a recognised handicap free, quickly and easily through our simple to use score tracking system.
On Course Stat Tracking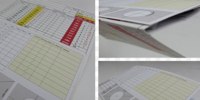 Track your scores on course with our easy to use round recorder & visual shot tracking score cards.
Group Golf Handicaps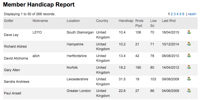 Easily track your groups handicaps, simply by entering their scores. There's no need to worry about handicap cuts for your next society day, Golfshake does it all for you.
Join a group near you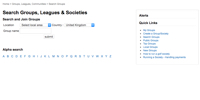 Are you looking to meet playing partners online and join a group or society near you? If so you can request to join one of our many Public Golf Groups. First register for free as a member and then search for one near you.
---
Why Track Your Stats Online?
The average golfer saves 3 shots over a year tracking their scores online
Adding a round and stats takes minutes and the system will automatically send you an email round report showing your stats plus you can view a round snapshot which you can share online via your social networks as well as in-depth data from the round report and a game breakdown from the 'How did I do' report.
The score tracker provides access to over 50 stats for an individual rounds plus over 30 reports to really show how your game stacks up. Tracking your scores is proven to save 3 shots plus remember even the Pros do it!

GET INSIDE YOUR GAME WITH GOLFSHAKE STATS | CHALLENGE YOUR GAME WITH GOALS
Full Golf Stats and Reports Provided
The following is a full breakdown of the details stats and reporting provided which is fully featured within our Premium account service.
50+ individual round stats
Rounds
Holes
Score
Score Nett
Front 9 Score
Back 9 Score
Stableford Pts
Pts per hole
Hole in ones
Holes at Par
Holes over par
Holes under par
Albatross
Birdie
Par
Bogey
Double Bogey
Triple Bogey+++
FIR
GIR
GIR per FIR
Scrambling
Up and Down
Sand Saves
Putts Per Round
Putts per hole
Putts per stroke
Putts per GIR
Putts per GIR missed
0 Putts
1 putts
2 putts
3 putts
4 putts
Penalties per round
Penalties per hole
Pars made
Birdie chances converted
Par 3 score av.
Par 4 score av.
Par 5 score av.
FIR par 4 av
FIR par 5 av
GIR par 3 av
GIR par 4 av
GIR par 5 av
Putts par 3 av
Putts par 4 av
Putts par 5 av
Nett Par Run
Nett Bogey+ run
Bounce back
Head drop (reverse bounce back)
30+ reports
Dashboard - snapshot, rounds overview
Year Analysis - rounds, par, hcp etc
Handicap report - up to last 100 rounds
Full stats analysis - 50+ stats

analysis of recent rounds
analysis of last 5 rounds
analysis of last 5 years
analysis of current & years
analysis of year month by month

Round list/secletor - by score, points, stats
Snapshot analysis by course inc graphs
Eclectic score by course
Overview of courses played
Handicap & stats history report
Rounds by course list
Graphical analysis: Scoring
Graphical analysis: Putting
Graphical analysis: Advance scoring
10+ old reports and graphical analysis
Trend: Visual snapshot of stats
Trend: Target/handicap performance
Trend: Scoring distribution
Trend: Putting distribution
---
Pricing
The Golfshake score tracker is completely free to use and will track unlimited rounds on multiple courses including your advance stats. Simply sign up and join today.
Premium Service
The Premium service provides access to some additional in-depth stats & analysis which is only £12.95 per year.
Click here to register free today
---
What Our Members Say
Been with Golfshake for about 2years and have introduced it to our society which we now use to sort our handicaps and stats....very impressed.
Mayfield - Nov 2014
I administer MXXXXh Golfers and want to compliment you on an excellent golf software for a small and new society like ours.
Steve - Aug 2014
A big thanks for providing society services. This has been invaluable to me as I was left holding the responsibility for our new society. Thankfully we like to keep things as simple as possible
Steve - Jun 2013
hats off for your brain child, absolte cracker of a site and it's got our society taking their golf very very seriously!
Ste - Jul 2010
I'm just in the process of starting a golf society, came across your top notch website and it seems the best way to track handicaps and store data for our group.
Stephen - May 2010
I think the site is great, it's what I've been looking for, hopefully it will prevent "bandit" accusations from surfacing amongst our little group of golfers and I hope to be able to attract other members to the site.
Tom - Oct 2007
---
For more information and details on the Terms & Conditions for the Golfshake services visit our Services Terms page.