Manage Your Golf Group, Society or League Online
Looking for an easy way to track your golf society scores and golf handicaps for your society members online?
The Golfshake Group and Society Management Score Tracker allows you to run your golf society online, manage your members' golf handicaps & rounds, record & maintain golf days, events & your society leaderboards. The website provides golf group organisers with a comprehensive system for managing every aspect of your group including tracking members' scores and handicaps, organising events and posting results & news.
Signup Today Free - get access to our system for free today
BENEFITS | FEATURES | PRICING | PROS/COACHES GROUP | WHAT OUR MEMBERS SAY | JOIN FREE
---
What we provide - Group, Game, Scores & Handicaps
Track Scores & Handicaps for All Members
No more bandits! Keep track of your groups handicaps.
Easy way to track scores & handicaps for golf societies
Run accounts for non Golfshake members
Track the golf handicaps for all your group members or just your mates
Compare scores, results and stats
Virtual leaderboard (based on points, FIR, GIR, putts)
Member golf handicap & stats report in PDF format
Member report and stats overview
Maintain your group history online
Member reports & stats comparison analysis
Online Management for your Golf Group
Set up your own group and invite your friends to join.
Run/manage your group online from 4 to 100+ members
Run events with multiple tee options for mixed events
Pre & post event PDF reports for tee time/groups plus final results
Event analysis, best holes, hole difficultities, player stats ie par avgs
Leader boards for events, season, tours or mini leagues
Leaderboard scoring options including stableford points total or avgs
Leaderboard flexibility to allow best x of x events
Contact all Golfshake members via the inbuilt private message system
Each group gets it's own mini site (options for public access)
Help Guide: For further information, help, tutorials and advice on using the system visit the help section.
HOW TO USE GOLFSHAKE FOR MULTI PLAYER SCORING | SCORING FOR EVENTS & SOCIETY COMPETITIONS
---
Features: Run Your Golf Group, Society or League online
System Overview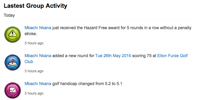 Get your own mini site to enable you to easily manage your group. A news feed allows you to keep your members up to date with the latest goings on within your group plus a private virtual leaderboard lets you know who is performing well and more.
Group Admin Functions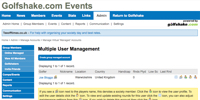 With a Golfshake group all of your groups events, results, pics and news get stored in your own archive. You can easily organise events online plus keep track of subscription records and data lists etc.
Group Golf Handicaps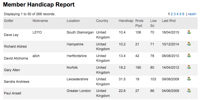 Easily track your groups handicaps, simply by entering their scores. There's no need to worry about handicap cuts for your next society day, Golfshake does it all for you.
Join a group near you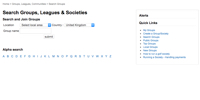 Are you looking to meet playing partners online and join a group or society near you? If so you can request to join one of our many Public Golf Groups. First register for free as a member and then search for one near you.
---
Groups for Golf Pros & Coaches
Create a group to track your students & pupils all in once place. Quickly access in-depth reports, stats, analysis & recent rounds to keep up to date with the golfers you teach. Plus use the stats & leader boards to add a level of competition between your golf group.

GET INSIDE YOUR GAME WITH GOLFSHAKE STATS | CHALLENGE YOUR GAME WITH GOALS
---
Pricing
The Golfshake group service is free to create a group online and is free to use most services and functionality. Simply sign up and join today.
Premium Service
If you need to create accounts for 4 or more players to track scores and handicaps then our Premium account is required which is only £14.95 per year.
Platinum Group Service - Group Handicap Cards
Starting from £49.95 for 8 players our Platinum Service Group account will also provide offline golf handicap cards for your group members.
Click here to register free today
---
What Our Members Say
The support team is fantastic! We are a pretty new society and we have decided to use Golfshake as our score/handicap platform. It's excellent we manage all our communications, members handicap as well as events for our society leaderboard. We found the support from the Golfshake team absolutely fantastic. Highly recommend other societies to use it.
I think the groups section is superb and really helps with keeping track of our groups handicaps and leaderboard.
Since i started with golfshake some years ago i find it very easy to use and full of info that is very useful in running a society scores/handicaps etc
I think you've put together something really quite fabulous. The scoring and stats tracking software is incredibly useful.
Basic functionality is really good for our small group of friends playing social golf. Long may it continue!
For me the stats are priceless.... Knowing how well I played compared to how well I thought I played .... 3 putts, gir, fir, etc have really helped me focus on individual aspects for improvement, one at a time.
I can honestly say that golfshake has helped me improve my game by providing the data I need to tell me what I'm doing well and areas to improve. Thanks
Great system, have been keeping my stats for 25 years, find this very helpful, thanks
I came across golfshake by accident and am blown away with the functionality.
Wow! Love your website so much and all the stats it provides. I have already recommended it to all my golf playing friends.
I love the new graphics and the comparisons of GIR, FIR etc with averages for handicap is incredibly helpful.
---
For more information and details on the Terms & Conditions for the Golfshake services visit our Services Terms page.