Golf Handicap Free Online
Get a Golf Handicap - Simply track your golf scores online to get a free golf handicap with the Golfshake handicap service
2018 UPDATES: Handicap allowance now up to 54
Track & maintain your golf handicap online with our easy to use free online golf handicap calculator which will provide a recognised golf handicap & proof of your social playing handicap. Signup here and get a handicap.

Our site will allow you to track unlimited rounds on multiple courses for free & is used by over 90,000 golfers who have tracked over 2 million rounds of golf! Plus the system will allow golf societies & social groups to maintain multiple golfer handicaps. Track your scores online or via the Golfshake iOS or Android Apps.
Signup Today Free - get access to our system for free today
BENEFITS | FEATURES | PRICING | HOW WE CALCULATE GOLF HANDICAPS | OFFICIAL HANDICAPS | JOIN FREE
---
Why use our golf handicap service?
The Golfshake online golf handicap service provides a free, quick and easy way for non club members, non competitive golfers & group/society golfers to easily know their golf handicap and compete against other golfers on a level playing field in what makes this game so great.
Simply enter 3 rounds on our golf score tracker and we will start tracking your handicap. The golf handicap provided by Golfshake is widely recognised as proof of your social playing handicap.
What we provide
---
Free Golf Handicap Service
Get a recognised golf handicap online simply by adding your golf rounds to the Golfshake score tracker system.
PDF golf handicap certificate
The printable golf handicap certificate, showing your last 25 rounds, is recognised at courses all over the world as proof of your playing ability.
Handicap card service
The golf handicap card service provides a credit card sized handicap card that can fit in your wallet. Click to find out more about our handicap card service.
Group/society handicaps
Track the handicaps of the members of your group or society, quickly and easily. We will work out all the handicap adjustments for you.
Don't get thrown off course prove your Handicap
Become a Platinum Account Member and get a credit card sized handicap card that you can carry with you at all times.
What our members say
---
A very useful site. Golfshake allows me to track my true handicap as I mainly play non qualifying rounds due to work commitments.
Mark - Dec 2014
As I am not a member of a golf club any more the handicap section keeps me still being competitive. All the other bits also helpful Thanks
Jim - Sep 2014
I wanted to say how useful I find the site as a way of keeping track of my handicap. I've been playing for a number of years but hadn't ever looked to adjust the handicap I received when I was a junior playing at my first (and only!) club. Being able to input my scores is increasing my enjoyment as I'm looking to better myself every time I play.
Colin - Aug 2013
Brilliant site. The best golf site for recreational players by a country mile. Keep it up
Andy - Mar 2012
---
Golfshake.com is Europe's leading golf handicap & score tracking site
Track Unlimited Rounds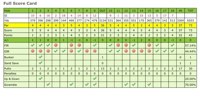 Free online golf handicap and golf score tracking service, track unlimited rounds on multiple courses. Track your scores online no need to retain old score cards, analyse every round & improve your game!
In-depth Reports & Analysis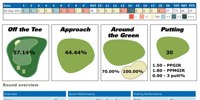 With access to over 30 reports and 50 individual round stats you can really get into your game and see how your golf game stacks up.
Maintain Your Golf Handicap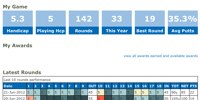 Maintain your golf handicap online, get a recognised handicap free, quickly and easily through our simple to use score tracking system.
Prove Your Handicap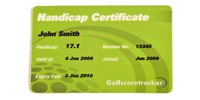 Need to provide your handicap? then check out our optional Premium services starting from £7.95 which provide a full history handicap certificates and member cards.
---
Pricing
The standard service which will track unlimited rounds on multiple courses and maintain your golf handicap is completely free to use. The free service will provide access to some additional reports & analysis. Simply sign up and join today.
Premium Service
If you want access to in-depth stats & analysis for your game through our leading Golfscoretracker or access to our printer friendly PDF handicap report then the Premium account is required which is starts from only £7.95 per year.
Platinum Service
Our Platinum account is only £14.95 which provides all of our Premium account features plus additional member golf handicap card and discount and vouchers from our key partners.
To compare our account packages visit our service compare page.
Click here to register free today
---
How We Calculate Golf Handicaps
2018 Update allow for tracking of golf handicaps up to 54
Our simple system will begin tracking your golf handicap in a few minutes once you have signed up and added your rounds. If you need help calculating your golf handicap the follow should provide information on golf handicaps and specifically our system.
Quick Golf Handicap Explanation
Add 3 18 hole rounds to our score tracking system
We adjust your scores removing any very bad holes
Your initial golf handicap is based on your average scores
Add additional rounds when you play
The handicap is then adjusted after each round
Golf Handicaps Explained
The Golfshake system calculates golf handicaps for golfers all around the world using a similar specification used in UK & Europe. Through our service we have tracked over 2 million rounds online and have provided 1000s of golf handicap cards and golf handicap certificates to golfers who have used these to play golf courses all over the world.
Calculation of the Initial Golf Handicap
The following requirements are needed to allow our system to calculate your golf handicap if it isn't set during registration
The round played must be 18 holes.
The course/tee played must have a SSS (Standard Scratch Score) stored on the Golfshake.com system.
A golf handicap will only be set once 3 rounds have been added, based on the above criteria.
Once the first 3 rounds are added, the handicap will be calculated as an average of these rounds.
Any high scores will be adjusted to double bogeys to reflect any discrepancies.
Your golf handicap will be adjusted accordingly for each round thereafter.
The handicapping system we use is based on your current game performance. Your last round score will generally affect your golf handicap.
Ongoing Golf Handicap Calculations
Assuming either 3 rounds have been added to calculate the initial handicap or a handicap was set when signing up the follow then occurs for each round:
1. Each individual hole score is first adjusted to remove any bad holes.
Unlike the ESC (Equitable Stroke Control) under USGA , the UK system and Golfshaks golf handicap allows a maximum of a nett doubley bogey (nett +2) up to 36 and nett triple bogey (nett +3) for handicaps above 36, on any hole.
For example if a male player of handicap 17 shoots 8 on a par 4 SI (stroke index) 1, the maximum score allowed for that hole is 7. Another way to understand the adjusted score is to think of it as the first score where no stableford (British format) points are earned.
Once applied to all 18 holes the 'Gross Score' score for the player is converted to 'Adjusted Score' based on any of the 'nett double bogey' adjustments. The adjusted score will only reduce and not increase.
2. Adjusted score is compared to the SSS (Standard Scratch Score) with playing handicap
Standard scratch for the course somewhat resembles Course Rating in the USGA system. ( 70,71,72 etc.) although the SSS system is not a stringent application of a course review/rating system.
The Adjusted Gross Score less playing handicap less Standard Scratch then provides the basis of the golf handicap system. A negative value is playing below your handicap and positive would indicate above your handicap.
So a 17 handicap golfer recording a gross 89 adjusted to 86 on a course with a SSS of 70 would have shot 1 stroke below their handicap ie 86 - 17 (69) - 70 = -1
3. The following golf handicap categories are widely used to provide the basis of handicap reductions and increases:
| | | | | |
| --- | --- | --- | --- | --- |
| Category | Handicap Range | Buffer Zone | Reduction per Shot | Increase per Round |
| 1 | 0.1 - 5.4 | +1 | -0.1 | +0.1 |
| 2 | 5.5 - 12.4 | +2 | -0.2 | +0.1 |
| 3 | 12.5 - 20.4 | +3 | -0.3 | +0.1 |
| 4 | 20.5 - 28.4 | +4 | -0.4 | +0.1 |
| 5 | 28.5 - 36.4 | +5 | -0.5 | +0.1 |
| 6 | 36.5 - 54.0 | +6 | -0.6 | +0.1 |
Working example:
Work out the Rounds Adjusted Score ie Gross score with 'nett double bogey' adjustments
Determine the Rounds Net Score. e.g. Adjusted Gross Score - Current golf handicap
Determine what Category this Golfer falls into based on current handicap.
If Nett Score is greater than Golfers Category Buffer Zone then simply add 0.1 to Golfers Handicap
If Nett Score Ranges from 0 to Buffer zone handicap is then unchanged.
If Nett score is negative then for each shot less than 0, the Golfers Handicap is reduced by the amount specified by the category he/she is currently in.
Player example for golfer off a 24 handicap:
The following are the adjustments made to the handicap based on subsequent rounds submitted :
Adj Score
SSS
Hcp
Nett Hcp Score
Hcp Adj
New Hcp
93
72
24
-3
3* 0.4=1.2
22.8
94
71
22.8 (23)
0
no adjustment
22.8
96
71
22.8 (23)
+2
0 (within buffer zone +4)
22.8
101
71
22.8 (23)
+7
+0.1(outside buffer zone +4)
22.9
89
72
22.9 (23)
-6
6*0.4=2.4
20.5
91
72
20.5(21)
-2

this moves the player from cat 4 to cat 3

1*0.4=0.4 so 20.5-0.4=20.1 (now cat 3)

1*0.3=0.3

19.8
---
Official Golf Handicaps
The golf handicap provided by Golfshake is based on all rounds of golf and known as your social playing handicap which is widely recognised at courses throughout the world as proof of your playing ability. The handicap provided by Golfshake is an excellent way to know your ability plus manage & maintain handicaps within your society or social group and allows you to play this great game on a competitive level playing field as described by the R&A:
One of the characteristic features of the game of golf is the handicapping system. A handicap allows players of all levels of golfing ability to compete against each other equally and, consequently, is essential to the popularity and prosperity of the game.
For 'Official Golf Handicaps' these can only be obtained by being a member of a golf club affiliated to the national unions and then by taking part in club competitions to maintain your 'official' handicap. Entry into Open Golf club competitions will also likely stipulate and require 'official' handicaps which are only available to golf club members.
If you want to know your golf ability & golf handicap for proof when playing social rounds at courses that set handicap restrictions then the Golfshake handicap is widely recognised and accepted at the majority of courses around the world. The service provided by Golfshake will track & maintain your golf handicap for free plus provide access to additional reports & analysis and additionally a golf handicap certificate, Golfshake member handicap card & society handicaps as part of our other services.
Click here to register free today
For more information or help on using the system visit the help section.
---
For more information and details on the Terms & Conditions for the Golfshake services visit our Services Terms page.