Golf Handicap Free Online
Get a Golf Handicap - Simply track your golf scores online to get a free golf handicap with the Golfshake handicap service.
2022 UPDATES: For full details on the Golfshake Handicap service and our Index based system then visit here. Golfers have a choice of using the simple Golfshake handicap system or the Golfshake Handicap Index which was introduced in 2020.
Track & maintain your golf handicap online with our easy to use free online golf handicap calculator which will provide a recognised golf handicap & proof of your social playing handicap. Signup here and get a handicap.

Our site will allow you to track unlimited rounds on multiple courses for free & is used by over 90,000 golfers who have tracked over 5 million rounds of golf! Plus the system will allow golf societies & social groups to maintain multiple golfer handicaps. Track your scores online or via the Golfshake iOS or Android Apps.
Signup Today Free - get access to our system for free today
BENEFITS | FEATURES | PRICING | WHAT OUR MEMBERS SAY | OFFICIAL HANDICAPS | JOIN FREE
---
Why use our golf handicap service?
The Golfshake online golf handicap service provides a free, quick and easy way for non club members, non competitive golfers & group/society golfers to easily know their golf handicap and compete against other golfers on a level playing field in what makes this game so great.
Simply enter 3 rounds on our golf score tracker and we will start tracking your handicap. The golf handicap provided by Golfshake is widely recognised as proof of your social playing handicap. The system will also allow you to either track the old style handicap or new Handicap Index based system, more information available here.
What we provide
---
Free Golf Handicap Service
Get a recognised golf handicap online simply by adding your golf rounds to the Golfshake score tracker system.
Golf Handicap Index
Find out your Handicap Index allowing you to obtain a more realistic course handicap for days out and rounds at other clubs.
PDF golf handicap certificate
The printable golf handicap certificate, showing your last 25 rounds, is recognised at courses all over the world as proof of your playing ability.
Handicap card service
The golf handicap card service provides a credit card sized handicap card that can fit in your wallet. Click to find out more about our handicap card service.
Group/society handicaps
Track the handicaps of the members of your group or society, quickly and easily. We will work out all the handicap adjustments for you.
What our members say
---
Very easy to use. Finding it very useful to group rounds on different courses to establish Golfshake index and handicap.
Golfshake is a very useful service for gaining a professional and impartial assessment of one's handicap. It is fast and reliable.
A very useful site. Golfshake allows me to track my true handicap as I mainly play non qualifying rounds due to work commitments.
As I am not a member of a golf club any more the handicap section keeps me still being competitive. All the other bits also helpful Thanks
I wanted to say how useful I find the site as a way of keeping track of my handicap. I've been playing for a number of years but hadn't ever looked to adjust the handicap I received when I was a junior playing at my first (and only!) club. Being able to input my scores is increasing my enjoyment as I'm looking to better myself every time I play.
Brilliant site. The best golf site for recreational players by a country mile. Keep it up
---
Golfshake.com is Europe's leading golf handicap & score tracking site
Track Unlimited Rounds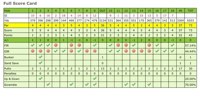 Free online golf handicap and golf score tracking service, track unlimited rounds on multiple courses. Track your scores online no need to retain old score cards, analyse every round & improve your game!
In-depth Reports & Analysis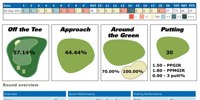 With access to over 30 reports and 50 individual round stats you can really get into your game and see how your golf game stacks up.
Maintain Your Golf Handicap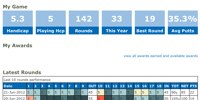 Maintain your golf handicap online, get a recognised handicap free, quickly and easily through our simple to use score tracking system.
Prove Your Handicap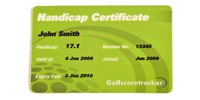 Need to provide your handicap? then check out our optional Premium services starting from £7.95 which provide a full history handicap certificates and member cards.
---
Pricing
It's FREE! The free standard service which will track unlimited rounds on multiple courses and maintain your golf handicap completely free. The free service will provide access to some additional reports & analysis. Simply sign up and join today.
Premium Service
If you want access to in-depth stats & analysis for your game through our leading Golfscoretracker or access to our printer friendly PDF handicap report then the Premium account is required which is starts from only £9.95 for 6 months' access.
Platinum Service
Our Platinum account is only £15.95 which provides all of our Premium account features plus additional member golf handicap card.
Club Service
Our Club account is only £24.95 which provides all of our Platinum account features plus extra handicap card updates as well as exclusive discount and vouchers from our key partners.
To compare our account packages visit our service compare page.
Click here to register free today
---
Golfshake Member Feedback
The Tracker is an easy and effective way of monitoring my game and adjusting my handicap accordingly.
Very easy to input scores, get updated handicap (for use with my golf society) and obtain summary stats. Appreciate the new handicap system being adopted on Golfshake. In summary, what's not to like? - so Thank You!
Very useful for keeping records of your game and giving you a handicap.
I think Golfshake is brilliant as it allows me to have a handicap without having to join a club.
Nice and easy to use, great for tracking handicap, even if I'm a very high handicap.
As a non member golf shake provides me with a valuable method of recording my scores and keeping a handicap which reflects my form.
This service is a godsend for someone like me who is a member of 4 society's and is never going to join a club.
---
Official Golf Handicaps
The golf handicap provided by Golfshake is based on all rounds of golf and known as your social playing handicap which is widely recognised at courses throughout the world as proof of your playing ability. The handicap provided by Golfshake is an excellent way to know your ability plus manage & maintain handicaps within your society or social group and allows you to play this great game on a competitive level playing field as described by the R&A:
One of the characteristic features of the game of golf is the handicapping system. A handicap allows players of all levels of golfing ability to compete against each other equally and, consequently, is essential to the popularity and prosperity of the game.
For 'Official Golf Handicaps' these can only be obtained by being a member of a golf club affiliated to the national unions and then by taking part in club competitions to maintain your 'official' handicap. Entry into Open Golf club competitions will also likely stipulate and require 'official' handicaps which are only available to golf club members.
If you want to know your golf ability & golf handicap for proof when playing social rounds at courses that set handicap restrictions then the Golfshake handicap is widely recognised and accepted at the majority of courses around the world. The service provided by Golfshake will track & maintain your golf handicap for free plus provide access to additional reports & analysis and additionally a golf handicap certificate, Golfshake member handicap card & society handicaps as part of our other services.
Click here to register free today
For more information or help on using the system visit the help section.
---
For more information and details on the Terms & Conditions for the Golfshake services visit our Services Terms page.