Golfshake Golf Course Ratings & Reviews
As part of the Golfshake score tracking system used by 10000s of golfers the system provides an extensive worldwide golf course database listing of over 27,000 golf courses. The golf course database provides information on the golf clubs around the world including contact information, visitor information & pricing, course & scorecard data and access to 100,000 independent ratings and reviews left by Golfshake members and visitors to the site.
The Golfshake course directory and reviews are a free service to both golfers and golf clubs providing information and insight to golfers and a valuable promotional tool for golf clubs accessed by over 150,000 visitors each month.
---
The importance of reviews online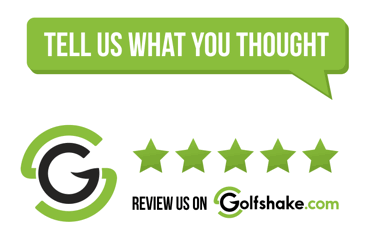 The Internet is now engrained as part of the modern world with consumers using it as a valuable tool in researching new products, reading reviews and helping with the purchasing decision before making a final decision. Our research as shown that searches using the term 'course reviews' has increased by over 400% over the last 3 years.
Online reviews provide a great way for golf clubs to promote and showcase their product - the golf course - to potential new customers, new societies and new members. According to a report from the Nielsen Company, in 2010, 70% of users trust consumer opinions posted online helping them to make the final buying decision. In a more recent report from Invesp Marketing their survey highlighted that 90% of consumers now read online reviews before visiting a business. Consumers are sharing company experiences mainly to give recognition for a job well done but also to protect other consumers. Only 8% of consumers said they go online to 'punish' companies.
Similarly in a Golfshake 2015 survey completed by over 5,000 regular golfers 80% stated that they had read reviews online to help with finding news courses to play and 74% said that the online ratings and reviews had helped them to make the decision on whether to play the course or not. More importantly, 97% of people leaving reviews on the Golfshake site left a positive rating and stated that they would recommend or play the course again.
Ensuring your golf course and facilities are listed online as well as receiving recent reviews provides a fantastic opportunity to reach and promote to golfers. Online marketing can also be a highly targeted marketing channel for golf clubs and an effective method to target potential visitors, societies and golf club members.
---
How does the Golfshake reviews & rating system work
The Golfshake course section is used by over 150,000 golfers each month who are looking for information on the courses they are planning to play, researching new courses to play as well as reading reviews before visiting a course.
The Golfshake review system currently allows golfers to rate a golf club out of 5 on the following criteria:
Overall

The Course

Value for Money

Facilities
Ratings displayed on the website and within the Golfshake apps provide a simple average rating of all the ratings supplied over time by all reviewers. Additionally reviewers are able to mark whether they would play the course again or recommend the course to others.
In 2014 we introduced a 'Golfshake rating' which is an algorithm based rating which factors in various criteria rather than providing the average of all reviews. With the algorithm weighted to provide greater relevance to more recent reviews 96% of golf clubs saw their rating increase compared to the simple average based system.
The rating algorithm is proprietary but factors in criteria such as:
Date of review

Who reviewed

How a review was rated

Plus many of factors
Highly Recommended

The review system also allow reviews to be rated and consumers to indicate if they 'would play again' or 'recommend' a course to a friend.
The allocation of the Golfshake 'Highly Recommended' badge is based on specific criteria of the reviews submitted.
---
Who can leave reviews
95% of the reviews are left by Golfshake members who have registered on the site to primarily use our golf score tracking service. The reviews are left after adding their scores via the Golfshake website or Golfshake apps from their smartphones.
Additionally reviews can be left by visitors to the website who must provide additional information including name, email, location and when they played.
---
What Can Golf Clubs Do?
Online websites and listings are an effective tool for golf clubs to extend the digital marketing and a way to reach and engage with golfers. All golf clubs should:
Ensure their own website is up to date

Ensure they provide enhanced photos on their own website

Check their data on 3rd party sites such as Golfshake and other golf portals

Actively encourage visitors to leave reviews on sites such as Golfshake

Review their own reviews online and 'rate' reviews

Monitor additional social media streams plus actively engage and interact with potential customers online

Provide feedback on their own site; link to sites like Golfshake & re-use some comments

Where possible engage and interact through social medial channels; Golf forums, Facebook, Instagram & Twitter
NEW for 2017: Golfshake golf club rating and review information >>
---
Key features of the Golfshake review & rating system
Given the importance of reviews and consumers using reviews online before making the final purchasing decision, especially on independent sites, we are committed in providing a valuable resource for all and continue to adapt and improve our review & rating system. Our system provides a valuable tool for golfers and a effective marketing channel for golf clubs. Key features include:
Golf course directory, club pages, features & articles accessed by over 150k regular UK golfers each month
Contact information, address, about the club given prominence

'What the clubs says' featured before golfer reviews

Golfshake feature reviews given high visibility (features review by Golfshake staff or Golfshake ambassadors)

Golfshake rating algorithm - 96% of courses increased the rating, instead of flat average rating

'Would you recommend this course' and 'Would you play again' featured added - 97% would

Option to rate individual reviews or flag poor reviews

Option to mark a review as 'abuse/spam/incorrect'

Automated systems to flag inappropriate reviews, profanity & irrelevant reviews

Each review includes a perma link for sharing online via social media etc

All reviews can be seen including sorting on ranked reviews, best reviews

Golf videos now included on main club information page

Lists, searches & maps now include filters based on price, facilities,

offers & membership
Golfshake Top 100s
The Golfshake Top 100s are currently based on the independently ranked reviews using the Golfshake rating algorithm and provide an effective listing of the top accessible golf courses open to play for the average golfer. The reviews submitted by golfers on Golfshake will also largely be based on expectation which will factor in such as price point prior to the round of golf.
The Golfshake Top 100s also provide listings based on regions and price including:
---
Additional Relevant Golf Club Marketing Information
---
About Golfshake
Golfshake.com is Europe's leading online score tracking service and community website, open to all golfers, with over 100,000 members and 5,000 societies registered online as well as 26,000 Twitter followers and 15,000 Facebook fans. The site and apps are visited by over 250,000 golfers each month who are engaging in the Golfshake community, reading news & reviews, tracking their scores or stats or access the golf course section. Key stats include:
250,000 monthly golf visitors to the site

Over 120,000 golfers visit our golf course database each month

Our site traffic is up 25% YoY (2015 to 2014)

In a recent survey 30% of non club golfers were looking to join a club

60% of our members play more than 6 different courses per year

48/52 between club and non club golfers

90,000 golfers opt-in to our promo email

45,000 golfers receive our email newsletter

15,000 golfers receive our travel email

We have over 10 years of providing online services to golfers

Expertise in online & social media marketing