Taking positives from online reviews - Customer Service 101
By: Golf Shake | Mon 25 Jul 2016 |
Comments
---
In a recent blog post by online retailer Golfsupport - which analysed golf club reviews on Tripadvisor - it highlighted the importance of customer service in the digital era. In our own analysis we have taken 2,000 recent reviews on Golfshake and analysed golfers feedback specifically focused on the golf course and customer expectations.
---
The Golfsupport article was written after analysing 1000 recent golf club reviews on the popular travel website and identifying feedback for golf clubs based on the customer service and the customer satisfaction they had. The #1 complaint was for poor customer service which accounted for approximately 33% of all complaints, closely followed by the food and then course quality which was 3rd and approximately 8% of all the complaints.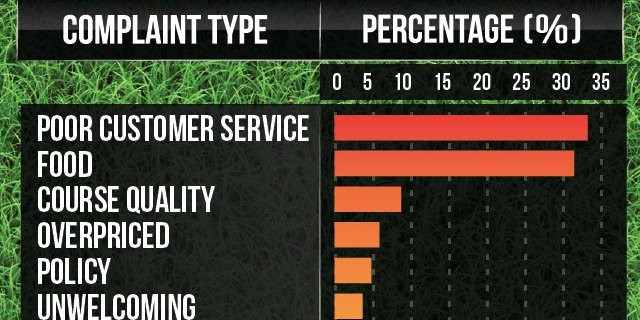 Whilst the reviews may not have all been specifically related to the golf course but the venue in general this survey highlights the importance of reviews online and customer service throughout a business. The Golfsupport analysis identified many reviews that mentioned 'they would not return' of which most were generally down to the poor customer service received and attitudes amongst some staff. Other common complaints for golf clubs within the Golfsupport analysis included friendliness, strictness & policies, quality of course, pace of play & overbooking.

With more golfers going online to find course information and read reviews before playing it is important for golf clubs to ensure excellent customer service as well as managing expectations. The importance of this is further evident in a recent survey conducted by Golfshake which found that 80% of golfers had used reviews online when planning where to play.

There are also a lot of positives to take from reviews online and Golfshake work hard to ensure that our Golf Course Guide provides a valuable and worthwhile service for golfers looking for information and a promotional platform for golf clubs looking to sell their product - the course - which for clubs hopefully leads to tee times or membership.
Importance of customer service
Analysis of the 2,000 recent reviews on Golfshake provides positive feedback for golf clubs with 97% of golfers leaving a review stating that they would play again or recommend the course to their golfing friends.

Further analysis of these reviews highlighted the good condition of golf courses at present, also supported by the favourable weather, with 96% of reviews that mentioned the greens doing so in a positive way - greens were mentioned in 40% of all the reviews analysed.

The current state of golf course quality and the feedback left by golfers on golf reviews sites such as Golfshake highlights the importance of online information to golf clubs and how they can be proactive when it comes to customer service. Managing expectations is key to this and of the 4% leaving negative reviews - related to greens - the comments generally mentioned not being informed at the time of booking or when they visited the pro shop. Golfers appreciated that maintenance is required but can feel let down when they pay a full price for an inferior product especially when they aren't informed.

Customer service is vital from a golf club perspective and issues like course quality or maintenance of greens is something where expectations can be easily managed simply by informing visitors before they tee off or potentially offering a discounted green fee to return when the course is back to full condition.

Interestingly whilst poor greens tended to see a drop in a courses rating this didn't apply when it came to bunkers. Of the reviews analysed by Golfshake - which mentioned the lack of sand or poor sand - golfers would still rate a course highly despite this.
Additional analysis focusing on pace of play, which was mentioned in 2% of all reviews, once again highlighted the importance of customer service and communication with golfers. Several reviews mentioned the pace of play in a positive way but the majority of reviews discussed the impact of slow play which was down to 2 key issues focused around tough conditions off the fairways in the rough and volume of golfers on the course and lack of course marshalling. Similarly golf clubs that welcome visitors could take note from the reviews that discussed the lack of signage - clear signage is a welcoming sign for first time visitors and potential aids the pace of play.
Finally, golf clubs can take further encouragement from positive customer service experiences from the reviews mentioning the service or welcome they received resulting in an average rating of 4.4 out of 5.

In an age when we all have access to communication channels & online resources 24/7 customer service is more important than ever. Whilst research shows that most reviews online are more often than not left to reward a job well done rather than leave negative reviews golf clubs are still in control of the experience a visitor receives and takes away.

Golf is a game interlinked with being social and whilst a poor experience may not lead to a negative review online you can be pretty certain the story of poor customer experience will be passed on to their golfing friends the next time they meet or play golf!
---
Related Articles
Golfshake Industry Insider - Features & Articles
---
What do you think? leave your comments below (Comments)
---
Tags: industry insider golfshake golf survey golf data
---
comments powered by

Disqus