UK Golf Guide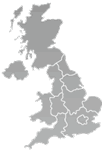 Check out the UK golf courses stored within our extensive course directory. View course information, tee time offers, available golf breaks and get feedback from the course before you play by reading the 1000s of member submitted course reviews.
View the UK regions below, access the quick map on the right hand side, use our interactive search map or find all the regional UK locations to find the course you are looking for or your next course to play.
Planning a break away? then check out our Top 100 listings plus our golf trip guide feature or information on booking tee times online.
East Midlands | West Midlands | South East | South East | South | East | South West | Yorkshire | North West | North East | Scotland | Northern Ireland | Wales
New Links: Regional Top 100s | Top 100 under £30 | World Golf Guide
Deal, Offers & Society Packages
Planning a golf day out or away day then check out our golf deals & offers for courses to visit.
#1 Online Golf Course Guide & Directory
Golfshake is the #1 golf course resource online with over 400 feature articles, 30,000 golf courses & 180,000+ indepedent golf course reviews. You can search for golf courses throughout the world, access our UK Golf Guide, access the golf course reviews, access club news & plan where to play.
UK Golf Course Locations