Round Recorder on Course Stats Tracker
Buy 10, 25 or 50 cards (UK only) includes P&P

End of season offer: 20 cards only £4.99
---
For anyone tracking their advanced stats we know how hard it can be to add the information on an already cramped scorecard.
With that in mind we've created our own custom round recorder and visual shot tracker cards which you can use to record simple stats, more in-depth stats or the visual shot tracker to identify patterns in your game.
The Round Recorder and Visual Shot tracker scorecards are ergonomically designed with a bi-fold with 2 sheets for tracking of the front and back 9s for both stats and optional visual shot tracking.
Buy 10 cards for only £3.99, 25 cards for £7.99 or 50 cards for £14.99
The stat cards fit within most existing course score cards to allow for 9 hole tracking of advance stats including FIR, GIR, Putts, Sand Saves & penalties with additional stats for shot direction, 1st tee distance, chip/pitch shot & 1st put distance. The cards also include optional visual shot trackers for off the tee, green approach shot and first putt plus optional chip and bunker shot tracking which can also be used to effectively record golf practice sessions.
UPDATED FOR 2017: New cards are bi-fold including visual tracking for either on-course or practice.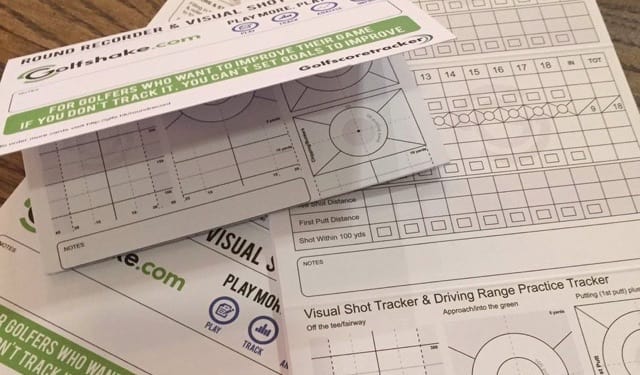 Feedback
They are excellent especially the diagrams on the back of the card, I found them extremerly easy to use and really gave me some excellent and quick feedback to the state of my game. The putting and approach shot diagrams really got me focused on what I need to improve on.
I love the visual shot trackers it gives me an instant view of what I need to do which is normally take more club to stop missing greens short and commit to my putts so I stop missing those short as well.
The Off the Tee Visual is one of the most useful parts
Great to track my scores on the course and then upload to Golfshake after my round.
Why Track Scores and Stats ?
Tracking scores online and more importantly the stats whilst on the course is a great way to analyse weaknesses in your game on the way to playing better golf and ultimately lowering handicap.
Our analysis shows that those tracking their scores over a year see on average a 3 shot drop in their handicap!
Round Recorder
For more information on the on course round recorded and how to use click here.
Visual Shot Tracker
For more information on the visual shot tracker and how to use click here.
---