Golfshake 2017 Highly Recommended Golf Courses
By: Golf Shake | Thu 29 Mar 2018
---
With over 220,000 independent golf course reviews for courses all around the world from regular golfers the Golfshake system is the #1 resource when researching where to play golf, planning a round or researching a golf trip. The recommendation updates were added to system 18 months ago allowing golfers to highlight whether they would play again or recommend when they left a review.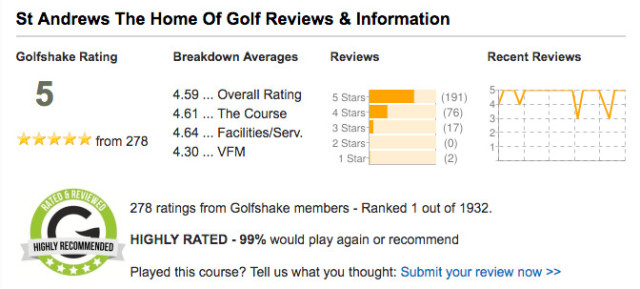 Golfers continue to utilise digital platforms for all aspects of their golf and reviews online continue to be more and more important. The Golfshake system allows golfers to review all aspects of their visit and the overall rating will be based on their expectation which will factor in; price for the round, previous visit, word of mouth and their experience. Additionally the recommendation option provides another level of benchmarking for golf clubs and feedback for golfers.
Following the release of the Golfshake review print assets in 2017 we are excited to release the first list of courses receiving 'Highly Recommended' status for 2017 - based from a strict set of criteria . All clubs have been sent certificates direct to their golf so that they can share this great achievement with visitors to their club.
---
The importance of digital tech and social media for golf
---
Below lists the courses receiving the status of outstanding from all reviews received and courses receiving status of highly recommended in 2017 from reviews during 2017. The lists highlight courses that are regularly visited by regular golfers who leave reviews on Golfshake and highlights clubs embracing digital services.
Outstanding - Highly Highly Recommended
To meet this level all the clubs below must have had over 200 independent reviews, over 100 recommendations and with a recommendation rating above 99%
---
Insights and analysis of golf course reviews
---
Highly Recommended in 2017
The following golf clubs all received '2017 Highly Recommended' status from reviews during 2017. This was based on receiving over 30 reviews in 2017, at least 25 reviews with recommendations and achieving at recommendation for 2017 greater than 95%
| | | | |
| --- | --- | --- | --- |
| Golf Club | Location | Rating | % |
| Abridge Golf Club | Essex | 5.00 | 100.00% |
| Fairmont St Andrews | Fife | 5.00 | 100.00% |
| St Andrews The Home Of Golf | Fife | 5.00 | 97.56% |
| Woburn Golf Club | Buckinghamshire | 4.99 | 100.00% |
| Toot Hill Golf Club | Essex | 4.93 | 100.00% |
| London Golf Club | Kent | 4.91 | 100.00% |
| The Grove | Hertfordshire | 4.91 | 100.00% |
| Bowood Hotel, Spa and Golf Resort | Wiltshire | 4.88 | 100.00% |
| Celtic Manor Resort Golf Club | Gwent | 4.85 | 98.33% |
| The Shire London | Hertfordshire | 4.85 | 96.88% |
| The Oxfordshire Golf, Hotel & Spa | Oxfordshire | 4.83 | 100.00% |
| Burhill Golf Club | Surrey | 4.74 | 100.00% |
| Gaudet Luce Golf Club | Worcestershire | 4.73 | 100.00% |
| Hever Castle Golf Club | Kent | 4.71 | 100.00% |
| Barnham Broom Golf Club | Norfolk | 4.71 | 96.43% |
| Goodwood Golf Club | West Sussex | 4.69 | 100.00% |
| Sweetwoods Park Golf Club | Kent | 4.69 | 100.00% |
| Horsley Lodge Golf Club | Derbyshire | 4.68 | 100.00% |
| Marriott Forest of Arden Golf Club | Warwickshire | 4.64 | 97.83% |
| Ashbury Golf Club | Devon | 4.64 | 100.00% |
| The Warwickshire Golf Club | Warwickshire | 4.63 | 100.00% |
| Eastham Lodge Golf Club | Merseyside | 4.62 | 95.24% |
| Test Valley Golf Club | Hampshire | 4.62 | 96.77% |
| Ramsdale Park Golf Centre | Nottinghamshire | 4.60 | 100.00% |
| Old Thorns Golf Club | Hampshire | 4.59 | 100.00% |
| The Menzies Welcombe Hotel Spa and Golf Club | Warwickshire | 4.59 | 96.67% |
| Rufford Park Golf & Country Club | Nottinghamshire | 4.58 | 100.00% |
| Welford on Avon Golf Course | Warwickshire | 4.56 | 100.00% |
| Redlibbets Golf Club | Kent | 4.54 | 97.30% |
| Westerham Golf Club | Kent | 4.54 | 100.00% |
| MacDonald Portal Hotel, Golf & Spa | Cheshire | 4.54 | 100.00% |
| Little Lakes Golf Club | Worcestershire | 4.53 | 95.00% |
| Hart Common Golf Club | Lancashire | 4.52 | 100.00% |
| Lakeside Lodge Golf Club (Huntingdon) | Cambridgeshire | 4.52 | 100.00% |
| Seaford Head Golf Club | East Sussex | 4.50 | 100.00% |
| Marriott Breadsall Priory Golf Club | Derbyshire | 4.49 | 100.00% |
| Bromsgrove Golf Centre | Worcestershire | 4.49 | 100.00% |
| Bondhay Golf Club | Nottinghamshire | 4.48 | 95.65% |
| Merrist Wood Golf Club | Surrey | 4.46 | 100.00% |
| Dale Hill Hotel and Golf Club | East Sussex | 4.46 | 95.83% |
| The Hertfordshire Golf Club | Hertfordshire | 4.46 | 100.00% |
| Three Rivers Golf & Country Club | Essex | 4.44 | 97.30% |
| Kingswood Golf Club | Surrey | 4.44 | 95.00% |
| Pyrford Golf Club | Surrey | 4.43 | 100.00% |
| Leeds Golf Centre (Wike Ridge) | West Yorkshire | 4.43 | 100.00% |
| Eccleston Park Golf Club | Merseyside | 4.42 | 100.00% |
| Bewdley Pines Golf Club | Worcestershire | 4.40 | 95.24% |
| Sharpley Golf Centre | County Durham | 4.40 | 100.00% |
| Pine Ridge Golf Club | Surrey | 4.40 | 97.40% |
| The Essex Golf & Country Club | Essex | 4.40 | 100.00% |
| Aldenham Golf Club | Hertfordshire | 4.40 | 100.00% |
| College Pines Golf Club | Nottinghamshire | 4.39 | 100.00% |
| Styrrup Hall Golf and Country Club | South Yorkshire | 4.38 | 95.24% |
| Sutton Green Golf Club | Surrey | 4.38 | 100.00% |
| Morley Hayes Golf Club | Derbyshire | 4.37 | 98.00% |
| Boughton Golf Club | Kent | 4.37 | 100.00% |
| Dibden (Bramshott Hill) Golf Centre | Hampshire | 4.35 | 100.00% |
| Donnington Valley Golf Club | Berkshire | 4.35 | 100.00% |
| Ombersley Golf Club | Worcestershire | 4.35 | 100.00% |
| Silvermere Golf Club | Surrey | 4.34 | 97.50% |
| Weald of Kent Golf Club | Kent | 4.34 | 96.77% |
| Essendon Country Club (Hatfield London) | Hertfordshire | 4.33 | 100.00% |
| Dummer Golf Club | Hampshire | 4.33 | 96.97% |
| Warley Park Golf Club | Essex | 4.32 | 100.00% |
| Bletchingley Golf Club | Surrey | 4.32 | 95.83% |
| Thorney Park Golf Club | Buckinghamshire | 4.32 | 95.00% |
| Langdon Hills Golf Centre | Essex | 4.31 | 100.00% |
| The Darenth | Kent | 4.31 | 95.65% |
| Brandon Wood Golf Course and Club | Warwickshire | 4.31 | 100.00% |
| Crane Valley Golf Club | Dorset | 4.30 | 95.45% |
| Brentwood Golf Club | Essex | 4.30 | 100.00% |
| Boysnope Park Golf Club | Lancashire | 4.29 | 100.00% |
| Hoebridge Golf Centre | Surrey | 4.28 | 96.36% |
| Hill Barn Golf Club | West Sussex | 4.27 | 100.00% |
| De Vere Staverton Estate | Northamptonshire | 4.27 | 100.00% |
| Chesfield Downs Golf Centre | Hertfordshire | 4.27 | 100.00% |
| Richings Park Golf Club | Buckinghamshire | 4.26 | 96.88% |
| Mowsbury Golf & Squash Complex | Bedfordshire | 4.23 | 100.00% |
| Chichester Golf Club | West Sussex | 4.23 | 100.00% |
| Bushey Hall Golf Club | Hertfordshire | 4.22 | 100.00% |
| Woldingham Golf Club | Surrey | 4.21 | 100.00% |
| Pedham Place Golf Centre | Kent | 4.21 | 100.00% |
| Surrey National Golf Club | Surrey | 4.20 | 95.12% |
| Stockwood Park Golf Club | Bedfordshire | 4.20 | 100.00% |
| Woodlands Golf & Country Club | Gloucester | 4.20 | 100.00% |
| Hurtmore Golf Club | Surrey | 4.19 | 100.00% |
| Selsdon Park Golf Club | Surrey | 4.19 | 95.83% |
| Etchinghill Golf Club | Kent | 4.19 | 100.00% |
| Panshanger Golf Complex | Hertfordshire | 4.16 | 96.67% |
| Stonebridge Golf Club | Warwickshire | 4.16 | 96.43% |
| Moors Valley Golf Centre | Dorset | 4.15 | 100.00% |
| Poult Wood Golf Club | Kent | 4.13 | 96.15% |
| Wycombe Heights Golf Centre | Buckinghamshire | 4.13 | 96.00% |
| The Epping Golf Course | Essex | 4.13 | 100.00% |
| Risebridge Golf Centre | Essex | 4.13 | 100.00% |
| Cranham Golf Course | Essex | 4.12 | 100.00% |
| Kirkby Valley Golf Club | Merseyside | 4.12 | 100.00% |
| Cobtree Manor Park Golf Club | Kent | 4.11 | 96.23% |
| Rookwood Golf Course | West Sussex | 4.11 | 96.67% |
| Wexham Park Golf Club | Berkshire | 4.09 | 97.14% |
| Oak Park Golf Club | Surrey | 4.09 | 96.00% |
| Tapton Park Golf Club | Derbyshire | 4.08 | 100.00% |
| Paultons Golf Centre | Hampshire | 4.07 | 100.00% |
| Hersham Village Golf Club | Surrey | 4.07 | 100.00% |
| Pype Hayes Golf Course | West Midlands | 4.06 | 100.00% |
| South Chesterfield Golf Club | Derbyshire | 4.06 | 100.00% |
| Duxbury Park Golf Club | Lancashire | 4.05 | 97.14% |
| Mardyke Valley Golf Centre | Essex | 4.04 | 97.50% |
| Brentwood Golf Centre (Hartswood) | Essex | 4.02 | 100.00% |
| Beauchief Municipal Golf Club | South Yorkshire | 4.02 | 100.00% |
| Birchwood Park Golf Centre | Kent | 4.00 | 96.30% |
| Widney Manor Golf Club | Warwickshire | 3.96 | 100.00% |
| The Rayleigh Club Golf Resort | Essex | 3.96 | 96.43% |
| The Hampshire Golf Club | Hampshire | 3.95 | 100.00% |
| Stevenage Golf Centre | Hertfordshire | 3.94 | 100.00% |
| Abbey Hill Golf Club | Buckinghamshire | 3.93 | 95.65% |
| Tilgate Forest Golf Club | West Sussex | 3.92 | 100.00% |
| Cannock Park Golf Club | Staffordshire | 3.91 | 96.00% |
| Garon Park Golf Complex | Essex | 3.89 | 100.00% |
| Cocks Moors Woods Golf Club | West Midlands | 3.89 | 100.00% |
| Chelsfield Lakes Golf Club | Kent | 3.88 | 96.30% |
| East Horton Golf Centre | Hampshire | 3.85 | 100.00% |
| Whitewebbs Park Golf Course | Greater London | 3.84 | 95.45% |
| Tinsley Park Golf Club | South Yorkshire | 3.83 | 100.00% |
| Rother Valley Golf Centre | South Yorkshire | 3.81 | 100.00% |
| Trent Park Golf Club | Greater London | 3.79 | 100.00% |
| Southern Valley Golf Club | Kent | 3.78 | 96.67% |
| Basildon Golf Club | Essex | 3.78 | 100.00% |
| Allerton Manor Golf Club | Merseyside | 3.72 | 95.45% |
| Bootle Golf Club | Merseyside | 3.71 | 96.67% |
| Queens Park Golf Club | Dorset | 3.66 | 95.83% |
| Orpington (Ruxley Park) Golf Centre | Kent | 3.44 | 97.67% |
---
If you are looking for inspiration on where to play then check out the Golfshake golf course directory: www.golfshake.com/course/
For more information on the Golfshake reviews and ratings system visit: www.golfshake.com/ratings/
---
Tags: industry insider golfshake
---
PLAY MORE PLAY BETTER - LATEST TUITION TIPS
---