Insights and analysis of golf course reviews
By: Golf Shake | Thu 07 Dec 2017 |
Comments
---
2017 continued to see growth for Golfshake across all services and in particular the golf course directory and review system with the Belfry becoming the first club on the system to surpass 1,000 independent reviews.

Digital platforms are becoming increasingly important for golf business and golf clubs with 90% of golfers surveyed in the 2017 Golfshake survey stating that they have a smartphone device - this number rises to almost 100% for golfers under the age of 50. Additionally services such as Google continue to adapt and improve to provide the data that consumers want at the tap of a search - golf clubs will now find that Google actively promotes review data, provides quick to access contact data and additionally provides feedback on busy periods.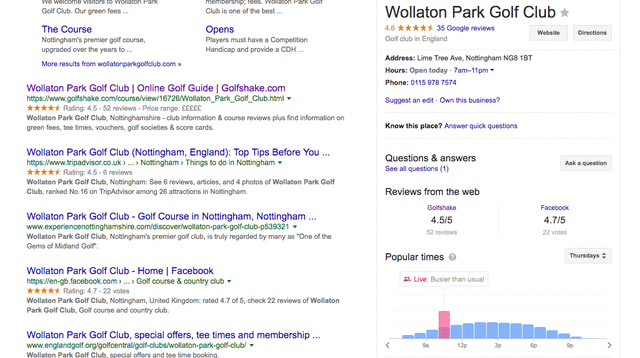 This means reviews are now extremely important for golf clubs and something that should be seen as a positive - with online reviews across industries and the internet becoming the norm. This is further evident from the Golfshake survey with 80% of respondents saying they read reviews online, 50% of respondents posting reviews on occasions and a third of golfers under 50 and not members of clubs stating that they regularly read reviews on websites to help with their choice of golf venue.
The Golfshake review system now holds more than 215k independent reviews and 2017 saw the launch of updates to allow additional feedback which golfers can view as insight before they play and golf clubs can use as important customer feedback in an era of digital customer service.

From detailed analysis of over 9,000 reviews in 2017 utilising the new review options which included; course conditions, food & beverages, practice facilities and hospitality the data highlighted several key things.
When comparing the overall rating against the rating categories it was not unsurprising that the data highlighted the course layout closely followed by course conditions had the closest correlation to the overall rating for golf clubs.



Whilst club facilities are important it will be pleasing for clubs to know that their overall rating isn't based directly on the facilities with many courses still receiving a high rating even if they don't have 5* facilities available. This was further evident in relation to practice facilities with a larger percentage of courses rating much higher than the rating value given for their practice areas.



Once again food and drink had little effect on how clubs overall rankings were distributed but in an age of customer service the friendliness/hospitality highlighted the importance of ensuring first class service throughout. For example whilst a club may have averaged a lower rating for their facilities which on average saw a 0.7 higher overall rating the reverse is identified when it comes to hospitality. A club receiving a friendliness/hospitality rating of 3.5 or lower would likely see their overall rating 0.5 below this.



As you would expect the cost of the round and thus expectations factored closely to the overall rating where as golfs big hot potato of 'pace of play' actually had little affect on the overall rating and had the greatest range of data.



This data very much feeds in to previous research on Golfshake and in other industries that people will generally leave a review to reward good work and experiences rather than simply leave reviews to complain.
The big take away for golf clubs is that digital services provide them a way to easily reach their target audience, show case their product and receive regular feedback on their services for benchmarking and improvement.
With more golfers going online and accessing search engines and with further research showing that customers are now using social media increasingly more for review insights and to help with buying decisions - now is the time for all golf clubs to fully embrace digital services.
Interested in knowing what social media services golfers use? find out here.
---
Related articles:
Golfers fully embrace the digital revolution

Taking positives from online reviews - Customer Service 101

Golfshake Promotes Course and Review Section with Print Marketing Campaign

Golfshake Survey Highlights Importance of Reviews Online


---
What do you think? leave your comments below (Comments)
---
Tags: industry insider golfshake golf survey golf data
---
PLAY MORE PLAY BETTER - LATEST TUITION TIPS
---
Leave your comments below
comments powered by

Disqus