20 of the Best Courses for Food & Drink in 2020
By: Golfshake Editor | Tue 18 Feb 2020 |
Comments
---
The golf course is naturally the attraction and most important attribute of a venue, but for delivering an all-round experience, there has been more emphasis placed on improving the dining options available. Providing excellent food and drink is a way to keep golfers on the property for longer, earning revenue for the club, and making for a grand day out for visitors.
When the Golfshake Community reviews courses they have played in the Golfshake Course Section, Food & Drink is one of the key categories that are rated, showcasing the best venues for enjoying lunch or dinner after your round. Part of our continuing series of articles for 2020, each of these featured venues had at least five reviews submitted during 2019, making their Highly Recommended status relevant for this season.
If you value spending time in the clubhouse or sampling the restaurant, then you should have these courses on your list.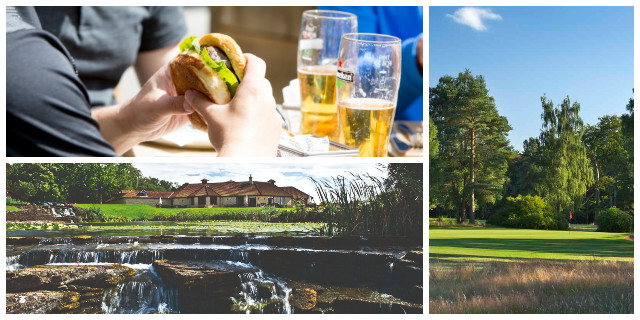 Region: East of England
2019 Food & Drink Rating: 5.00
Region: West Midlands
2019 Food & Drink Rating: 5.00
Region: West Midlands
2019 Food & Drink Rating: 4.85
Region: North of England
2019 Food & Drink Rating: 4.83
Region: North of England
2019 Food & Drink Rating: 4.80
Region: South East of England
2019 Food & Drink Rating: 4.75
Region: North of England
2019 Food & Drink Rating: 4.75
Region: South West of England
2019 Food & Drink Rating: 4.73
Region: East Midlands
2019 Food & Drink Rating: 4.71
Region: Scotland
2019 Food & Drink Rating: 4.67
Region: Scotland
2019 Food & Drink Rating: 4.67
Region: South West of England
2019 Food & Drink Rating: 4.67
The Rolls of Monmouth Golf Club
Region: Wales
2019 Food & Drink Rating: 4.67
Region: Scotland
2019 Food & Drink Rating: 4.67
Region: North of England
2019 Food & Drink Rating: 4.67
Horsehay Village (Telford) Golf Club
Region: West Midlands
2019 Food & Drink Rating: 4.67
Region: North of England
2019 Food & Drink Rating: 4.62
Region: South of England
2019 Food & Drink Rating: 4.62
Region: South of England
2019 Food & Drink Rating: 4.60
Region: North of England
2019 Food & Drink Rating: 4.60
---
Related Articles
20 of the Best Course Layouts to Play in 2020
20 of the Best Courses for Hospitality in 2020
20 Courses to Play in 2020 in Northern Ireland
20 Courses to Play in 2020 in Wales
20 Courses to Play in 2020 in the Midlands
20 Courses to Play in 2020 in the North
20 Courses to Play in 2020 in the South West
20 Courses to Play in 2020 in the East
100 Golf Courses to Play in England
100 Must Play Golf Courses in 2020
50 of the Best UK Courses to Play in 2020
Golf Courses to Play in Scotland
50 Great Value Golf Courses to Play in 2020
Top 50 Best Reviewed Golf Courses in 2019
Most Popularly Reviewed Golf Courses in 2019
The Best Golf Experiences in the UK
The Best 9 Hole Golf Courses of 2019
Most Improved Golf Courses in 2019
---
Related Content: Wales travel Scotland review Must Play 2020 golfshake England Courses Best 2019
What do you think? leave your comments below (Comments)
---
Leave your comments below
comments powered by

Disqus
Plan Your Next Round
Ardglass Golf Club
County Down
from £22.00
Save 50%
Castlerock Golf Club
County Londonderry
Galgorm Castle Golf Club
County Antrim
from £13.00
Save 23%
More Golf Course & Travel Features
Plan your next golf break with Golfbreaks.com