The Best 19th Holes in the UK
By: Golfshake Editor | Tue 30 Apr 2019 |
Comments
---
We love to hear the views of regular golfers, which was the objective and motivation behind the 2019 Golfshake Course Survey, where we asked for your feedback on courses and venues that you have experienced to help us identify the best and most visitor friendly across the UK & Europe.
---
---
Part of that exercise was to discover the Best 19th Holes in the UK, with hundreds of golfers sharing their favourite venues. We have included the most popular selections below. Responses were varied, including resort destinations like The Belfry, Celtic Manor and Gleneagles, revered names like St Andrews and Close House, and some more unexpected venues like Crail and Bromsgrove. Discover great places to experience, recommended by the Golfshake Community.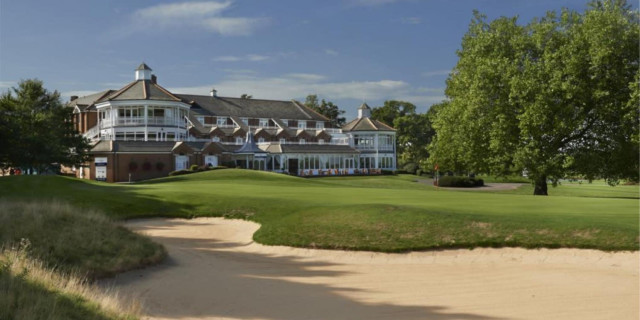 Most known for hosting four Ryder Cups, The Belfry and its Brabazon Course is one of the most famous golf destinations in the UK. With the world's best having walked its fairways, the draw to recreate iconic shots hit from recent golf history attracts visitors from far and wide. However, one good golf course is far from all that The Belfry has to offer. Along with two other courses on site, The PGA National and the Derby, both brilliant in their own right, it also has one of the best 19th holes in the country.
Firstly, there is Sam's Club House. Steeped in golfing history and memorabilia from previous Ryder Cups, it's the perfect place to be before or after your round with superb food and drinks available at all hours of the day. Sam's is also perfect for catching up on all the sport that is screened on enormous TVs or sitting outside on the elevated seating area with a nice cold beer. If this isn't enough, The Belfry has four other restaurants on-site where you can find anything from Sunday lunch to the finest Italian pizza. The experience of playing at The Belfry is greatly enhanced by how good the off-course experience is and for that reason it's no surprise to see it at the top of our list.
Highly Recommended on Golfshake
The Brabazon 10th Hole Challenge
10 Reasons to Play Golf at The Belfry
Find out more on Golfbreaks.com
As the host of the 2010 Ryder Cup, Celtic Manor and its Twenty Ten Course don't really need much of an introduction. Located in South Wales, many of us probably know it well even if we haven't played it through hours spent watching Europe successfully regain the cup. Although the most famous, The Twenty Ten is just one of three golf courses on the Celtic Manor Resort. The Montgomerie, designed by the man himself is a shorter par 69 and offers a very different test to the Twenty Ten, while the Roman Road is the oldest of the three and has played host to many tour events over the years. The on-course experience at Celtic Manor is one of the best around and with the variety and quality of the courses it's easy to see why. However, it continues to impress when you're off it.
The Twenty Ten has its own clubhouse that was purpose-built to host the world's top players. With incredible views overlooking the 18th green and locker rooms with their own open fire, it's somewhere you probably won't want to leave. There is also Rafters Bar and restaurant situated within it providing award winning food and drink before or after your round.
The Montgomerie and Roman Road courses share a clubhouse and with high ceilings, wooden beams, open fires and comfortable sofas you really won't mind which one you end up in. Within it is The Grill which serves food dusk till dawn, two bars and a dining terrace. And if all this wasn't enough there are five other restaurants available on-site with options varying from an award-winning steak house to contemporary Asian cuisine. The list goes on and you'll be wanting longer than the traditional two-night golf break to see all that Celtic Manor has to offer.
Highly Recommended on Golfshake
10 Reasons to Play Golf at Celtic Manor
Find out more on Golfbreaks.com
Set amongst some of Surry's finest countryside, Silvermere and its challenging parkland layout offer one of the best tests of golf available at a public course. It's also home to one of the biggest and busiest pro shops in Europe, a 40 bay two tier driving range and one of the most memorable finishing holes you're likely to ever play. Everything at Silvermere is of the finest quality and this certainly includes their 19th hole that set in the perfect place to reflect on that stunning 18th.
The Inn on the Lake is located on the water to the right-hand side of the 18th green and the beautiful lakeside setting is the perfect place for a pre-round breakfast or post-round snack. A large outside terrace is also available for alfresco dining or the perfect place to have a few drinks while watching other golfers try and navigate the island green. With a well-stocked bar, qualify menu and idyllic lakeside ambiance Silvermere's Inn on the Lake really is somewhere you can happily spend a few hours and watch the world go by. A brilliant facility and one that our golfers can't speaks highly enough about.
Highly Recommended on Golfshake
Imagine having three of the best parkland golf courses that the UK has to offer and then think how good it would be if they were all on the same complex. Well, this is exactly what Woburn has. It's golfing heaven. The Dukes, Duchess and Marquess courses make up the trio of perfection with each one offering a slightly different test of golf. Woburn is also home to one of the finest short game facilities you will ever see and is well known for long and established connection with Ian Poulter. The excellence of the golf courses almost over shadows the experience that Woburn offers off the course, but like everything here, it's of the highest quality.
The Clubhouse is split into a variety of different rooms, lounges and suites with the purpose of providing a great location for every one of your pre or post round needs. Everything from fine dining to a cup of coffee is perfectly catered for and everything is guaranteed to be of the highest quality. Each room is also covered in golfing memorabilia from tournaments and tour events hosted at Woburn and a quick look around before you tee off will have you itching to get out there. As all round destinations go, Woburn is right up there with the very best and the 19th hole only enhances the overall experience.
Highly Recommended on Golfshake
Find out more on Golfbreaks.com
The International and the Heritage are the two world class golf courses on which the London Club prides itself. Famous in the UK for their quality and the fact that Jack Nicklaus designed the Heritage Course, The London Club really is one of the premium golf clubs in the country. Unsurprisingly with this level of excellence shown on the course, the off-course facilities are equally impressive. A superb clubhouse provides the perfect environment for your pre and post round needs with fantastic food served throughout the day. Whether it's breakfast or dinner, it's guaranteed to be of the finest quality. A well-stocked bar can also be enjoyed in the beautiful atmosphere the clubhouse creates; it really is something special.
Highly Recommended on Golfshake
Find out more on Golfbreaks.com
Officially opened in 1982 by none other than Jack Nicklaus and Seve Ballesteros, Old Thorns is highly regarded as one of the finest golf resort destinations in the South of England. Along with its fantastic 18-hole golf course, variety of accommodation options and a superb spa, Old Thorns really excels when it comes to its 19th hole. Food and drink is right at the very top of their priority list and it's easy to see with the level of variety and quality on display. Options range from the relaxed bar menu in the sports bar to their famous carvery in the Kings Restaurant. Culinary options are available around every corner at Old Thorns and just to give you an idea of the variety, there is the Lantern room which is a brand-new Chinese Restaurant. It really is worth a visit.
Highly Recommended on Golfshake
Find out more on Golfbreaks.com
Famed for its hosting of the 2017 British Masters and its relationship with touring professional and Ryder Cup legend Lee Westwood, Close House is one of the very best venues in the North of England. Everyone knows the quality that Close House has to offer on the course, but what will surprise many is the dining experience available off it. The No.19 restaurant is located in the clubhouse and offers superb home cooked food using some of the region's finest produce. Whatever you decide to order, whether it be a post around sandwich or three course evening meal, the quality is guaranteed.
The restaurant also provides panoramic views over the Tyne Valley and an outside terrace to make that beer after your round a little bit better. Brilliant golf courses and first-class food. What more could you want.
Highly Recommended on Golfshake
Find out more on Golfbreaks.com
Foxhills is highly regarded nationwide for its three fantastic golf courses and spectacular clubhouse. The estate was once the home of 18th century politician James Fox who resided on the estate during the 1780s but has now been transformed to create the ultimate golf and dining experience. Quality is the number one priority when it comes to food and drink at Foxhills and it starts in The Fox Dining Rooms. Established as one of Surrey's finest restaurants and the holder of two AA Rosettes, The Fox Dining Rooms really is food at its finest. Next there is the Manor Lounge which is very cosy and perfect for afternoon tea and if that doesn't take your fancy there is the Summerhouse which offers indoor and outdoor dining. Lastly there is Nineteen which is located close to the shared 18th green of the Longcross and Bernard Hunt courses. Designed specifically for golfers, this bar and kitchen is perfect for an early morning coffee of a relaxed lunch after your round. From the golf course to the dining, everything at Foxhills oozes class.
Highly Recommended on Golfshake
Find out more on Golfbreaks.com
Any course with St Andrews in the name is more than likely not going to be something a little bit special, the Castle Course certainly doesn't disappoint. For starters, it's a fantastic golf course, however what's possibly more fantastic is the view from the clubhouse windows. Overlooking St Andrews Bay the circular glass windows offer one of the most breathtaking views from any clubhouse world-wide. And when you team these views with amazing food and drink, the Castle Course becomes a very special place.
Highly Recommended on Golfshake
Find out more on Golfbreaks.com
Home to European Tour superstar Andrew 'Beef' Johnson, North Middlesex is a great course with an even greater clubhouse. Known as the Manor House, the elegant 19th century building gives the clubhouse loads of character and offers views of the signature 18th hole from the terrace. With three bars inside and a reputation for being one of the friendliest clubs in the area North Middlesex and the Manor House offer one of the best 19th holes around.
Highly Recommended on Golfshake
Find out more on Golfbreaks.com
No introduction needed here, we all know it and most of us have probably been there to watch the world's best golfers compete in the BMW PGA Championship, the European Tour's flagship event. However, if you are one of the lucky ones to have played Wentworth, you will have probably experienced the brilliant 19th hole and incredible off course facilities it has to offer. As you can imagine, the clubhouse is magnificent and even has its own hall of fame where you can study the names of past trophy winners and even look at some of the clubs they used. Not something you see in every golf club. As well as the clubhouse are a whole host of other bars and dining experiences you can indulge in including The Club Lounge, The Dining Room, The Conservatory and the Burma Bar. Being short of choice isn't a problem at Wentworth and with everything from fine dining to a spike bar all of your needs are well and truly catered for.
Highly Recommended on Golfshake
Known by many for its hosting of the 2014 Ryder Cup, Gleneagles has long been regarded as one of the best golf destinations in the UK. With its three championship golf courses, award winning spa and a restaurant with two Michelin stars, it's easy to see where it gets its exceptional reputation. We all know about the golf courses and have probably seen most of the Centenary Course from watching the Ryder Cup, but what we don't see on the TV is the food, drink and dining that is on show at Gleneagles. It truly is something special.
The Andrew Fairlie Restaurant is the only restaurant in Scotland to hold two Michelin stars and combines the best in French and Scottish cooking. It is widely thought of as Scotland's best restaurant and if fine dining if your thing, then look no further. Following on from this are seven other options that range from The Dormy which is perfect for your post round coffee or pre round drinks, and The Blue Bar which is an al-fresco whisky and cigar bar. As good as Gleneagles is on the course, it's almost fair to say that it reaches new levels off it. A must visit!
Highly Recommended on Golfshake
Find out more on Golfbreaks.com
Located in Milton Keynes, Abbey Hill prides itself on the friendly environment it creates and with two golf courses on site as well as adventure golf for the kids, Abbey Hill is a family favourite. Like all good golf courses, it also has a brilliant 19th hole in the form of The Cafe Bar and Grill that serves great food from dusk till dawn. Whether it's a big breakfast, light lunch or just a refreshing glass of wine, The Cafe Bar and Grill have it all.
Highly Recommended on Golfshake
When it comes to golf, Bromsgrove has all the bases covered. Great 18-hole golf course, floodlit driving range, 9-hole academy course and foot golf. This quality experience ontinues when your round has finished, or your range balls have run out. The bar and restaurant serve great food all day long and you can be assured that the well-stocked bar or superb wine list will have a delicious beverage to complement your meal. Sunday lunch is also available every week and afternoon tea is also an option. Great club with a great 19th hole, well worth a trip.
Highly Recommended on Golfshake
With 27 holes located on the Shropshire and Worcestershire border, Cleobury Mortimer offers a warm friendly approach to golf whilst maintaining a very traditional feel. The clubhouse offers excellent facilities starting with a spike bar that features a pool table and flat screen TV. This is the perfect place for a quick drink after your round, or if you have more time there is the conservatory dining area which overlooks the putting green and is a great place to enjoy some of the delicious food available and chat about your round.
Highly Recommended on Golfshake
Formed in 1786, Crail is the seventh oldest club in the world. With two courses, Balcomie Links and Craighead Links both offering incredible views and amazing holes, a game on either will be certainly be something you won't forget in a hurry. Complementing the golf courses is the clubhouse that is situated high on a rock overlooking the 18th green of the Balcomie Course. In 2009 the clubhouse was virtually rebuilt and now offers state of the art facilities with two bars, three separate eating areas and an outside deck. The renovations have now made the 19th hole as good as the other 36 and there can be few better experiences than standing on the deck with drink in hand looking out to the North Sea.
Highly Recommended on Golfshake
---
Related Content: travel Courses 19th Holes
What do you think? leave your comments below (Comments)
---
Leave your comments below
comments powered by

Disqus
More Golf Course & Travel Features
Plan your next golf break with Golfbreaks.com
Travel Deals Newsletter
Save up to 50% on golf breaks & tee times!
Join Today »