The Best 19th Holes in Europe
By: Golfshake Editor | Thu 21 Mar 2019 |
Comments
---
We love to hear the views of regular golfers, which was the objective and motivation behind the 2019 Golfshake Course Survey, where we asked for your feedback on courses and venues that you have experienced to help us identify the best and most visitor friendly across the UK & Europe.
Part of that exercise was to discover the Best 19th Holes in Europe, with hundreds of golfers sharing their favourite venues. We have included the most popular selections below, focusing on the leading three. Responses were unsurprisingly dominated by courses and resorts in Portugal and Spain, but with Turkish destinations making it into the mix other countries may start to provide some stronger competition to these established venues.
Vale Do Lobo
Located in the heart of the Algarve, Vale do Lobo enjoys a privileged position along the golden coastline of Portugal's most popular holiday region. With two spectacular 18-hole championship golf courses featuring some of the most iconic views and holes in golf, it's easy to see why The Ocean and The Royal attract golfers from all over the globe. However, backing up the stunning courses is the Clubhouse that is located in the heart of the resort. The Clubhouse offers a full complement of services and facilities for one of the best golf experiences money can buy.
Including a branch of Nevada Bob's and a fully-equipped fitness centre, the Clubhouse is also the home of the Spike's Restaurant and Bar whose terrace overlooks a pretty garden, making it an environment that both golfers and non-golfers can enjoy. Furthermore, Vale do Lobo has 15 other restaurants and bars, where you can enjoy international cuisine ranging from Asian to French, Italian to Portuguese and seafood specialties. From light snacks and casual family meals to gourmet cuisine there is a wide variety to choose from with both indoor and al fresco dining options. It's easy to see why our golfers are very impressed by Vale Do Lobo and why it claims the top spot in our survey.
Highly Recommended on Golfshake
Find out more on Golfbreaks.com
La Manga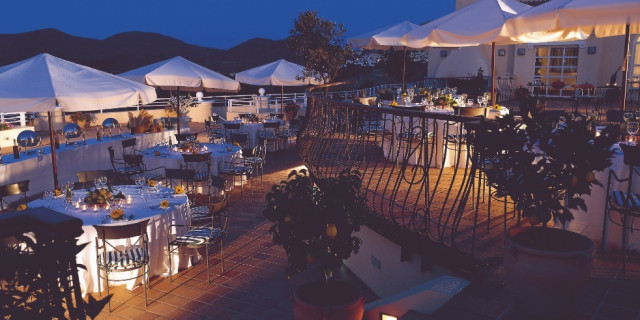 Located in the region of Murcia, La Manga and Cartagena offer golfers everything they could possibly need to make it one of Europe's top golf destinations. With three golf courses surrounded by stunning scenery, the North, South and West courses all rank among the best 40 in Spain with the West also making it into the top 100 in Europe. So, if it's quality courses you're after, this is the place to be.
Quality doesn't end on the course though, as La Manga boasts one of the most impressive 19th holes on this list. More than 15 bars and restaurants are on and around the resort ranging from a spike bar for golfers to enjoy breakfast or lunch whilst watching some sport to a piano bar that opens at night and features a wide assortment of cocktails. With spring and warmer weather, two open terrace options also become available, and by the side of the West Course there is a bar called La Princesa which is the perfect place to end your round by relishing in the combination of snacks and magnificent views. The list goes on and a few trips would be needed to experience all that La Manga has to offer, which is a good thing, as our golfers say you'll probably never want to leave.
Highly Recommended on Golfshake
Find out more on Golfbreaks.com
Las Colinas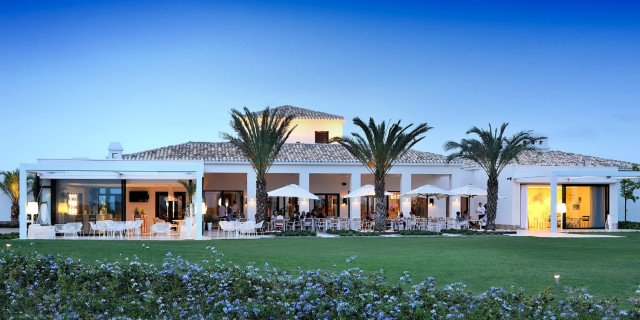 Located in southern Spain there is a valley between hills, near the sea, with a championship golf course running through it. This almost says enough as to why Las Colinas is so highly rated by our golfers, stunning scenery, world class golf course and beautiful accommodation. As a destination, Las Colinas is up there with the very best and helping it to reach this point is the quality it offers off the course.
The Clubhouse, that is located just steps away from the 1st and 10th tees offers magnificent views over the lake at the 18th hole. It is a large Mediterranean-style building with a choice of restaurants, the UNiK café which offers a sophisticated array of international cuisine and the Enso Sushi bar. The terraces of both restaurants are idyllic and are a great place to enjoy a drink after your round or have lunch in the open air. Live entertainment is also offered and with friends, on a sunny Mediterranean evening, there is no better place to be.
Highly Recommended on Golfshake
Find out more on Golfbreaks.com
Monte Rei
Positioned in the eastern region of the Algarve, Monte Rei's North Course is already widely thought of as one of the best in Portugal, and in 2019 construction will begin on its South Course, another Jack Nicklaus design. However, as well as being a premium European golf destination, Monte Rei is also host to a variety of dining experiences, relaxed or formal. Four different restaurants and bars are on site varying from the Vitas which offers a complete gourmet experience overlooking the Atlantic Ocean, to The Academy Café which is located between the first and 10th tees and offers mid-round respite, perfect for an ice-cold beer or early morning coffee. Overall, Monte Rei is everything you could wish for in a golfing destination, arguably the best course on the list and the with the level of food and drink available, it rivals the very best.
Highly Recommended on Golfshake
Find out more on Golfbreaks.com
Old Course, Vilamoura
As one of the first established layouts in the region, Vilamoura Old Course remains one of the most renowned internationally for its layout and exquisite clubhouse. The well-designed clubhouse and restaurant sit adjacent to the putting green and is the perfect place to sit back and relive the experience of playing one of the best designed and famous courses in golf.
Highly Recommended on Golfshake
Find out more on Golfbreaks.com
La Cala
With three superb championship courses, America, Asia and Europa each presenting its own unique challenges, La Cala provides a fantastic variety of golf in some of the most spectacular scenery you will likely have ever played in. The scenery doesn't stop on the course though, the clubhouse looks over the 18th of the Asia Course and provides incredible views to take in over a pre-round breakfast or post-round beer. La Cala has four other restaurants on site including the La Terraza which is dining at its finest to the Panoramic which is the perfect place to watch the sun set with a glass of wine. There is also a pool bar and tapas restaurant on site and with this it's very easy to see why La Cala ranks so highly among our golfers.
Highly Recommended on Golfshake
Find out more on Golfbreaks.com
Montgomerie Belek
Situated on the Mediterranean coast of Turkey, Belek is an emerging golf destination drawing attention and visitors world over. The Montgomerie is widely regarded as the best course in Turkey and as it's designed by the man himself is sure to be and good test of golf. However, the off-course facilities are just as impressive and are an essential part in the experience of playing here.
With a spectacular club house overlooking the 18th hole and views of the mountains and the Mediterranean Sea from the towers, it's certainly not somewhere you'll forget in a hurry. The clubhouse would be enough for most, but the Montgomerie also has two classy club restaurants on site. One is always a more formal dining experience with excellent service , while the other is based on the terrace overlooking the 18th hole offers you a chance to relax and take in the surroundings.
Highly Recommended on Golfshake
Find out more on Golfbreaks.com
Quinta do Lago
Quinta do Lago has been at the forefront of international golf since its creation and the world class courses on its grounds are among Europe's best. North, South and Laranjal courses combine brilliantly designed holes with beautiful surroundings to create one very desirable golf destination. Quinta do Lago is also known for its incredible dining experiences and famous 19th holes at the clubhouses which are the ideal pit-stop after your round. Alongside the clubhouses are 12 other restaurants all serving a different style of food, relaxed or formal in some of the best ambiance it's possible to find. If you value the off-course experience as much as the on, Quinta do Lago has to be on your list.
Highly Recommended on Golfshake
Find out more on Golfbreaks.com
Victoria Vilamoura
Designed by Arnold Palmer, Victoria has played host to its fair share of European Tour events and some of the world's best have walked its fairways. It's probably the toughest course on this list and the 19th hole has to be a good one as a stiff drink may be needed afterwards. The clubhouse offers a perfect tranquil environment to grab a beer and looking through the giant windows out of which all you can see is golf course. The perfect setting to refresh and reflect.
Highly Recommended on Golfshake
Find out more on Golfbreaks.com
Gloria Golf Resort & Hotel
With two championship golf courses, The New and the Old playing host to many tour events between them, it's easy to see why Gloria's reputation as a golf destination has grown massively over the recent years. Not to be outdone by the courses though is the equally impressive golf resort that hosts 15 different restaurants featuring food from cultures and countries far and wide. There are also sports bars, cocktail bars, pool bars and even a patisserie all in the resort. The variety and selection are almost hard to get your head around.
Highly Recommended on Golfshake
Find out more on Golfbreaks.com
Marbella Golf & Country Club
Set in the hills of Benahavis, Marbella Club enjoys views of Gibraltar, the African coastline and the surrounding mountains, it is one of the finest courses that Spain has to offer. The clubhouse doesn't disappoint either and is a superbly located thatched cottage overlooking the course and the lake of the 1st hole. It's the perfect place to relax and unwind after your round, glass of wine in hand and take in the views. You're also catered for on the cooler days as there is a log fire to sit around providing a brilliant atmosphere to soak up and enjoy.
Highly Recommended on Golfshake
Find out more on Golfbreaks.com
Penina
Known as one of the most challenging courses in Portugal, The Sir Henry Cotton Championship Course is maintained to the highest level and is surrounded by breathtaking scenery. The Sir Henry Cotton Club also has a fantastic clubhouse with an array of snacks and drinks with live sport always on the TV. However, the resort also offers five other restaurants and whether you're looking for a light snack before your round or fine dining afterwards, Penina has you covered with some of the best dining and drinking experiences in the Algarve.
Highly Recommended on Golfshake
---
Related Content: travel Europe
What do you think? leave your comments below (Comments)
---
Leave your comments below
comments powered by

Disqus
More Golf Course & Travel Features
Plan your next golf break with Golfbreaks.com