20 of the Best Courses for Practice Facilities in 2020
By: Golfshake Editor | Tue 03 Mar 2020 |
Comments
---
Golfers love spending time working on their games in the pursuit of improvement, but you need the requisite space to get the most from practicing. Many clubs and venues have invested heavily in enhancing the infrastructure of their property, delivering more appealing Practice Facilities to both members and visitors.
Whether you want to hit balls on a range before playing, hone your chipping, or iron out your putting after a frustrating round, the Golfshake Community have rated these destinations highly for the facilities available, featured in the Golfshake Course Section and as part of our Must Play 2020 Series.
So, where are you practicing this season? And if you need some tips - visit the Golfshake Tuition Section!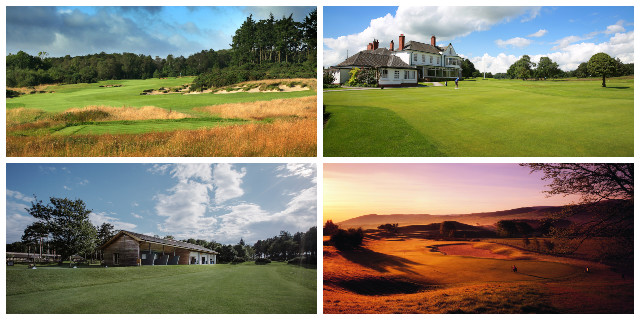 Region: Scotland
2019 Practice Facilities Rating: 5.00
Region: West Midlands
2019 Practice Facilities Rating: 5.00
Region: South East
2019 Practice Facilities Rating: 5.00
Region: West Midlands
2019 Practice Facilities Rating: 4.91
Region: West Midlands
2019 Practice Facilities Rating: 4.84
Region: South East
2019 Practice Facilities Rating: 4.74
Region: South West
2019 Practice Facilities Rating: 4.73
Region: Scotland
2019 Practice Facilities Rating: 4.73
Region: Scotland
2019 Practice Facilities Rating: 4.67
Region: East Midlands
2019 Practice Facilities Rating: 4.67
Region: East
2019 Practice Facilities Rating: 4.67
Region: Wales
2019 Practice Facilities Rating: 4.67
Region: Scotland
2019 Practice Facilities Rating: 4.67
Region: East Midlands
2019 Practice Facilities Rating: 4.64
Region: South
2019 Practice Facilities Rating: 4.60
Region: North
2019 Practice Facilities Rating: 4.60
Region: North
2019 Practice Facilities Rating: 4.60
Goswick Links (Berwick) Golf Club
Region: North
2019 Practice Facilities Rating: 4.60
Region: North
2019 Practice Facilities Rating: 4.60
Region: South East
2019 Practice Facilities Rating: 4.60
---
Related Articles
20 of the Best Course Layouts to Play in 2020
20 of the Best Courses for Hospitality in 2020
20 of the Best Courses for Food & Drink in 2020
20 of the Best Value for Money Courses in 2020
20 of the Best Courses for Pace of Play in 2020
20 Courses to Play in 2020 in Scotland
20 Courses to Play in 2020 in Northern Ireland
20 Courses to Play in 2020 in Wales
20 Courses to Play in 2020 in the Midlands
20 Courses to Play in 2020 in the North
20 Courses to Play in 2020 in the South West
20 Courses to Play in 2020 in the East
20 Courses to Play in 2020 in the South East
20 Courses to Play in 2020 in the South
100 Golf Courses to Play in England
100 Must Play Golf Courses in 2020
50 of the Best UK Courses to Play in 2020
50 Great Value Golf Courses to Play in 2020
Top 50 Best Reviewed Golf Courses in 2019
The Best Golf Experiences in the UK
The Best 9 Hole Golf Courses of 2019
---
Related Content: Wales travel Scotland review Must Play 2020 golfshake England Courses Best 2019
What do you think? leave your comments below (Comments)
---
Leave your comments below
comments powered by

Disqus
Plan Your Next Round
Ardglass Golf Club
County Down
from £22.00
Save 50%
Castlerock Golf Club
County Londonderry
Galgorm Castle Golf Club
County Antrim
from £13.00
Save 23%
More Golf Course & Travel Features
Plan your next golf break with Golfbreaks.com