40 Must Play Golf Courses in The UK & Ireland
By: Derek Clements | Mon 19 Jun 2023 |
Comments
---
ONE of the joys of my profession is that it has given me the opportunity to play some truly astonishing golf courses.
Over the years I have been given the opportunity to play many courses, meeting some wonderful people along the way. Sometimes I have to pinch myself. I know how lucky I am.
Golfshake's raison d'être is to tell our subscribers about golf courses in the UK and around the world.
I recently gave you a list of my favourite courses - layouts that you may not have heard of before. And it got me thinking about all the courses I have tackled in England, Scotland, Wales and Ireland.
So I decided to put together a list of my favourite top 10 courses in each of Scotland, the land of my birth, England, where I have spent most of my life, Wales, which I have visited many times, and Ireland (north and south), where I have played some fabulous golf courses and met some of the friendliest, most hospitable individuals I have encountered anywhere.
Some of these courses also featured on my original list, while there are others you will most certainly have heard of. Unfortunately, some of the courses on this list are now prohibitively expensive.
I have compiled this list of 40 courses based solely on how much I enjoyed them and how long they have lived in my memory.
There is not a single course on this list that I wouldn't want to play again. If you ever have the opportunity to visit any of them I would urge you to do so.
So, without further ado, here's my top 40...
England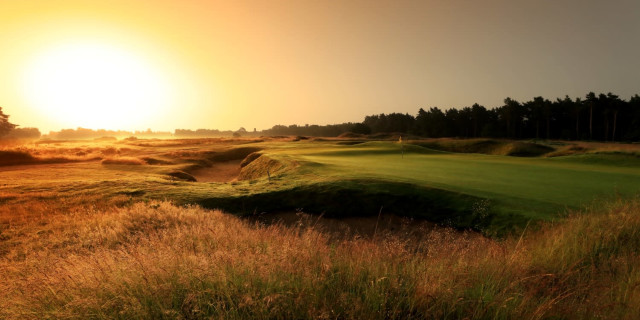 Par 73, 7,042 yards, heathland
It is entirely appropriate that the home of England Golf should be one of the finest tests in the land, and the Hotchkin course is certainly that. Tom Doak recently oversaw a major renovation project that created a more rustic look by creating rough edges around bunkers. The firm heathland fairways are generous in width and the greens have only subtle borrows. However, the 143 cavernous bunkers and scrub, gorse and heather will test the very best.
---
Par 70, 6,417 yards, heathland
If an artist had created Sunningdale Old he would have been hailed as a master. That man was Willie Park Jr, who designed the course in 1901. According to the club's own website, it cost the princely sum of £3,000, which is surely the best money anybody ever spent. This heathland course is an absolute masterpiece. It is awash with purple heather and it's springy fairways are tree-lined. It features plenty of well-placed bunkers and undulating greens.
---
Par 72, 7,029 yards, links
Located next to Royal Birkdale and, although I may be in a minority, I actually think that this is a more enjoyable course and one that presents just as much of a challenge.It was overhauled by Fred Hawtree in the 1960s and underwent a major redesign under Martin Ebert that was completed in 2021. The second nine is a proper challenge with valleyed corridors through some of the highest and wildest dunes found anywhere. Jack Nicklaus once said that the back nine features some of his favourite golf holes.
---
Par 70, 7,118 yards, links
Perhaps one of the most underrated courses in the world, but not by the sport's best players. It is a classic links that features a mind-boggling 174 pot bunkers, many of which can't be seen until you walk up and find your ball nestling in the sand. To have any chance of scoring well here you simply must have some prior knowledge of this course. It is flanked by a railway line and houses and is a fair distance from the sea. But make no mistake - this is a lints!
---
Par 72, 6,908 yards, parkland
Designed by Jack Nicklaus in 1988, St Million is arguably his finest piece of work in Europe. He once said of it: "I knew it was going to be good but not this good". It hosted the B & H International Open for a number of years with Jose Maria Olazabal, Bernhard Langer and Seve Ballesteros amongst the winners. Nicklaus even created his own version of Amen Corner with the 10th, 11th & 12th holes. It features several water hazards and well-placed bunkers.
---
Par 72, 6,422 yards, links
It may not be the longest of courses but it sits beside the North Sea and that means it is often windy. Very windy. Play Felixstowe on a still summer's day and you have every chance of tearing it to shreds. Return the next day with a stiff breeze and the links bears its teeth, turning what were benign golf holes into monsters. It also features a delightful nine-hole course and a great clubhouse.
---
Par 70, 6,344 yards, parkland
Willesley Park is a thing of beauty. It was the first golf course I played when I moved to nearby Coalville and one of the things that struck me straight away was just how friendly a club this is. The greens are superb but be warned - during the summer they are quick. Very quick. And there are lots of subtle slopes. It is a tree-lined course and if you can keep the ball on the fairways you can score well.
---
Par 68, 6,603 yards, heathland
One of the best golf courses I have ever played. It may only be a par 68, without any par fives. But it tests every single facet of your game. The fairways are narrow and if you miss them the chances are that your golf ball is going to be gobbled up by the gorse. On most courses you get the odd hole where you can relax. Not here. You need to focus from first shot to last. A wonderful test. If there is a tougher par 68 anywhere then I haven't played it. Oh, and they don't allow fourballs so the pace of play is quick!
---
Par 72, 7,281 yards, parkland
Wentworth is the home of the DP World Tour and the BMW PGA Championship and the real shame is that it is now so difficult to actually get to play it. It is a wonderful parkland course with trees lining almost every fairway, meaning that accuracy from the tee is at an absolute premium. In an ideal world you would want to play Wentworth in the summer. Every time I have played here the fairways have been heavy, with little roll - and that means it plays long. Very long. The greens are magnificent.
---
Par 70, 6,307 yards, heathland/parkland
A classic Harry Colt-designed layout that has barely changed. The most striking feature is the size of the greens - they are probably the smallest I have ever come across. It means your approach play needs to be pinpoint accurate. Shots can quickly drift away here. The four par threes are all classic short holes.
Scotland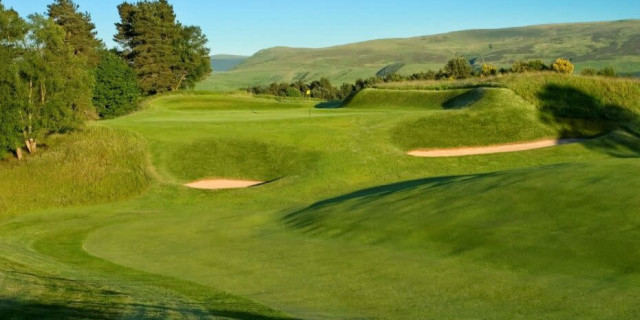 Par 71, 6,790 yards, parkland
Like so many of Scotland's finest courses, it is the backdrop that will take your breath away. Opened in 1919, it may well be James Braid's finest masterpiece. The fairways wend their way through punishing rough strewn with heather and gorse. In the back ground lie the Ochil Hills. Lee Trevino once summed it up thus: "If heaven is as good as this I sure hope they have some tee times left." Simply spectacular!
---
Par 70, 6,799 yards, par 70
The championship course at Royal Dornoch is one of the most stunning courses on the planet. Play here on a glorious summer day and the memory will live with you forever. Even the gorse is beautiful - unless you hit your ball into it, of course. Pure white sandy beach divides the links from the Dornoch Firth. Be sure to take the time to enjoy the spectacular views. When you have played here you will be talking about it to all and sundry for months. The first eight holes follow a ridge and the remaining 10 holes played in the opposite direction are bounded, except the 17th and 18th on the left by the sandy beaches.
---
Par 71, 7,208 yards, links
I first played here in the 1970s and negotiated the course in 73 strokes. It left me wondering what all the fuss was about. I should say that there was not a breath of wind, the temperatures were in the 70s and the greens were soft. I have played it several times since and never come close to breaking 80. The most memorable hole is The Postage Stamp, a tiny par three that looks innocuous enough until you hit your tee shot into the wrong place!
---
Par 71, 6,520 yards, parkland
Located not far from the heart of Glasgow but you would never know it. Pollok is a tree-lined course with a river coming into play on several holes. There are some courses that are so easy on the eye that you really don't care whether you have your A-game with you or not. This is one of them. The fairways and greens are pristine.The course was designed by Alister Mackenzie - that's the same Mackenzie who designed Augusta National.
---
Par 70, 6,297 yards, parkland
Designed by James Braid, Cawder's Championship course boasts spectacular views of the Campsies. It is a tree-lined course featuring superb putting surfaces. Braid's original designed has been tweaked several times, most recently in 1981.
---
Par 70, 5,819 yards, links
Proof positive that a golf course doesn't have to measure 7,400 yards to provide a challenge, the Dunskey course provides some spectacular sea views. It is 150 feet above sea level, which means that when the wind blows you are going to face a real challenge to keep the ball in the fairway. There is plenty of punishing rough to be avoided.
---
Par 72, 7,226 yards, links
Located on the outskirts of St Andrews, Kingsbarns is one of my favourite golf courses. When I played this magnificent links layout I had one of those days. I didn't miss a single fairway, hit some glorious iron shots and holed more than my fair share of putts. Kingsbarns is a spectacular course, boasting stunning views and 18 superb golf holes.
---
Par 72, yards, link
You cannot possibly visit the home of golf without playing the Old Course. In truth, it is not the most beautiful course and first-time visitors may be a little disappointed. But you can't play the first, 17th and 18th without thinking of all the golfing legends who were there first. All the rouble is on the right but the best angles to approach the huge double greens are from the right. When you walk down the 18th be sure to stop on the Swilcan Bridge.
---
Par 70, 6,250 yards, links
There are some who believe that the Old Course isn't the best in St Andrews. Many pundits prefer the New Course but my favourite is the Eden. It was designed by Harry Colt in 1914 and features lots of gorse and many deep bunkers. One of the features of the Old Course is the hidden pot bunkers - on the Eden, what you see is what you get. It is also far cheaper to play 18 holes here!
---
Par 72, 6,945 yards, links
Carnoustie is, without the shadow of a doubt, the most difficult golf course I have ever played. The fairways are narrow and the rough is brutal - when you play here you have to accept that you are going to lose some golf balls. But get it right and it is also the most rewarding course you will ever play.
Wales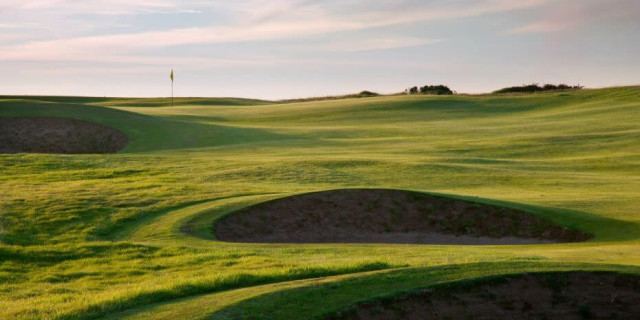 Par 72, 7,137 yards, links
If ever there was a course in Wales that should be hosting The Open Championship, this is it. It has hosted the Amateur Championship several times as well as the Walker Cup and a number of European Tour tournaments. It is a true links course that was originally established as a nine-hole layout in 1891. It was the first 18-hole course in Wales and was redesigned by Tom Simpson in 1933. The first four holes and last six are classic links holes while the rest of the course rises up to higher ground. There is plenty of gorse.
---
Par 69, 6,059 yards, link
This place will take your breath away - it certainly did the first time I set eyes on it. Many links courses can be pretty featureless and feel like a constant slog against the wind. Not Royal St David's/ It is a thing of rare beauty. It was established in 1894 but has changed several times over the years. It has thick rough plenty of sand dunes and large putting surfaces, with spectacular views of Harlech Castle and Snowdonia.
---
Par 70, 6,658 yards, heathland
Southerndown is perched high above the Ogmore River Valley, and actually overlooks Porthcawl. The magnificent views of the Bristol Channel are matched by the amazing course. There is not a single tree or water hazard but there is bracken, gorse, plentiful rough and lots of well-placed bunkers.
---
Par 71, 7,493 yards, parkland
This was the course that was specifically built for and hosted the Ryder Cup in 2010 when Graeme McDowell secured victory for Colin Montgomerie's Europe. That was a week that was ruined by torrential rain and may have put off some from wanting to travel to Wales. But it is well worth the trip. It is a long course, featuring lots of risk-and-reward holes and water that comes into play on nine holes. The front nine has a link feel to it, while the back nine is a proper parkland course.
---
Par 70, 6,406 yards, parkland
If you are going to Celtic Manor you must have a look at the Roman Road course, which is also a fine track. It was designed by Robert Trent Jones Jr and opened in 1995. it is named after the old Via Julia Roman highway that ran through its fairways and has been the venue for numerous DP World Tour and Senior Tour events. It features open fairways and a number of twists and turns through trees and across streams.
---
Par 71, 6,869 yards, links
What's not to love about a course called Pyle and Kenfig? Known locally as 'P&K' it is surrounded by sand dunes on the coast at Porthcawl. Like every course in this part of the world, it affords glorious views of the Bristol Channel, Gower Peninsula and Welsh mountains. The front nine was designed by Harry Colt and is where you are going to make your score, while the tougher back nine was created by Mackenzie Ross and wends its way through the dunes. The view from the 14th tee is worth the admission money alone.
---
Par 70, 7,028 yards, parkland
St Pierre is located in Chepstow and is a resort course set in 400 acres of parkland and built around an ancient Manor House and Norman church. The tree-lined parkland course is designed around a huge lake which comes into play on several holes. It has hosted several European Toruy events, as well as the Solheim Cup.
---
Par 71, 6,322 yards, parkland/links
Porthmadog was founded in 1905 and was designed by James Braid and is a mix of parkland and links holes. The signature hole is the par-four 12th, which calls for a drive over a small bay and a second shot to a plateau green. The 387-yard 14th is another links classic where you have to hit your tee shot over a massive bunker that hides the fairway from the tee.
---
Par 71, 6,090 yards, links/heathland
Yet another James Braid masterpiece, Holyhead is located on Holy Island in north-west Wales. It started life as a nine-hole course and was extended to 14 holes by Braid in 1912 before he returned two years later to add a further four holes. The undulating fairways are protected by bracken, gorse and heather, so you don't want to miss them. There are beautiful views to be enjoyed from the 10th tee, which is elevated.
---
Par 72, 6,500 yards, parkland
Newport is located within Llwyni Wood, which is an ancient Oak forest. It is parkland course featuring plenty of trees. The thing that struck me is that although there are plenty of green side bunkers, some of which are pretty punishing, there is barely a fairway bunker on the entire course. So hit the ball straight and you are probably going to score well here. The greens are perfect, so there are no excuses.
Ireland (Northern Ireland and Eire)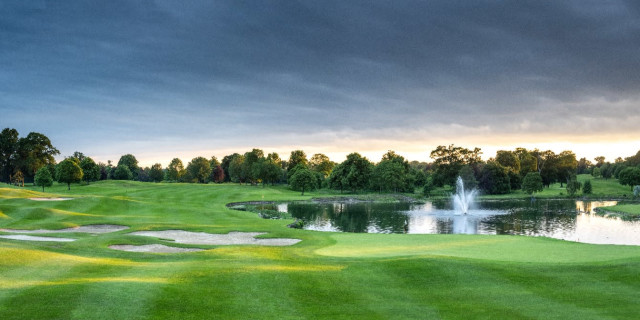 Par 72, 7,413 yards, parkland
The common theme with all the courses in Ireland is the scenery, and this one is no exception. The K Club is stunning. There is not a single hole on which you can relax. It hosted the 2006 Ryder Cup when Darren Clarke performed so heroically not long after losing his wife to cancer. There is lots of water to be avoided and plenty of trees. The 18th is a classic risk-and-reward par five.
---
Par 72, 7,300 yards, links
Came to the fore when Shane Lowry won The Open here, but I had the good fortune to play it in the 1990s and it left a huge impression on me. It was originally designed by Harry Colt before being updated by Martin Ebert in 2015. He created five new greens, 10 new bunkers and created two brand new holes, the seventh and eighth. It put the finishing touches to what was already a links masterpiece. The rolling fairways wend their way between endless dunes and hills.
---
Par 71, 6,802 yards, links
Tom Watson once said: "Nobody can call himself a golfer until he has played at Ballybunion; you would think the game originated there!" And Herbert warren Wind wrote: I found Ballybunion to be nothing less than the finest seaside links I have ever seen." There is little that I can add. It was founded in 1893 and redesigned by Tom Simpson in 1936. It is a classic links course featuring rolling fairways and dunes.
---
Par 72, 7,222 yards, heathland
Druids Glen is a parkland course nestled in 360 acres of countryside between the Wicklow Mountains and the Irish Sea.It has just undergone a huge restoration project involving relaying fairways, greens and pathways and upgrading the irrigation system at a cost of well over £1m. It was already one of the best courses in Europe, having hosted the Irish Open four times. It weaves its way around quarries and trees and features lakes and pot bunkers.
---
Par 72, 7,100 yards, links
Old Head Golf Links is a spectacular golf course with stunning views across The Atlantic Ocean throughout the front and back nines. When the wind blows it provides a brutal test. It is built on a diamond of land that juts out over two miles into the ocean, with the waves crashing 300 feet below the fairways. Nine of the holes are played along the cliff tops.
---
Par 70, 7,276 yards, parkland
One of the best parkland courses I have ever played. The narrow fairways are all tree-lined and beautifully defined. It was designed by Simon Gidman and opened in 1997. The course is bordered by the rivers Maine and Braid, which come into play on several holes. You simply have to find the fairway to score well here.
---
Par 72, 7,399 yards, parkland
Adare Manor was bought by JP McManus in 2015 for about £30m. The stunning parkland layout hosts the JP McManus Pro-Am and will also host the Ryder Cup in 2027. Desmond Castle, which dates back to the 13th century, is a backdrop to the first and 15th holes, while the ruins of a Franciscan abbey dominate the centre of the course. A word of warning - it's not cheap! Sometimes it helps to be a journalist.
---
Par 72, 6,270 yards
Scrabo Tower stands on top of a hill at the back of the first green and dominates the scenery. This is an entirely natural golf course that features gorse - an awful lot of course. Clearly, that means you simply have to hit the ball straight if you are going to have any chance of scoring well. It is hilly, and you are going to have some weird bounces.
---
Par 70, 6,306 yards, parkland
Royal Belfast is the oldest course in Ireland, founded in 1881, and was designed by the legendary Harry Colt. It runs alongside the shores of Belfast Lough, which comes into play on a couple of holes. There are lots of trees and several tight driving holes, as well as plenty of bunkers.
---
Par 71, 7,183 yards, links
Anybody fortunate enough to have visited Royal County Down will tell you that this links course in Northern Ireland is one of the best they have played. It is, quite simply, an unforgettable place to play this wonderful game. Against the magnificent backdrop of the Mountains of Mourne, the links stretches along the shores of Dundrum Bay, zigzagging back and forth to provide a different vista from virtually every hole. The narrowest ribbons of fairways thread their way through as impressive a set of sand dunes as could be imagined. The fairways are surrounded by heather and gorse. The greens are firms and fast.
We would love to hear how many of these you have played and which courses make your own top 10 lists. Let us know in the comments below!
---
Related Articles
The Best Golf Courses You Haven't Considered Playing Before
The Most Scenic Golf Courses in The UK
The Coolest UK Golf Courses You Can Play
---
Related Content:
What do you think? leave your comments below (Comments)
---
Leave your comments below
comments powered by

Disqus
Plan Your Next Round
Ardglass Golf Club
County Down
from £22.00
Save 50%
Castlerock Golf Club
County Londonderry
Galgorm Castle Golf Club
County Antrim
from £13.00
Save 23%
More Golf Course & Travel Features
Plan your next golf break with Golfbreaks.com