What Makes a Golf Course Memorable?
By: Golfshake Editor | Thu 23 Dec 2021 |
Comments
---
There are many contributing factors to determining the quality of a golf experience, but there are clear standouts in the minds of golfers when they assess the merits of a course they have just played.
Looking to understand what makes a course memorable, we surveyed 950 keen golfers this winter, asking them to identify the best venue they had played this year, including comments explaining which attributes made that particular destination rank so highly.
Intriguingly, no matter the course or the demographic of the golfer, there was a striking uniformity with regards to what they looked out for, something that has been captured in the below word cloud.
What Makes a Golf Course Memorable?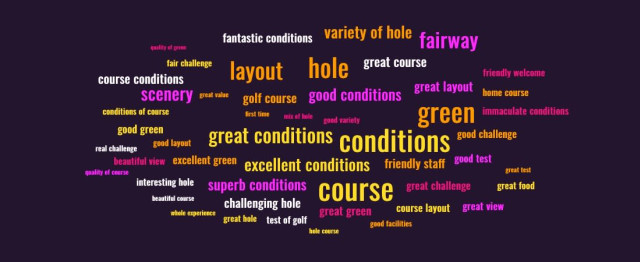 From that feedback, we have broken it down into five distinct categories, featuring a selection of survey quotes, all of which contribute to Make a Golf Course Memorable.
Conditions, Quality, Greens, Fairways
Ultimately, golfers value the standard of presentation at a golf course above most anything else. Highlighting the importance of a staffed and resourced greenkeeping department, visiting golfers have high expectations for the quality of the conditioning.
Fairways, greens, tees, bunkers, if they are properly maintained then it registers within the consciousness of the golfer, something special should look and feel that way, with an immaculately dressed course the first step to delivering a memorable experience.
"Beautiful course in great condition with fantastic views."
"Condition of the course. The setting is stunning. Sandy base so drainage excellent and the greens are superb."
"Course in absolutely superb condition and greens as good as you are ever going to get."
Variety, Layout, Mix
Anecdotally, when someone asks about a course you have played, the insight of the conversation will probably be dependent on how many of the holes stuck in your mind. When golfers were asked to explain what made a venue outstanding, the variety and intrigue of the layout is something that appeared continually.
The idea of a "signature hole" is a marketing cliche, but the more of those that a course possesses, the more it enhances the memorability of a layout. If a course features exciting, fun, unique and varied holes throughout a round, then it underlines that it's an invigorating design to play, one that a visiting golfer will champion forevermore.
"18 holes all completely different, a good but fair test for all levels."
"A delightful and challenging mix of parkland course plus links."
"A very interesting and varied layout in great condition."
Test, Challenge
For many golfers, the challenge offered by a course is a significant characteristic of a tremendous layout. Was your game tested in a refreshingly engaging way? Certainly for the better standard of player, going somewhere they had to work hard for their score is a welcome feature.
Much like the variety of the holes, this recurring theme points to the design of a venue contributing hugely to separating the best from the rest.
"Challenging layout with super fast greens and amazing scenery."
"Interesting course with many challenging holes, not too difficult to walk, and every hole has something to test your ability to hit that little ball to the hole."
"Great greens, challenging fairways. Made you think about club selection as you walked up to the tee box."
Friendly, Welcome, Staff
To provide a truly unforgettable experience, having the most architecturally exceptional design or the most skilled greenkeeping team in the land isn't quite enough. When reflecting on their best course from this past season, the positive nature of the customer service, the welcome from staff and friendliness of those working at the venue is a key factor too.
Essentially, this demonstrates that golfers are just like any other kind of consumer. You could visit the finest hotel or attraction, but enthusiasm will be dampened if the staff don't also reflect that standard. It's vital to have the right people in those positions dealing with the general public, even at golf courses.
"Friendliness of the members and staff."
"Fantastic welcome, friendly staff, beautiful views, superb course."
"Great layout in excellent condition, very friendly and a brilliant marshal who helped you round and kept the pace of play."
Views, Scenery, Landscape
Golf courses are beautiful environments to spend time in, but the landscape around them can enhance the perspective of a visiting golfer. When asked to describe the best course they had played this year, the views and scenery were commonly referenced.
We just love walking along the fairways with a stunning backdrop around us, with breathtaking visuals a feast for both the eyes and your phone camera. It has been said that spectacular vistas can make up for relative shortcomings elsewhere on a course, which is probably true, but it contributes massively to making a venue truly memorable. Sometimes, you may not recall much about the holes, but you will remember the views.
"Well maintained and beautiful views, made very welcome."
"Well kept, immaculate greens, amazing scenery and a real challenge of golf, as it should be."
"Stunning views over Edinburgh to East Lothian, Fife and the Firth of Forth AND the greens were in immaculate condition for the end of September."
The Key Survey Data

The survey data has been outlined above, showcasing the qualities that golfers most value from an experience. But what's most interesting - when we compare to a past survey from 2019 - is that there has been a notable shift in three factors, reflecting the moving of consumer habits, with more of us demanding the best from the outset.
When rated very important or extremely important, Layout/Design rose to 69% from 56% in two years, Hospitality & Service from 43% to 61%, and Food & Dining at 34% from 21%. These are the increasingly common expectations from visiting golfers in search of an experience worth their time and money.
Ultimately, when judging the best courses they have played, every golfer has their own perspective, but what's valuable about these surveys is that it reflects the many areas in which we are all united by the qualities we most appreciate. If a golf course is viewed as a product like any other, then those that match and surpass customer expectations will be the ones most celebrated.
---
Related Content
The Golf Courses That Golfers Recommended to Others
The Golf Courses You Should Have Played in 2021
---
What do you think? leave your comments below (Comments)
---
Tags: industry insider golfshake Golf Courses daily picks Courses
---
comments powered by

Disqus