5 Must Play Bucket List Golf Courses in the UK
By: Golfshake Editor | Fri 22 May 2020 |
Comments
---
Following two months of lockdown, golf courses throughout the UK have reopened, starting with venues in England, closely followed by Wales and Northern Ireland, with Scotland resuming on May 29. During this shutdown period, many of us have spent a reflective time imagining the future, considering the places that we most want to experience once a sense of normality returns.
Consider the golf courses that you have played, what are the ones missing that you want to correct? As seen on Golfshake's new WhereIPlayGolf Service, golfers love to create lists, compiling those layouts that they aspire to play.
Taking that a little further, we asked Golfshake Ambassadors to identify their Top 5 Bucket List Golf Courses in the UK, looking for the courses that they haven't yet played, but sincerely hope to do so.
Andy Picken - who has played more than most - kicks us off with his selections.
"In no particular order: Muirfield, Royal Birkdale, Royal Liverpool (Hoylake), Wentworth and Royal County Down. All Highly Recommended on Golfshake.
"St Andrews is described as the Home of Golf, but a number of people whose opinions that I trust have described Royal County Down as the Soul of Golf. If you consider the genetics of this course it has had input from many of the game's most renowned designers. Old Tom Morris, James Braid, Harry Vardon and John Henry Taylor. The full triumvirate are represented and have had their ideas and thoughts incorporated into the layout. Harry Colt was involved in the twenties and then to these greats have been added the ideas and concepts of Donald Steel who tweaked the venue in the nineties.
"I've heard some incredible things about Muirfield. It has hosted 15 Opens, it is the only venue where The Amateur, the Mid-Amateur, Ryder Cup, Walker Cup and Curtis Cup have been played. The list of Open winners at this venue is a Who's Who of golf history: Vardon, Braid, Hagen, Cotton, Player, Nicklaus, Trevino, Watson, Faldo, Els, Mickelson.
"Royal Birkdale scored a 5 out of 5 ,100% rating on the Golfshake review charts. That says it all really. Created in 1889 it is also an Open venue in the style of a classic links. I have never visited the venue as a spectator but have watched lots of TV coverage and it just looks fabulous.
"Royal Liverpool also known as Hoylake held the Open most recently in 2014 and is Highly Recommended on Golfshake with a 97% rating score.
"I worked as a volunteer at the BMW PGA event a few years ago and got to walk inside the ropes scoring for the professionals on the West Course at Wentworth. It was a remarkable experience being up close and personal with some of the game's best playing at the flagship venue when it was in its pristine best. Definitely one for the list."
Kevin Heggie has taken a unique but timely path in determining his bucket list.
"I've added a 2020 constraint in that they have to be within 2.5 hours drive, thus ruling out Scotland, Ireland and most of Wales (that's for another article, I think I could do top five bucket lists on each of those countries!)
"First up, and closest to home in the Midlands would be Enville. It just beats Sutton Coldfield, Little Aston, Beau Desert as it has two courses, so a day rate makes it good value for money to experience 36 pretty gorgeous looking heathland golf holes.
"Next up to the north west. There's so many great courses to choose from, but many come with some eye watering prices. Therefore, I'd plump for West Lancashire - a bargain in comparison to other links in this area, and Highly Recommended on Golfshake.
"Moving east, I really want to play at Woodhall Spa. Again, this brings in two courses, but both look epic, and the day rate makes it a relative bargain.
"South west this time, and Burnham and Berrow. Reputation wise it's highly regarded, and has an extra nine holes which are also rated in the form of the Channel Course which would act as a good warm up.
"Finally, to the south would be my number one pick of Sunningdale in Surrey. I'm approaching playing 100 different courses (small fry in comparison to many I know) but It'd be great to cross 99 and 100 off on the New and Old Course respectively, at such a prestigous venue."
Matt Holbrook is another fan of Burnham and Berrow. "It's a course I see a lot of on social media and never seen a bad picture or review. So that makes it onto my list.
"As the new Royal Norwich only opened last year and I was lucky enough to go along and visit on the opening day to see Ian Poulter hit the first tee shot. The course looked stunning and have only heard good things.
"Living quite close to the coast I am very to have played lots of amazing links course as well as some stunning heathland venues just inland. Hunstanton is one of the courses I have yet to play.
"I remember visiting Centurion a couple of years back for the Golf Sixes event they held there. The finishing few holes that were used looked spectacular and ever since I have wanted to go back and play.
"Finally, Remedy Oak, I know people that have played here and can't rate it highly enough. It's one of those courses that has always been on my radar to visit but just never got round to it."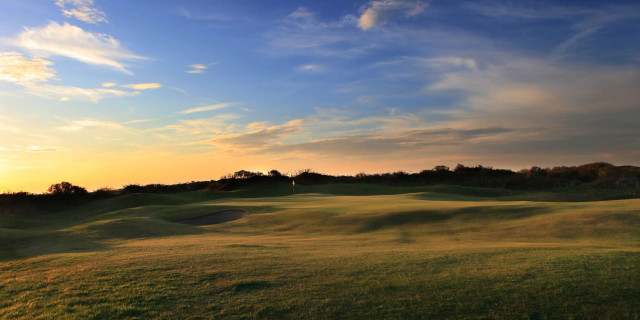 Gazing to the Home of Golf, Mel Davies begins his list with a perennial favourite.
"Has to be the Old Course at St Andrews. Surely on everyone's bucket list and it's number one for me. The history, nostalgia, to walk where pretty much all the greats have walked, no other course can tick so many boxes. I have been there and walked down a few holes and it didn't disappoint one bit.
"This wasn't even on my radar until I went to watch the British Masters there last year - Hillside. What a course! Sat in the golf paradise of the north west, this place has it all.
"Woburn, the Marquess Course. This has been on my list since my lad played in his first Ian Poulter Junior Invitational. What a venue. Three top courses but having only seen this one first hand, it went straight onto my bucket list. Looks like a great challenge with some truly fabulous holes.
"The Grove. This was added to my bucket list after a visit to watch the British Masters. There is some great history here with Tiger's three consecutive eagles on the 18th hole.
"This was a tough one as the other four are my real standout ones. I've gone for Carnoustie over Royal Liverpool. Just purely because links golf in Scotland is second to none in my eyes. The Paul Lawrie/Jean Van de Velde Open will be something talked about for many more years to come. Always looks a real beast to play so to try and pit myself against it would be wonderful."
Kevin Paver is another who dreams of venturing north to Fife.
"I've been up to the Home of Golf, but didn't get to play the Old Course. It's one I have been talking about going back to play for so long...for all the obvious reasons and it's one I'm definitely aiming to tick off before the end of the year.
"I was lucky enough to go the The Open last year and Royal Portrush looked unreal. Not only that, there is something about playing Open venues that's just completely magical.
"I love Woburn. It's one of my favourite golf venues in Europe. I've not been for a few years, and as with St Andrews, I keep talking about going back. There's nothing quite like an early morning on The Duchess, as the noise from the driver reverberates around the trees.
"I visited Dundonald Links about 3 years ago on a trip to Scotland. It was such a great course, but I was treated to some pretty horrific Scottish weather! During lockdown, I watched the re-run on the 2017 Scottish Open, which reminded me how awesome it was. It's one I intend fully intended to get back to this year, and take some Yorkshire sunshine with me.
"Steeped in history... and another place that just looks out of this world. I like courses that feel like they have a story to tell, and Sunningdale certainly has that. The only issue might be trying to get on!"
Finally, Richard Moore also wants to return to the 2019 Open Championship venue.
"I went to watch a practice day before the Open last year and Royal Portrush looks so difficult, especially from the tips. It shows how well the tour pros really hit it. Portrush has some beautiful holes and some stunning scenery over the sea at the fifth hole. It'd be my bucket list tee shot! There is a bench to sit on just where Garcia drove it out of bounds. I'd get my picture taken there and that will be my cover photo on my Order of Service (Not being morbid but planning ahead!)
"The Hotchkin Course at Woodhall Spa is only 2.5 hours from the Midlands and is doable in a day. This course has been much improved and is climbing the rankings. It looks amazing. I love heathland courses for their beautiful heather and hellish looking bunkers.
"Hayling Island. My best golf mate lives 170 miles away from me (Bruce Varga) and this is within 20 minutes of his house. It is expensive and on his bucket list and is therefore on mine. A fine links. £45 with county card – what a bargain!
"Hillside. I love playing Formby and it is very close proximity. The fact Greg Norman says it is his favourite back nine says it all for me!
"I walked Royal Birkdale and watched the Open there in 1991 when Ian Baker Finch won, and was overawed by how difficult it looked. Would love to save up £245 to play in the summer. This would be the biggest treat of a lifetime!"
So, there you have it, the Golfshake Ambassadors have declared their aspirational Top 5 Must Play Bucket List Courses in the UK. Let us know what yours are - and how that compares to what the guys have shared above!
---
Related Content
50 of the Best UK Courses to Play in 2020
100 Must Play Golf Courses in 2020
What is Your Dream Round of Golf?
100 Golf Courses to Play in England
20 Courses to Play in 2020 in Scotland
20 Courses to Play in 2020 in Northern Ireland
---
What do you think? leave your comments below (Comments)
---
Tags: Wales travel Scotland Northern Ireland Ireland England daily picks Courses
---
comments powered by

Disqus