The Best Value Golf Tee Time Deals This March
---
We may not have much longer to endure the winter season, but GolfNow are offering fantastic deals to help ease the bitterness of the late winter chill. Whilst many golfers opt to forgo their favourite hobby during the colder season, there are excellent benefits to getting yourself out of bed and venturing into the cold. Below, we provide information on some of the greatest deals you can secure this March.
Scotland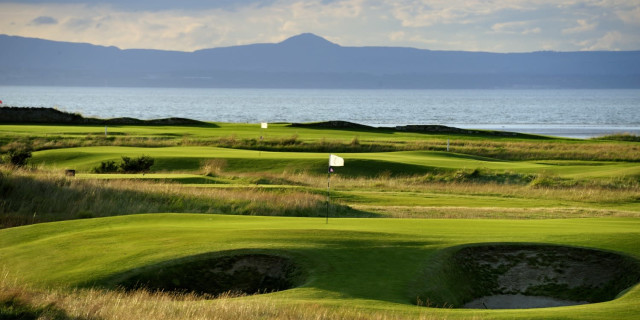 Golfing in Scotland will always be the epitome of British golf; we have the nation to thank for establishing this wonderful game. If you're looking to play some of the reputable courses that belong to the country, but the high-season green fees deter you, then look no further than some of these amazing deals.
Haddington is the 19th oldest golf club in the world. Having opened in 1865, they have welcomed golfers into their venue for more than 150 years! The course is a beautiful parkland that measures 6,335 yards from the tips and boasts a par of 71. Regardless of time of year, the proud greenkeepers keep the course in terrific condition and the refurbished clubhouse helps to augment the overall appeal of this historic golf facility.
Winter Deal: £20 Green Fee Until End of March.
Balmore Golf Club features an excellent inland golf course that is situated conveniently, only seven miles away from Glasgow City Centre. The six-time Open champion Harry Vardon is responsible for the design of the layout, that is set in the beautiful Glenorchard Estate. You can expect the track to be in pristine condition, featuring manicured fairways and rolling greens - that have been constructed to USGA specifications.
Winter Deal: £20 pp 4-ball Offer Until End of March.
Craigielaw Golf Club has been inspired by some of the greatest links courses to reside on British shores - especially those without dunes dominating the layout. Having been designed by Donald Steel and opened in 2001, it has played host to several national events, including the 2006 Scottish Amateur Strokeplay Championship. Providing a stern yet enjoyable challenge, you will experience first-class greens with stupendous views across the Firth of Forth.
Winter Deal: £40 Per Player Throughout Winter.
Troon Fullarton is the first of three South Ayrshire locations to be included, and the unique ability of providing a gentle approach to newcomers yet challenging enough for veterans is what makes this venue extra special. It measures just shy of 5,000 yards and features eight par 3 holes but the minute greens and undulating fairways ensure it's not as straightforward as it sounds. An extra benefit is that a round at Troon Fullarton can be completed in under three hours - which means more precious time at the 19th hole!
Winter Deal: £15 Green Fee Throughout Winter.
Staying in South Ayrshire and Troon Lochgreen is the latest club to receive tee time savings. This venue holds special significance in the golfing world as Jack Nicklaus secured his presence at his first ever Open Championship after qualifying from this golf course. Although it plays primarily as a links course, there is a stretch - Dovecot Section - that portrays more of a traditional parkland setting. Of the three Troon courses within the area, this is the longest at 6,785 yards and it also features a par of 74.
Winter Deal: £23 Green Fee Throughout Winter.
Troon Darley is a fantastic links experience and a difficult challenge through tight fairways and a plethora of hazards. Measuring a touch over 6,300 yards, it's not as long as Lochgreen but due to the rigidity of the course, a good score here is a reflection of an excellent performance.
Winter Deal: £22 Winter Green Fee Throughout Winter.
Drumoig is set in 250 acres of Fife countryside and water must be avoided on four holes. Due to versatility in tee markings, the tips provide a mighty challenge, and the front tees are a welcoming introduction to the sport of golf. St Andrews Bay and Carnoustie can both be seen from the course at Drumoig.
Winter Deal: £20 pp Monday-Friday.
A resort that needs no introduction, Gleneagles continues to lead the world when it comes to the ultimate golfing experience. You can enjoy huge savings from this excellent facility up until the end of march.
Winter Deal: £65 pp 4-ball Every Day After 11am Until End of March.
England
Moving south of the border and there are many great savings for English golf courses this winter. We'll detail the many clubs that you can visit for a reduced green fee below.
This deal applies to both 18-hole courses at Longhirst Hall, so you can even make your trip into an overnight stay if you want to experience both layouts. The two loops feature unrivalled scenery and plenty of water - so bring your A-game here!
Winter Deal: Lake or Dawson Course - £20 pp From 10am All Week.
Having been founded in 1911, Whickham moved location to Hollinside Park in 1938. This parkland course is set in the Derwent Valley, boasting surreal vistas of the expansive countryside. If you like a view with your golf - and who doesn't want that? - then Whickham is an absolute must.
Winter Deal: £20 pp All Day in March.
Not many golf courses boast superb variety between holes, but Bletchingley pride themselves on just that. An array of interesting holes will capture your attention and demand your absolute best. Expect many, many trees lining the fairway - so accuracy from the tee is mandatory.
Winter Deal: Weekend 4-Ball From £27 pp / Weekday From £25 pp.
Considering Stapleford Abbots has been designed to USGA standards, the challenge of golf on offer is a real test. Measuring over 6,500 yards from the tips, accuracy coupled with helpful length will be the key to good positioning.
Winter Deal: Weekend Rates From £20 pp / Weekday From £15.
Located in High Wycombe lies Hazlemere, the golf club where Luke Donald honed his skills as a junior. Another cool feature about this venue is that it is completely owned by members - ensuring a cheap and pleasant experience with each visit.
Winter Deal: Weekend Rates From £40 / Weekday From £30.
Alan Walker designed Ingrebourne: a venue that boasts outstanding vistas of the Thames Valley and Rainham Marshes Nature Reserve. This Championship Course also plays terrifically in the winter, so no need to worry about restrictions during your off-season visit.
Winter Deal: £45 4-Ball at Weekend - Championship Course.
Uttoxeter exudes class from the first tee to the last, which is seriously augmented with fantastic scenery from every hole. Overlooking the iconic racecourse, the course was opened in 1975 and features daunting elevation changes.
Winter Deal: £12 Per Round on Monday / £16 Rest of Week / £20 Weekend.
Having opened in 1990, Sapey has made quite the name for itself in a little over 30 years of its existence. Blossoming with life throughout the course, a recent introduction of a short 9-hole layout has bolstered the general appeal of this forward-thinking establishment.
Winter Deal: £26 Per Round Midweek (18-Hole Course).
Bentham is a marvellous parkland course that is situated in the Three Peaks area of the county. If you're looking for a golfing getaway, then the luxury pods and lodges are an excellent base.
Winter Deal: Special Deal of £10.
Another club with both a traditional and shorter, 9-hole route located on-site. Measuring a touch over 6,250 yards from the tips, accuracy is just as important as length as you tackle this troublesome challenge. With both a short game area and driving range, Haigh Hall has all of the facilities to help prepare you efficiently for your round.
Winter Deal: Offering Monday-Friday at £10, Weekends at £15.
Marton Meadows is the ultimate short game arena, and it features a short 9-hole golf course. If the weather is particularly bad, then why not head inside where a Golf Simulator can be experienced with renowned courses awaiting your errant drives!
Winter Deal: £15 Rate at Weekends.
Park Wood is a great family-centric golf club, with a fabulous 18-hole course. Additional features include a driving range, chipping area, putting green and an inviting clubhouse that serves wonderful dishes - including a traditional roast dinner on Sundays.
Winter Deal: Midweek Hot Deals From £19 & Course Rounds From £22.50.
Both locations offer fantastic deals and an excellent golf course to mirror the reduced pricing. Whether you're new to golf or a seasoned vet, both layouts will have something to offer you.
Winter Deal: Hot Deals From Just £6.99 Midweek & Worning Weekend Tee Times From £9.
Designed and created by Bradford Benz, the tough 6,933-yard layout features everything you'd need to challenge yourself. The course is of championship standard and outstanding views of the expansive and beautiful Surrey countryside dominate the experience.
Winter Deal: Midweek Morning Hot Deals From Just £30.99 or £25 For Afternoon/Twilight Tee Times.
Opened in 1999 and created through the vision of David Williams, the incredible clubhouse overlooks the 18th hole, which is an ideal location for the 19th hole. This parkland layout is long, measuring over 6,850 yards, and it is well protected by vast bunkering. You'll need to be at your absolute best but with huge savings, even the poorest of rounds can be enjoyed.
Winter Deal: Morning, Midweek Hot Deals From Just £32 or Just £25 For Twilight Times.
De Vere is quite lengthy, a touch under 7,000 yards. Its championship course is stunning, and it has been constructed to US PGA standards. Featuring plentiful lakes, bunkers, streams and trees, it certainly isn't short from a colourful perspective.
Winter Deal: £20 Before 12:00 & £16 After 12:00.
Dudsbury is a monumental challenge that is located conveniently close to Bournemouth town centre. Another course that almost hits the 7,000-yard mark from the tips, length in addition to accuracy is pivotal. This layout has hosted the PGA EuroPro Tour – which highlights its quality.
Parley first opened as an exclusive driving range facility before branching out and generating a portion of the property into a 9-hole course. Due to two different teeing areas on each hole, you can repeat the loop twice to create the 18-hole experience. With plenty of practice facilities also present, Parley is an excellent location for dialling in your short game.
Winter Deal: £17.50 Before 08:00, £22 Until 12:00 Then £15 Twilight.
Set in Test Valley, The Hampshire will be celebrating their 30th anniversary this year. The course measures at 6,380 yards and it's an ideal route for novices, with generous fairways. This facility is excellent during winter months, due to excellent drainage.
Due to a healthy array of tee markings, South Cerney can be enjoyed by both the novice and veteran golfer. What bolsters the appeal of South Cerney are the excellent practice facilities that warmly prepare you for the impending challenge.
Ireland
Ireland's love for golf is well documented and the country's landscape is ideal for golf facilities.
Lough Erne Golf Resort features The Faldo Championship Course that measures comfortably over 7,100 yards. Due to excellent drainage, the course isn't solely playable throughout the winter period - it thrives. The halfway hut is the perfect place to rest and refuel for the back nine but be wary, this excellent layout bites hard.
Winter Deal: 2-Ball Special £99 Monday-Thursday & £129 Friday-Sunday Until End of March.
The land that sits on Powerscourt Golf Club could not have been laid out more ideally for a round of golf. Located only 30 minutes from Dublin Airport, this marvellous route should appeal to international golfers too. The precise maintenance ensures golf is played all year round - but be prepared for the challenge that lies ahead.
Winter Deal: 4-Ball Special - €225 All Week.
---
With so many excellent tee time savings through GolfNow, there is no excuse not to be playing for the limited duration of the winter period.
With the new golfing season on the horizon, March is the ideal time to get back out on the course and prepare for the summer months.
---
What do you think? leave your comments below (Comments)
---
Tags: GolfNow Golf Courses daily picks Courses
---
comments powered by

Disqus