18 Memorable Golf Courses You Need to Play This Year
By: Golfshake Editor | Fri 06 May 2022 |
Comments
---
What makes a golf course truly memorable? It's a question that is unique to the perspective of the individual; for some it's the quality of the design, the challenge of the layout, the history behind the club, or the scenery that surrounds it.
For this year, we wanted to find some of these courses, several of which you may not be familiar with.
Looking through responses to our 2021 Golfshake Course Survey and the favourites that golfers played, we have picked out venues that boasted comments including key words like 'gem, unsung, unknown and quirky' to bring together a varied collection of places you should consider playing this season and beyond.
We'd love to know if you have experienced any of them yourself - perhaps leave a review - and we would welcome your suggestions for other courses that can be considered memorable!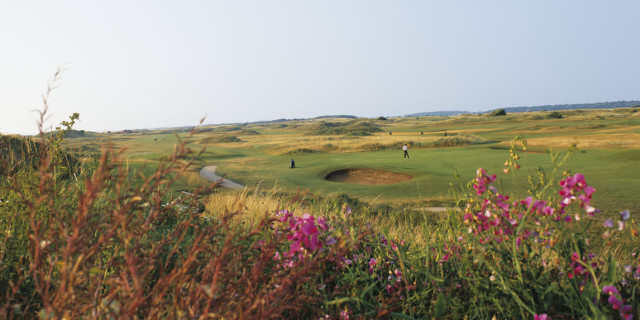 Location: Blundellsands, Liverpool
Golfshake Rating: 4.91
Survey Comment: "One of the most underrated clubs in the UK. General comment from those playing it for the first time is 'why have we not been to this course before.'"
Location: Southgate, Swansea
Golfshake Rating: 4.86
Survey Comment: "It's all the things in a course I look for coming together. The view from the tees, the quality of the fairways and greens, the remoteness."
Location: Kemnay, Inverurie
Golfshake Rating: 4.69
Survey Comment: "It is a jewel in Aberdeenshire. Well laid out with a good combination of par 3, 4 and 5 holes."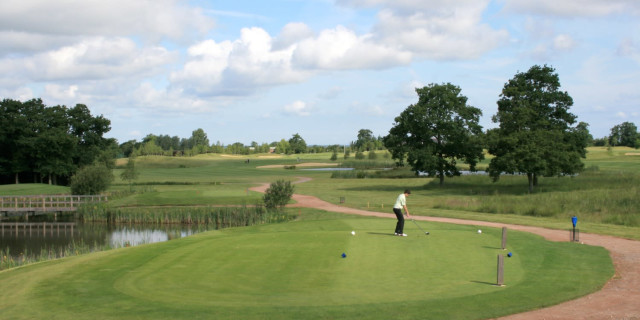 Location: Horton-cum-Studley, Oxford
Golfshake Rating: 4.59
Survey Comment: "Always a warm and friendly welcome plus a fab team of golf oriented people all round. Really great course with 18 individual and exciting holes, many challenging with very well designed water coming into play. It is always in excellent condition whatever season you decide to venture out. Totally recommend."
Location: Retford, Nottinghamshire
Golfshake Rating: 4.58
Survey Comment: "Rural gem. Quiet area and in great condition all year. Friendly atmosphere and a real pleasure to play."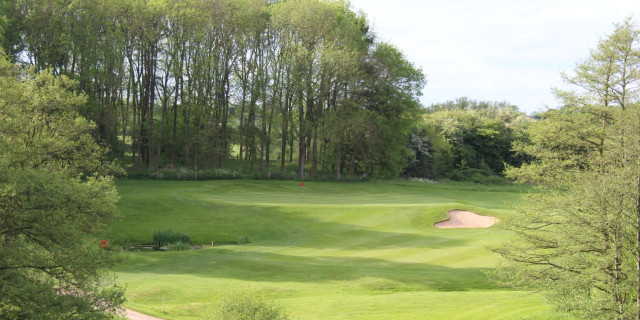 Location: Grantham, Lincolnshire
Golfshake Rating: 4.55
Survey Comment: "Set in scenic estate grounds, this is a tough but fair golf course. Only 17 bunkers but small greens mean accuracy is key. Miss the fairways you are unlikely to reach the greens. Unbelievably tough greens, amazing backdrop of Stoke Rochford House and a bargain at £25 on a weekday."
Location: Southampton, Hampshire
Golfshake Rating: 4.52
Survey Comment: "Beautiful Harry Colt heathland layout near Southampton. Lots of variety, great greens, a real treat!"
Location: South Uist, Outer Hebrides
Golfshake Rating: 4.33
Survey Comment: "Golf in its purist form, in the most beautiful location, with the most amazing design using the natural terrain."
Location: Cleeve Hill, Cheltenham
Golfshake Rating: 4.29
Survey Comment: "Golf at its natural and original best. Extraordinary views, exceptional green sites, MacKenzie, Old Tom and quarries!"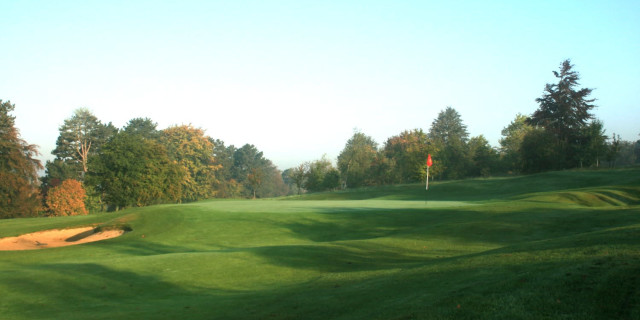 Location: Amersham, Buckinghamshire
Golfshake Rating: 4.27
Survey Comment: "Tricky with lots of elevated greens well protected by bunkers. Also improves your slope play. You get a great workout. Then rewarded with good food and drink at the clubhouse. What is not to like. So if you're in Bucks, drop by."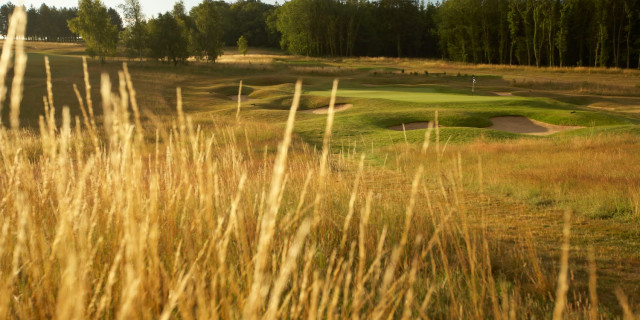 Location: Goodwood, Chichester
Golfshake Rating: 4.25
Survey Comment: "Absolutely unique downland course with stunning views across southern Sussex. The Gazebo after the 7th hole provides the best range of fresh, prepared to order, hot and cold food possible, with freshly brewed coffee and tea to accompany. Just the best golfing experience."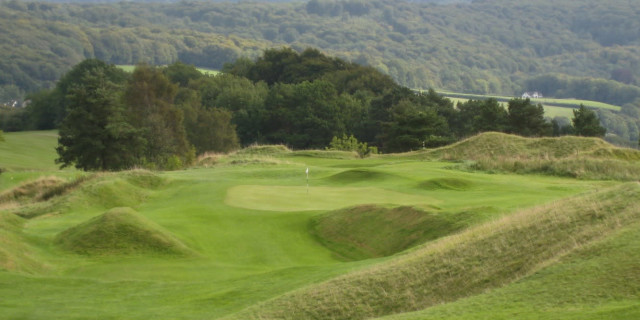 Location: Painswick, Gloucestershire
Golfshake Rating: 4.22
Survey Comment: "Great little course built across an Iron Age fort. Some of the most picturesque holes in England. Best played late April/May. Great value and a welcoming clubhouse."
Location: Halifax, West Yorkshire
Golfshake Rating: 4.20
Survey Comment: "It's incredible value for a course that's got plenty of strategic golf holes, views aplenty, a ridiculously good signature apr 3 and above all is cracking fun."
Location: London, Essex
Golfshake Rating: 4.16
Survey Comment: "Huge improvements over last couple of years. A great test of golf, with the smallest green in the UK, and great views over London. Get there early and use all the practice facilities before you tee off."
Location: March, Cambridgeshire
Golfshake Rating: 4.10
Survey Comment: "Come and try the 'Gem of the Fen'. Whilst being a 9 hole course it is not without its difficulties and worth testing your skills and planning your shots. Having spent time and considerable money on additional drainage of the greens, I am sure come spring time will be a match for any greens that you would wish to compare them with."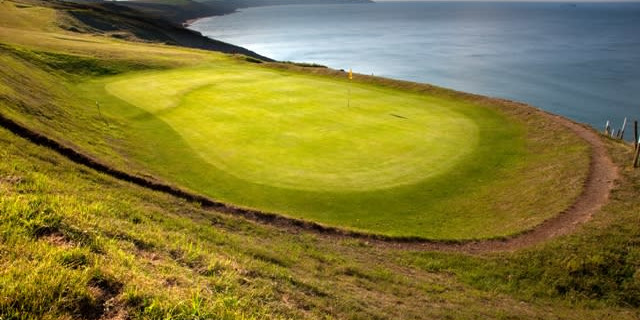 Location: Portwrinkle, Cornwall
Golfshake Rating: 4.09
Survey Comment: "Cliff-top course with stunning views, some tough holes and a couple of quirky square (yes, square!) greens."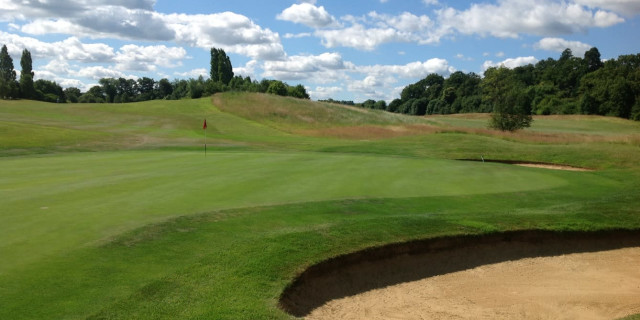 Location: Milford, Godalming
Golfshake Rating: 3.90
Survey Comment: "Not a long course but plenty of twists and turns to keep you interested. Great finishing four holes with new 15, 16 (now SI 1) and 17. Buggies galore. Friendly welcome."
Location: Romney Marsh, Kent
Golfshake Rating: 3.75
Survey Comment: "A challenging coastal course on the Romney Marshes, for any standard of golfer, but particularly for mid- to higher handicappers. Very rarely is there a day at Lydd, when the wind isn't blowing to some degree, making the challenge even more daunting. A feature of the course is that it is so important, on many holes, to hit the right landing area with your tee, or second shot - and some of these areas are quite small! The course, overall, is generally in a decent condition, and the wildlife, around the course, being in marshland is also of interest."
---
Related Content
32 Perfect Golf Courses For You to Play in 2022
The 20 Most Highly Recommended Golf Courses to Play in 2022
The Golf Courses That Golfers Recommended to Others
---
Related Content: golfshake Golf Courses Courses
What do you think? leave your comments below (Comments)
---
Leave your comments below
comments powered by

Disqus
Plan Your Next Round
Ardglass Golf Club
County Down
from £22.00
Save 50%
Castlerock Golf Club
County Londonderry
Galgorm Castle Golf Club
County Antrim
from £13.00
Save 23%
More Golf Course & Travel Features
Plan your next golf break with Golfbreaks.com