10 Venues for the Perfect Golf Staycation
By: Will Trinkwon | Tue 25 Aug 2020 |
Comments
---
It's easy to forget, but the UK has some of the most varied and interesting golf terrain in the world, as well as first class hospitality, which makes a golf holiday on our shores just as special as jetting abroad. If you're seeking the perfect golf staycation, these are the destinations that Golfshake particularly recommends.
The Belfry
Any list of the perfect golf staycations worth its salt has to include a mention of The Belfry. Golfers with just a passing interest in Ryder Cup lore will know the attractions of its courses. As well as being the spiritual home of the famous team match play event, the par 72, 7235-yard Brabazon Course is a beautiful but brutal test of golf, and perfect for golfers seeking a rigorous examination of their games (as well as the thrill of teeing up at a Ryder Cup venue!). But there is also the PGA National, and the shorter, less punishing Derby. These are both championship courses, with excellent conditioning, but more manageable and certainly less daunting than the famous Brabazon. Less people know about The Belfry's sumptuous accommodation facilities. A four-star venue, The Belfry boasts 319 rooms, spanning the elite Brabazon Lodge to Manor House suites. Food is predictably excellent – lite bites can be enjoyed in Sam's Club House or the Brabazon Bar. The Ryder Grill restaurant offers outstanding full meals. What's more, Golfbreaks offers one night and rounds on both the PGA National and The Derby from just £119 per head.
Slaley Hall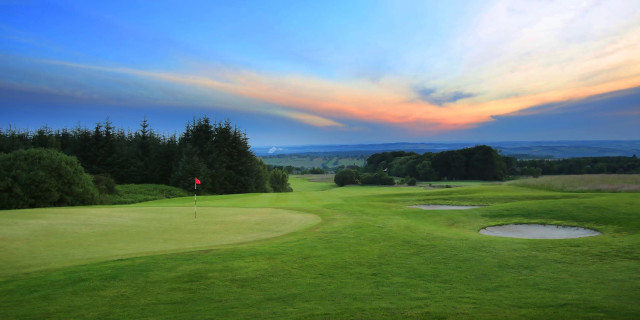 Built into an Edwardian mansion, Slaley Hall has a perfect blend of history and luxury, and two fantastic championship golf courses to boot, reflected in its having hosted eight European Tour and Senior Tour events. 141 bedrooms are offered, as well as many restaurants. It also has a top-quality spa to help you iron out those kinked back and neck muscles after a long day on the fairways. Speaking of golf, although they don't quite have the fame of The Belfry's Brabazon, Slaley Hall's Hunting and Priestman Courses are no slouches. Both recall Woburn Golf Club with their tall trees and colourful flowers, and can be accessed easily via the A1, just 26 miles South West of Newcastle. Golfbreaks offers two rounds of golf on both the Hunting and the Priestman, as well as one-night accommodation from £99 per head.
Carden Park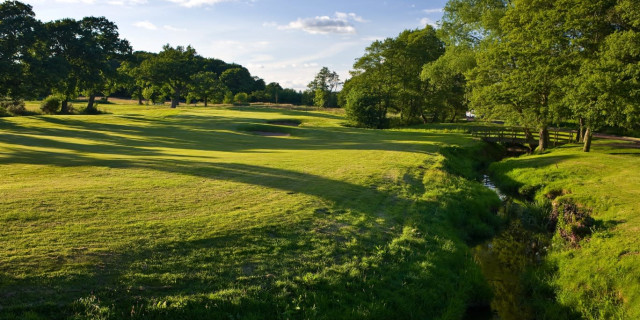 Next on the list is Carden Park. This venue isn't as well-known as some of the others here, but those who know Carden Park will be familiar with its quality, which was also recognised in the 2018 World Golf Awards, where the resort was named 'England's Best Golf Hotel'. It's a sprawling resort, spanning 1,000 acres of estate and offering almost 200 rooms, including sophisticated suites, and a whopping five restaurants and bars. In terms of golf courses, two excellent layouts are offered: the Cheshire and the Nicklaus. These are earmarked by incredibly tight fairways and a surfeit of hazards, so be sure to bring your A game, or at least a full bag of golf balls. A round on each and one-night accommodation can be booked via Golfbreaks, with prices per person beginning at £109.
Old Thorns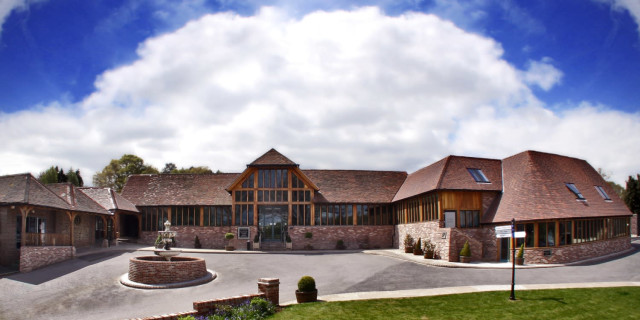 Old Thorns is set in among over 400 acres of Hampshire countryside, characterised by ancient trees and ferns and gorse. Its old and thorny bushes are plentiful if you stray off the fairways, making it one of the most accurately named places in golf. Just one course is offered, however this is a strong test which provides a challenge for all manner of golfers. The hotel is a four-star manor house, boasting expansive bars and restaurants, and over 160 bedrooms which show the spoils of a recent £20 million investment. Two rounds of golf and one night's accommodation will set you back just £99 per person if you book through Golfbreaks.
Macdonald Portal Hotel & Spa
Two golf courses are offered at the Macdonald Portal Hotel, as well four-star accommodation, a health club and a luxurious spa, all of which makes it a great place for a UK staycation. The courses are of the parkland variety but feature some steep changes in elevation which give them similar challenges to more downland layouts. Liberal water hazards mean straight approach play is required to score well. Portal Hotel & Spa resort is also home to 85 rooms, equipped with all the luxury you'd expect from a four-star resort, as well as an award-winning restaurant where you can refuel after your round with top-quality food made from the finest British ingredients. Guests seeking further relaxation can take advantage of the spa's sauna, steam, salt and ice rooms and swimming pool. One night and two rounds of golf at Macdonald Portal costs just £99 per person on Golfbreaks.
East Sussex National Golf Hotel
East Sussex National Golf Hotel is set in 1100 acres of Sussex countryside and with two courses and a fantastic hotel, the resort is justly regarded as one of the finest in the county. The championship East Course, which often plays host to regional Open Championship Qualifying, is the longer of the pair and the star of the show, but the West is also a fine course, characterised by pinched fairways and long rough to ensure that golfers of all abilities face a challenge. After a stiff round, golfers can relax in one (or both) of two restaurants, and a health club and spa, before retiring to one of East Sussex's 104 comfortable rooms. To top it off, Golfbreaks offers a round of golf on either the East or the West as well as one night's accommodation from just £99.
Forest of Arden Marriott Hotel & Country Club
Sporting four-star accommodation, two top golf courses and attractive surroundings, the Forest of Arden Marriott is another excellent place to spend a golf staycation. Like many of the other venues on this list, the resort has two courses, encompassing the testing and more famous Arden Course, formerly the home of the British Masters, and the shorter, more lenient Aylesford. On-site restaurants, meanwhile, include the award-winning Cast Iron Grill and Restaurant. This restaurant uses locally sourced ingredients and offers a range of international food options. In the morning, full English and continental breakfasts are served and it wouldn't be an English resort without the option of a luxurious afternoon tea. Relaxation options include a spa, tennis courts and a beauty salon. The Forest of Arden's luxury can be experienced from just £99 per head, getting you two rounds of golf and one night of accommodation, on Golfbreaks.
Belton Woods
Belton Woods Hotel in Lincolnshire offers four-star accommodation and a range of excellent golfing options. 132 bedrooms, in addition to four luxury suites, are available to accommodate guests and all feature en-suite baths, showers, flat-screen TV and all the other amenities you'd expect from a resort of this calibre. The almost 6800-yard Lakes Course is the tougher of the two layouts available to play at Belton Woods. This played host to the PGA European Seniors Tour from 1995-98. Meanwhile, for golfers who fancy a shorter test, the 6600-yard Woodside provides a gentler challenge, though sharp-shooting is still demanded. The Stanton's Brasserie and Claret Jug restaurants offer a mix of local ales and homemade food forged from fresh local ingredients – the perfect way to relax after a hard round on the links. Two rounds and one night's accommodation can be secured through Golfbreaks from £99 per head.
Turnberry
Whatever you may think about Donald Trump, there is no denying Turnberry is an excellent spot for a UK staycation. Centred around the outstanding Hotel, an Edwardian building offering five-star luxury accommodation, you can be certain to enjoy your stay here – and the golf's not bad too. Golfers can choose from two courses, including the Open Championship-hosting Ailsa Course. Both are in excellent condition and provide a fierce test of golf on the Ayrshire coast, especially for players unused to coping with high winds. After the round, golfers can wind down with a trip to the resort's sumptuous spa, or soak in picturesque views over the links at Turnberry's signature 1906 Italian-themed restaurant or, for those who prefer a more traditional, and local, Scottish theme, The Duel in the Sun restaurant, which is also on-site. The jewel in the crown? Golfbreaks are offering two rounds, with one night's accommodation, from just £199.
Gleneagles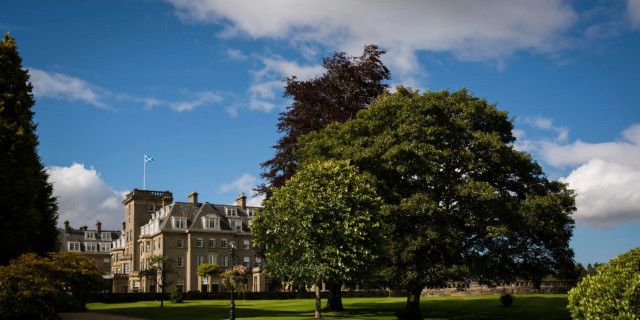 The final resort on this list needs no introduction: it's Gleneagles. Since winning Best Golf Resort in the World at the Daily Telegraph UltraTravel Awards three times in a row, Gleneagles has maintained its spot at the very peak of golf resorts and is a great place for a golf-themed holiday. First, there's the courses, of which a whopping three championship layouts are offered. The PGA Centenary is the most famous, after it played host to the 2014 Ryder Cup, but don't think that means that The King's and The Queen's are second-rate. Both designed by James Braid, these courses are an excellent complement to the Ryder Cup course. Accommodation is equally top-quality. Gleneagles has over 230 luxury rooms, while a selection of restaurants ensures that you'll never be in want of a good meal. For non-golfers, or golfers wanting a day-off from playing, the resort also offers clay pigeon shooting, horse riding, off-road driving and all manner of other activities to ensure there's something for every taste and need. Last but not least, one round of golf and a night at the resort can be booked through Golfbreaks from £210.
---
Related Content
Top Stay & Play Venues on Golfshake
9 Top 100 Golf Venues Where You Can Stay & Play
The Best Golf Experiences in the UK
---
Related Content: travel Scotland golfbreaks England Courses
What do you think? leave your comments below (Comments)
---
Leave your comments below
comments powered by

Disqus
Plan Your Next Round
Ardglass Golf Club
County Down
from £22.00
Save 50%
Castlerock Golf Club
County Londonderry
Galgorm Castle Golf Club
County Antrim
from £13.00
Save 23%
More Golf Course & Travel Features
Plan your next golf break with Golfbreaks.com