Feature Review PGA National
---
Much of the marketing surrounding the iconic Belfry's golf-course offering understandably focuses on the Brabazon - a UK top 100 layout, a four-time Ryder Cup host and arguably the most famous track in England. But, just meters from the first tee lies another golf course that, in my view, has a number of holes to rival its more highly regarded counterpart. Intrinsically they are different courses, so any direct comparison is a touch futile, so I'll simply say that the PGA National at the esteemed Midlands resort is a very enjoyable test and a course with huge potential.
The PGA National is laid out over a relatively flat piece of parkland land, not too dissimilar to the terrain utilized for the Brabazon. That said, it's a completely different golf course. The feel is predominantly that of an inland links, facilitated by a number of links-like characteristics. After the first few holes – which have a distinctly parkland feel – large, towering bunkers, humpy fairways and sizeable, undulating greens become a feature of the course.
Subtle elevations, fairways channeled through raised banks, water hazards and trees combine in excellent harmony to produce a layout that perhaps doesn't garner the credit it fully deserves. There's a number of well-designed holes on the PGA National and it's well worth extending a trip to the Belfry by a day in order to play a round here.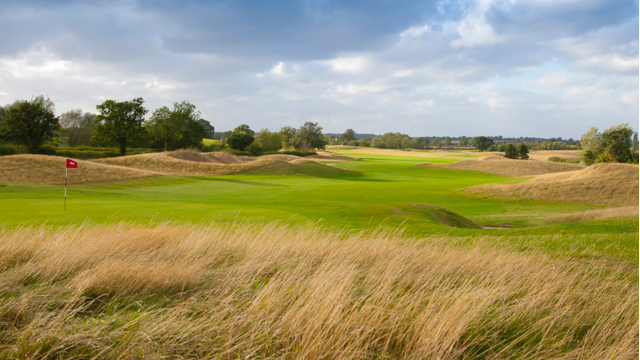 Front nine
After a fairly straight away opening par-4, the PGA National springs into life over the next three holes – a pretty good cross-section of the course as a whole. The 2nd is a good par 5, thanks principally to the green complex and the lake that sits some 260 yards from the tee. It will make the longer hitters think twice, but, for most, it's the second shot that warrants most deliberation. A rough-strewn hump and cluster of trees are positioned on the left of the fairway some 120 yards from the green, so lay-ups must target the right portion of the short grass. From there, a wedge or short iron remains to a well-protected putting surface perched above the level of the fairway.
The 3rd is arguably the best short hole on the course, narrowly beating off the similarly striking 8th. Water is employed here – as it is on a number of holes – in the form of large pond that will swallow anything pulled or mishit. Indeed, the only bail-out area is to the right, but that will leave a tough second to a large, portioned green. Something else to avoid is the vast Himalaya-esque trap to the left of the putting surface, which is deep enough to completely obscure the flag should you have the misfortune of finding it from the tee.
The 4th is, in my view, the best hole on the front nine and the second-best on the entire course. It's a devilishly difficult tee shot, though, and conservative golfers will take a different approach to those who are less risk-averse. Drives are hit across the corner of a lake to a seemingly tiny slither of fairway that's slanted from right to left. Your line very much depends on your carry distance and confidence, but the further right you go, the longer the second shot. And, to add another dimension to the difficulty, if you take an aggressive line and hit a great drive, there's a risk that you'll find another water hazard that lurks about 100 yards short of the green. My own drive cleared water by around 20 yards and only wet rough prevented it toppling into the pond through the fairway. The benefit of being aggressive, however, is leaving yourself a short iron to a green surrounded by rough and mounds. Those who play safe will require a long iron to a putting surface more suited to approaches with a steeper angle of descent.
After the 4th, the course does transform into a more links-like test, although elements of that type of layout are in existence from the second hole onwards. Humps and hollows and fairways channeled between banks and gargantuan bunkers are more of a feature from the middle of the front nine onwards, putting increased emphasis on driving accuracy and precision on approaches.
Back nine
A tough par-4 is followed by a mild par-3 to kick off a back side that is arguably tougher than the preceding nine holes, before the stand-out hole on the PGA National: the 12th. It's a beautifully crafted uphill par -5 that looks simply stunning when illuminated by shards of late-afternoon sunlight.
It's a generous fairway, although lost balls will be commonplace for those straying right of the tee. Two huge, well-placed bunkers – one on the left and the other slightly further up on the right – create a good focal point for drives, but must be avoided at all costs. The ideal tee shot will stop some 20 yards short, in front of a narrow channel forged between the two crescent-shaped bunkers. From there, a long iron or fairway wood should be employed to find the ideal lay-up area on a fairway that moves gently, then more steeply, uphill towards a putting surface guarded by rough, swales and yet more sand. It's just a beautifully sculpted hole.
Other strong holes on the back nine include the 13th – a sweeping, downhill dogleg par-4 with a tiered green that's angled from front left to back right – and the par-4 14th. It's a boomerang-shaped hole with another massive bunker situated on the apex of the dogleg. Longer hitters might be tempted to take on the diagonal drive but the shrewd play is a fairway wood or long iron to the corner, leaving a mid-iron to a tricky downhill-sloping putting surface fronted by a steep run-off area.
The PGA National is a course with some really entertaining, unique holes that can be played in a number of different ways. There's good variation here and some striking course characteristics – notably the vast bunkers and tricky links-esque green complexes – and you can't help but feel it'd get more acclaim and attract more focus if it wasn't situated on the doorstep of a four-time Ryder Cup host course. Still, it's a well worth a visit and a course that surpassed my expectations. Overall, I'd give it a rating of 8/10.
---
Related Articles
---
Related Content:
What do you think? leave your comments below (Comments)
---
Leave your comments below
comments powered by

Disqus
Plan Your Next Round
Harborne Church Farm Golf Club
Warwickshire
from £10.00
Save 10%
Maxstoke Park Golf Club
Warwickshire
from £25.00
Save 30%
Shirley Golf Club
Warwickshire
from £25.00
Save 25%
More Golf Course & Travel Features
Plan your next golf break with Golfbreaks.com
Travel Deals Newsletter
Save up to 50% on golf breaks!
Join Today »