Feature The Belfry Resort
---
Over the last few months, I've read multiple articles about the Belfry's new £26 million upgrade. It hasn't been an easy few years for the legendary Midlands resort, with changes of both ownership and strategy and calls for upgrades from some quarters. To their credit, the Belfry's owners - KSL Capital Partners LLC - listened to this feedback and embarked on a series of extensive renovations shortly after acquiring the famous resort in August 2012. It was an ambitious plan, encompassing upgrades to all bedrooms, meeting rooms, public spaces and other amenities, but I'm glad to report that it's come through with flying colours. Granted, I don't have a frame of reference, having never visited the old resort, but there can be no doubt The Belfry is one of the UK's preeminent golf hotels.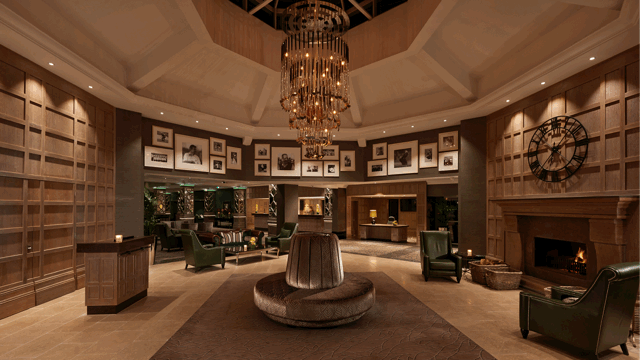 The Belfry's Ryder Cup heritage is celebrated, and rightly so. After all, how many golf courses around the world have staged golf's biggest event on four occasions? It's something the resort is clearly proud of, and the new owners have decided to put the biennial contest at the forefront of its marketing activity. Even though England has come through recession and its financial situation is improving exponentially, £26m is a huge amount to spend on renovations in the golf sphere. It's something to be lauded, though, and something that looks to be paying dividends. I can't recall such a buzz around the opening or re-opening of any other golf resort in the UK over the last few years, and I'm told the numbers of visitors are encouraging.

What's so good about The Belfry is that - while principally being a golf hotel and resort - it also serves other sectors, and diversification of revenue streams is one of the keys to long-term success. It's a hotbed for corporate activity and conferences, its exemplary health facilities attract a broad spectrum of users and the Bel Air nightclub is packed on a Friday and Saturday night with hedonistic revelers. Golf, however, will always be at the forefront, and what The Belfry manages to do so impressively is merge all facets while never losing sight of that fact. Some golf resorts can feel over-corporate, and that's understandable, but you won't get that sensation here.

As you stroll through the corridors of the famous resort, you'll see numerous evocative images from golf's greatest event. In fact, you often find yourself transfixed by a picture on the wall, trying to recall exactly where you were at the time. As you walk around, you really get the sense you're following in the footsteps of some of golf's greats. What's more, you can venture into US and European team rooms and envision those awe-inspiring speeches given by the likes of Tom Watson, Bernard Gallacher and Tony Jacklin. As you dine in The Ryder Grill, enjoy a post-round drink in Sam's Clubhouse or take in many other Ryder Cup-themed amenities, you'll constantly be reminded of all the scintillating action that's played out here over the years, and the experience really is better for it. After all, how often do you get to wander around inside Lords' clubhouse and have a quick knock on the square, or dine at Wimbledon before a casual game on Centre Court?

It's not just off-course pursuits and the three layouts at The Belfry that garner high acclaim, though. The PGA Academy offers outstanding practice facilities and tuition, as well as custom-fitting suites. It has a 34-bay floodlit driving range, two putting greens, a short-game practice area, video analytics, launch-monitor technology and even a 'extra 20 yards' gym facility - in short, everything a beginner or proficient golfer needs to improve.
The Courses
There are three courses here: the Derby, the PGA National and the world-famous Brabazon, and all have numerous plus points. The Derby - popular with members - is a varied parkland test suitable for players of all abilities. Beginners and high-handicappers might struggle on the other two courses, however.

The PGA National is an inland links layout that wends between humps and dunes. The landscape means you're fully engrossed in the hole you're playing, which adds to the enjoyment on offer. Water comes into play on the front nine and features on the 2nd, 3rd and 4th - three of the best holes on the course. The latter requires a bold drive over the corner of a vast water hazard before an approach to an undulating green surrounded by swails and run-off areas. It's s course where straight hitting and shrewd course management are needed to avoid towering bunkers, and put yourself in position to find the right portion of putting surfaces characterised by their size and slopes. It's a unique course with some very well crafted holes, and, in my mind, only falls behind the Brabazon in conditioning.
Read my PGA National review here
It's a mark of how highly I rate the PGA National's design because the Brabazon is a tremendous golf course, particularly the front nine. There's water to contend with on seven of the nine holes, which adds some genuine excitement. The par-5 3rd and par-4 6th - the latter an exceptional snaking hole with a lake all up the left - are probably the stand-outs but, impressively, none can be described as bland - high praise indeed. On the back side, the brilliant short par-4 10th - where you just have to attempt to drive the green, even though it's fraught with peril - and the treacherous 18th, with both drives and approaches hit over water, are holes you'll reminisce about during your regular weekend fourball time and time again.
Golf Breaks
After golf, The Belfry is there to accommodate every whim. Sam's Clubhouse provides the perfect setting for post-round pleasantries, and there's plenty to keep you entertained here - from numerous screens to enticing pub food - well into the evening. Others will prefer a trip to the highly acclaimed Ryder Grill, which uses locally sourced and freshly picked ingredients, before moving to the tastefully designed Brabazon Bar.
If excess isn't your thing, take a trip to the pool and gym or treat yourself in the sumptuous spa - the subject of a complete overhaul and refurbishment and a leisure resort that now rivals the best in the region. If you have the energy, you might be tempted by the Belfry's very own Bel Air night club. If not, retire to one of three types of bedrooms - Suite, Superior and Signature - which are all defined by modern fixtures, light colour schemes and deep, comfortable beds.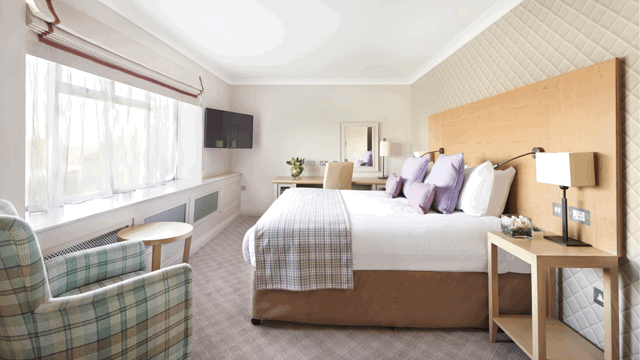 If you're overdue a golf break, there really is no need to look further than The Belfry. I've mentioned all the tangibles - from the quality golf courses to the extensive night-time pursuits - but the intangibles are just as impressive. What struck me the most about The Belfry was the excellent service, from the doormen meeting you at reception to the jovial starter imparting wisdom on the first tee. It's a first-class all-round experience, and ideally positioned to attract visitors from all over England and further afield. I thoroughly enjoyed my stay, and I'm sure you will too.
---
Related Articles
---
Related Content:
What do you think? leave your comments below (Comments)
---
Leave your comments below
comments powered by

Disqus
Plan Your Next Round
Ansty Golf Centre
Warwickshire
from £14.00
Save 23%
Dudley Golf Club
Worcestershire
from £9.00
Save 24%
Marriott Forest of Arden Golf Club
Warwickshire
from £17.00
Save 20%
More Golf Course & Travel Features
Plan your next golf break with Golfbreaks.com