The Toughest Par 5s in England
By: Golfshake Editor | Fri 28 Aug 2020 |
Comments
---
Par 5s can be punishingly long or intelligently strategic, the yardage strikes fear into the heart of higher handicap golfers, with better players licking their lips at the prospect of a birdie opportunity, at least in theory. However, there are par 5s that are considerably difficult for all standards of players, where escaping with a five should be considered a good score.
The likes of the 13th at Augusta National, 18th at Pebble Beach and 14th at St Andrews are legendary in the game, but away from those iconic layouts, there are mnay terrific long holes to appreciate, not least in England.
Continuing our Golfshake Score Tracker Stat Series, we studied rounds that have been tracked during the 2020 season by golfers with a handicap from 4 to 23 who shot scores between 70 to 110, with each of these par 5s requiring at least 30 tracked rounds to be eligible as we seek to discover the 20 Toughest Par 5s in England!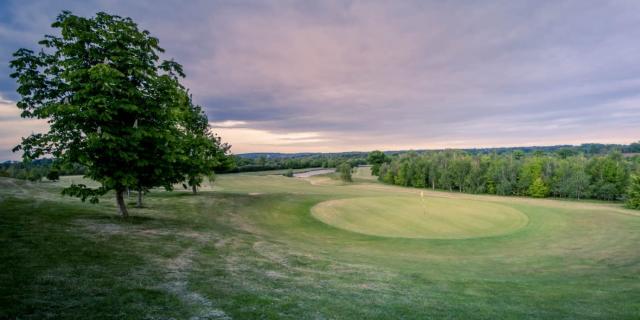 (3rd at West Midlands Golf Club)
Chichester Golf Club - Cathedral Course
Hole: 5th (Yellow)
Yards: 597
Stroke Index: 1
Average Score: 7.35
Hole: 10th (Yellow)
Yards: 575
Stroke Index: 2
Average Score: 7.29
Hole: 7th (Yellow)
Yards: 515
Stroke Index: 1
Average Score: 7.25
Hole: 6th (Yellow)
Yards: 552
Stroke Index: 4
Average Score: 7.20
Hole: 3rd (Yellow)
Yards: 469
Stroke Index: 2
Average Score: 7.11
Leeds Golf Centre - Wilke Ridge
Hole: 2nd (Yellow)
Yards: 559
Stroke Index: 4
Average Score: 7.09
Hole: 10th (Yellow)
Yards: 561
Stroke Index: 2
Average Score: 7.04
Hole: 13th (Yellow)
Yards: 474
Stroke Index: 2
Average Score: 7.03
Cams Hall Estate Golf Club - Creek Course
Hole: 16th (Yellow)
Yards: 533
Stroke Index: 3
Average Score: 7.01
Hole: 12th (Yellow)
Yards: 565
Stroke Index: 2
Average Score: 6.97
Hole: 4th (Yellow)
Yards: 485
Stroke Index: 1
Average Score: 6.97
Hole: 1st (Yellow)
Yards: 500
Stroke Index: 7
Average Score: 6.96
Hole: 1st (White)
Yards: 556
Stroke Index: 9
Average Score: 6.94
Hole: 10th (Yellow)
Yards: 509
Stroke Index: 5
Average Score: 6.92
Hole: 13th (Yellow)
Yards: 516
Stroke Index: 1
Average Score: 6.91
Hole: 10th (Yellow)
Yards: 538
Stroke Index: 1
Average Score: 6.90
Hole: 13th (Yellow)
Yards: 533
Stroke Index: 1
Average Score: 6.90
Hole: 3rd (Yellow)
Yards: 582
Stroke Index: 3
Average Score: 6.90
Bowood Hotel, Spa & Golf Resort
Hole: 13th (Yellow)
Yards: 563
Stroke Index: 7
Average Score: 6.89
Hole: 10th (Yellow)
Yards: 553
Stroke Index: 5
Average Score: 6.89
---
Related Content
The Most Difficult Par 3s England
The Toughest Par 4s in England
The Most Difficult 1st Holes in the UK
---
What do you think? leave your comments below (Comments)
---
Tags: stats Score Tracker golfshake daily picks Courses
---
PLAY MORE PLAY BETTER - LATEST TUITION TIPS
---
Leave your comments below
comments powered by

Disqus