The Scariest Holes in Golf
By: Golfshake Editor | Thu 31 Oct 2019 |
Comments
---
Your pulse is racing, your throat is dry, beads of sweat trickle down your brow, the weight of dread is oppressive. It's time to sharpen your pencil and ready yourself for a shattered scorecard, for these are truly the scariest holes in golf.
But what makes a hole intimidating? There are those that are visually ominous, featuring deep bunkers or an ocean or two. Some are quite simply long, requiring distance that mere mortals rarely muster. Others are difficult and fierce more by reputation. How many times have you heard about the Road Hole at St Andrews? How many balls have you seen sink into the lake on the 17th at TPC Sawgrass? Such is the psychology of the game; fear comes from what you see and what you expect.
When this subject is typically covered, the likes of those aforementioned iconic holes are frequently mentioned, as are the treacherous 18th at Carnoustie, and Royal Portrush's Calamity Corner. The 17th holes at both Whistling Straits - the 2020 Ryder Cup venue - and Kiawah Island cause nightmares in America. What about the 4th and 15th of Bethpage Black, the cliff-hugging par 5 12th at Old Head, or Oakmont's ludicrously difficult opening hole. The dramatic 15th at Cape Kidnappers in New Zealand is another standout. As is the widely photographed 16th at Cypress Point, which takes full advantage of the Pacific Ocean as its natural hazard, demanding a tee shot of 223 yards through and across the elements.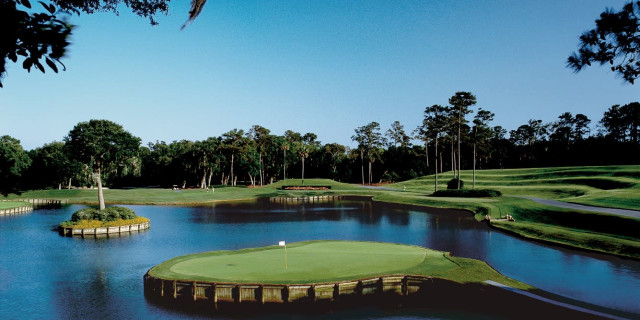 These are all remarkable holes to play, but admittedly few of us will have the opportunity to experience them. However, looking closer to home, and studying ten years' worth of data on the Golfshake Score Tracker, we have discovered a series of holes that terrorise everyday golfers, having ruinous effect on their scorecards. Here is a selection of them, split across various pars, based on the scores of Golfshake Members. Do any look familiar?
Par 3s
7th - Hainault Golf Club (Upper Course) – Average Score (7.40)
14th - Bunsay Downs Golf Club - Average Score (7.13)
5th - Wrag Barn Golf Club – Average Score (7.04)
13th - Salisbury & South Wilts Golf Club - Average Score (7.04)
17th - Crondon Park Golf Club (Championship Course) - Average Score (7.04)
18th - Parklands Golf Club - Average Score (6.96)
Par 4s
7th - Huddersfield Golf Club - Average Score (7.67)
16th - Pottergate Golf Club - Average Score (7.55)
10th - Portstewart Golf Club (Riverside) - Average Score (7.19)
14th - Wells Golf Club - Average Score (7.09)
8th - York Golf Club - Average Score (7.08)
17th - Beeston Fields Golf Club - Average Score (7.08)
6th - Treloy Golf Club - Average Score (7.06)
1st - Rushmere Golf Club - Average Score (7.05)
13th - Druids Glen - Average Score (7.05)
18th - The Belfry (Brabazon Course) - Average Score (7.04)
Par 5s
17th - Cinnamon Hill Course - Average Score (7.55)
3rd - West Midlands Golf Club - Average Score 7.44)
16th - Pestana Golf Resort (Alto Golf) - Average Score (7.43)
18th - Hotel Quinta da Marinha Resort - Average Score (7.43)
8th - Isle of Purbeck Golf Club - Average Score (7.25)
11th - The Nottinghamshire Golf & Country Club - Average Score (7.25)
Incredible numbers. And that's just an average!
But - as we all know - stats don't tell the whole story. Fear is a unique, personal thing. Something that scares you won't unsettle someone else. For a more anecdotal perspective, several Golfshake Ambassadors & Contributors shared their most nightmarish holes.
Rob Treanor says: "The 2nd on the Old Course at Gog Magog has a tee shot which frightens the life out of me! Played directly over an old quarry which runs up the hole's right-hand side and is out of bounds, this scary feature is a howling graveyard of lost balls. I have seen single figure handicap players require more than three balls when playing in medals from this tee. There are ghost stories about golfers who have a natural draw come over with goosebumps and knock out a sideways fade at the sight of this ghoulish tee shot!"
Mel Davies - Golfshake Ambassador and Midlands Specialist - has also seen golfing apparitions. "For me the scariest shot on the scariest hole is the tee shot on the 18th at West Midlands GC. 140 yards off the whites to an island green that is an almost replica of the 17th at Sawgrass. Only normally hitting a wedge or 9 iron but knowing water awaits anything off-line, makes what should be a relatively simple shot not so simple."
Indeed.
Being wayward is also not recommended on this Welsh classic, which both exhilarated and intimidated Darren Ramowski. "Arguably one of the most beautiful and picturesque courses I've played, but equalling scary due to its unique location and setting. Nefyn and District Golf Club, located in North West Wales, is set in Porthdinllaen and on the north coastline of the Llyn Peninsula and is often described as one of the best and must play experiences in Wales.
"However, time it wrong and the holes that feature on the Point 9 which head out to the lighthouse will put fear into the most seasoned golfer. Whilst the views and course layout are some of the best in golf, it is its proximity to the footpaths that lead to Porthdinllaen that will have golfers fearing for their lives. Imagine hitting tees shots on to narrow fairways dissected by footpaths dotted with groups of non-golfers - what do those cries of fore mean to them.
"Don't be put off though. There are 27 holes in total across three loops of nine and the club are fully aware of the locations popularity so will ensure if you do play, which every golfer should, that you play the Point 9 at a suitably appropriate time. The most recent review on Golfshake simply described Nefyn as 'Out of This World.'"
The Castle Course at St Andrews is the most recent additions to the Home of Golf, but it has caused much emotional trauma, particularly the par 3 17th hole, cited by Kevin Heggie. "One of the best (and toughest) par 3s you could ever play, this hole has it all, and with the Scottish weather throwing wind and rain at you throughout the year, it requires full commitment and skill to hit the green verses the North Sea.
"For me, the anticipation of playing this hole actually started just over a year beforehand, when I had a chance to walk around a few of the holes at this stunning course on a bright and relatively still day, and this hole was the one which got the most attention as we watched other golfers tee off, with mixed results. Roll on 12 months, and the weather, in Scottish parlance, was dreich, with harr was rolling in from the sea with accompanying winds. Club selection is the first challenge due to the required carry over the bay from the cliff top tee box, where anything short is bouncing off the rocks, but go long and rough and bunkers await. Once you've picked the right club, you have to then fully commit to the shot, as anything drifting left will also result in a reload."
For all that has been said, often it's the seemingly easiest shots and holes that are the scariest. For Golfshake's Kieran Clark, this isn't truer than on the 1st on the Old Course at St Andrews. "The Road Hole, the 11th (humorously known as the shortest par 5 in Scotland), or the 14th holes of this legendary venue are known for their difficulty, but not enough is written about that innocuous opener with its 128-yard-wide fairway. Standing on the tee before the R&A Clubhouse, with the weight of history on your shoulders, faced with the largest target area you could imagine, is positively terrifying. Such is the power of the brain and your thoughts, the apparently unmissable narrows before your eyes. And, yes, I have missed, both left and right, several times. That's golf. That's the mind. That's the influence of fear. When something gets inside your head, that is genuinely scary."
And there we have it, a combination of iconic holes, statistical terrors, and personal tales. That's more effective than any horror movie marathon. Have you played any of those mentioned above, or do you have your own story to tell? Let us know what the scariest hole you have played is!
---
Related Articles
The 18 Hardest Holes on Golfshake
The 18 Hardest Greens on Golfshake
---
What do you think? leave your comments below (Comments)
---
Tags: stats Score Tracker golfshake daily picks Courses
---
comments powered by

Disqus