Golfers Describe Excitement For Their First Rounds Back
By: Golfshake Editor | Fri 26 Mar 2021 |
Comments
---
It has been 84 days since a golf ball last officially whistled through the air in England, but on Monday, tees will finally be occupied again, bunkers will be found, and putts will be holed, as the nation welcomes back the ancient game.
That familiar soundtrack of club striking ball will be heard across fairways, crescendoed by laughter and joy reverberating throughout the land. Golf is BACK. And it has certainly been missed.
Play in Scotland has gratefully continued through winter, while courses re-opened in Wales a fortnight ago. Greens in Northern Ireland will be cut in time for a welcome resumption of business on Thursday, April 1st.
But for golfers in England, this is the moment when they will be reconnected with the sport and the friends they share it with. That's a reunion to celebrate - no matter how many balls you lose.
We put a series of questions to several of the Golfshake Ambassadors, Matt Holbrook, Mel Davies, Kevin Heggie, Richard Moore, Rob Cross and Rob Treanor, to discover their emotions ahead of the big day, how the lockdown has affected them, and what they hope from the months ahead.
For a more detailed personal story from Matt, please read The Life of a Golfer in Lockdown...
Seeing what the guys have said, their reflections, you should find something that relates to your own experience.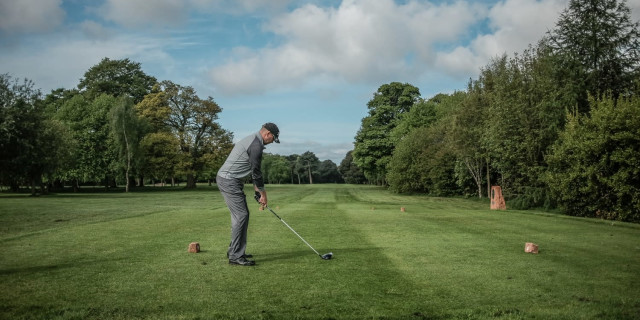 When golf returns in England, do you plan to get back out instantly?
Matt: "I plan to try and book a tee time - regardless of the weather - for that Monday. As I don't go back to work until the 1st April, I'm also hoping for some bonus golf on Tuesday and Wednesday should I be able to, restrictions depending."
Mel: "Oh yes! I've booked the 29th off work and have already sorted a four ball, I've even got a lesson booked in first."
Kevin: "I'm targeting my first round for the Easter Weekend, so it's guaranteed to rain! It will be great to get back out there and also see friends who I haven't seen since my last round just before Christmas. I'm going in with very low expectations, but hopefully I'll be able to get a range session in before the 1st tee."
Richard: "100% - I've already booked the 29th and 30th off work as holiday so I can overindulge. No matter the weather I will be there on those two days."
Rob C: "Yep, I have booked the 29th and 30th off work and intend to play both days! With the lighter evenings coming, combined with moving clubs, I can't wait to get out as much as possible!"
Rob T: "Not instantly but soon after!"
What are you hoping for this year on the golf course, both for yourself and more generally? Do you have any specific ambitions?
Matt: "This year there are two things. Firstly, I think I need to try and play as much golf as possible. We lost April last year to the pandemic, but at that time I had already tracked 17 rounds between January and the end of March. So there is some catching up to do. Secondly, I just plan to enjoy my golf and make the most of it. I have already booked in to play a couple of open comps local to me on some cracking courses and there will be a trip or two thrown in for sure too."
Mel: "I'm hoping to get my handicap lower than it is (6.9 index at present). I also want to lose weight and gain distance. I'm hoping golf continues its boom and goes from strength to strength. I'm also helping out in the committee at my home club and I'd like to see it getting better with more members and exposure."
Kevin: "With the help of my coach, Alistair Davies, I've improved a lot in the last year, especially in terms of consistency and understanding of my swing. The plan this year is more of the same, alongside a goal to reverse the aging process and try to add some speed and distance to my swing."
Richard: "I'm probably going to play a little less golf this year and focus more on the enjoyment. I'm not a great golfer but I am not bad either, so going to be more philosophical and take the rough (no pun intended) with the smooth. I'm happy to get down to 12 handicap last year and want to push on to 10. I'm a fairly conservative golfer and am probably hitting at 80% full power, so I'm going back to what I was developing this time last year with Jon Ship and going for more clubhead speed, and being a bit more aggressive."
Rob C: "Just to get back to playing regularly. My handicap index has reduced and playing at a new course. My aim would be to have loads of fun, learn how to play all the new holes and to keep my handicap index around what it is now."
Rob T: "Just being back out there will be a real treat!"
Do you expect to travel for golf this season; in the UK, further afield, anywhere booked?
Matt: "Yes, for sure. I have had to cancel a trip to Wales at the end of this month. 20 of us were going to play Royal Porthcawl, Ashburnham and Pennard which we are all gutted about. I will be heading up to Scotland at some point to revisit Dundonald Links to see the work they are doing and I'm hoping to squeeze one more trip in yet to be decided."
Mel: "I'm hoping to get up to Liverpool for a game or two as I have relatives there. I'd also like to get some rounds in in Wales."
Kevin: "I'm looking forward to getting out and seeing more courses, but I don't think I'll be venturing anywhere outside of the UK. The good news is that I've already got some dates booked for a few top tier courses in the Surrey area, and hope to get out and about to at least one new course a month through to the autumn, maybe with the occasional overnight stay thrown in for good measure."
Richard: "Typically I take my clubs when I go to work in Dubai, but that is not happening for me this year. I normally have a dozen trips by plane every year for work/pleasure but have no ambitions to go on a plane no matter how safe it is deemed. But I'm planning a trip to Bonnie Scotland with an old friend to play some courses on the west coast this summer. I'm also going to treat myself also to some day trips to top notch courses like Burnham & Berrow, and Notts Hollinwell."
Rob C: "Yes, along with some feature reviews for Golfshake which have been pending due to lockdown. I've got some great courses lined up, Sunningdale, The Berkshire, Swinley Forest and Woodhall Spa to name a few. Nothing abroad just yet. I'm also looking forward to playing Leighton Buzzard GC every week, the club has invested heavily on irrigation across the whole course, bouncy, green fairways all year round. Along with fantastically maintained approaches, tees and greens will be a treat to play week in week out!"
Rob T: "Yes, we have a trip to Prince's which was pushed back a few times, a Woodhall Spa round, and a trip to Portugal planned for the start of next year."
How much have you missed the game during the shutdowns?
Matt: "I've missed the game more than you could imagine. In fact I would go as far as saying that without golf (and indeed the driving range this time of year) I haven't really been myself."
Mel: "At first I didn't feel like I was missing it much, the bad weather was probably a big factor in that. Since the snow and rain has gone the last few weeks I've really been missing it. I'm lucky that I have a big garden so can chip in it and I've also purchased my second (better this time) net and that along with my Garmin G80 has helped massively. I've been able to play virtual rounds, do yardages and even send swing videos to my pro so he can put me right!"
Kevin: "As a fair weather golfer, I haven't missed golf too much during this lockdown as the courses close by wouldn't be in great shape, although not seeing friends has been difficult. What I've missed more is the ability to go to the range or have a few lessons to get ready for the golf season - I'm expecting to be very rusty once I finally get a tee time, but frankly for my first round back I'll not be too worried about what score I shoot, I'll just be glad to be out in the fresh air with friends."
Richard: "I've amazed myself on this one - not missed it at all. The weather has been rubbish. My last knock before lockdown was on a frozen golf course – I played through sheer desperation, but a waste of time. My local course gets very boggy in winter so I'm leaning more towards fair weather golfing this year."
Rob C: "This might seem strange, but I haven't thought about it much. Mentally and physically I've had a break, with a niggling wrist injury for much of 2020, the break has come at a good time. So knowing we couldn't play, I shut down. However, since the news we'd be back on 29th March, the clubs have been cleaned and with the luxury of my own short game facilities, I've been out chipping and putting as much as possible."
Rob T: "Have definitely missed playing and seeing people from the club, but it is what it is. I think lots of us will reflect that we will be very grateful to be back on the course and enjoying golf."
---
Amen to that. Wherever you are, let's make this a season to remember on the golf course. Enjoy!
---
Related Content
Golf is Back - But What Does That Mean
5 Tips To Get Ready For Your First Round Back
How To Get Ready For The New Golf Season
---
What do you think? leave your comments below (Comments)
---
Tags: golfshake GOLFERS Golf daily picks
---
PLAY MORE PLAY BETTER - LATEST TUITION TIPS
---
Leave your comments below
comments powered by

Disqus