The Life of a Golfer in Lockdown
---
As the nation reflects on the first anniversary since lockdown was introduced across the United Kingdom, a moment that instantly changed lives, where the once seemingly abnormal has become normal, the enormity of those early days was challenging to grasp, as we adjusted to losing the things that we naturally took for granted.
"It was bad. It was bad. You just didn't know what was going to happen," said Golfshake Ambassador Matt Holbrook. "And my immediate thought was what am I going to do to fill that indefinite period of time?"
Matt is just one of many golfers throughout England who (by the time courses re-open on 29th March) have lost five months of play during the past year, an absence that has been keenly felt by those for whom the game isn't merely a hobby or occasional pastime, but rather an extension of themselves, an integral part of their lives.
"Golf plays a big part in my life, but at the same time, when something like that has happened, you're also naturally thinking of everything else that's going on, with work, with the kids not going to school. It's strange to think back now to what that was like at the time. I had never experienced anything like it before."
The Challenges of Lockdown
Perspective was required at a time of international crisis, but the entrapped feeling of home, not getting outside, not visiting the range, not being able to stride the fairways quickly took its toll on Matt, and his efforts to create a solution were perhaps reflective of the wider feeling that everyone contended with during those initial weeks.
"I went a couple of days, and I remember going to get some wood, and I tried to build a frame for the garden, from which I was going to hang a bedsheet, so that I could hit some balls. I'm not very good with DIY, so building something literally from a little bit of wood was a stretch for me. But I was constructing this thing, I built it, and I attached this bedsheet to it, and I hit a few balls into it, and it was great, but it wasn't the sturdiest of things and the wind blew it over and snapped the legs off that were holding it up. And I remember feeling really, really upset about it, I put a lot of effort into making it.
"So, I spent time repairing and fixing it, and then literally about half an hour later, the same thing happened, the wind just took it. And I'm not embarrassed to admit that I actually shed a tear at the thought of that not working for me. And not being able to hit balls, the price of nets was going through the roof, because everyone was buying them."
Eventually, like many golfers who established their own home setups, Matt finally assembled a net in his garage, something that he describes as a "sense of relief of having somewhere where I could just swing a golf club. It was quite important."
Indeed, the shutdown didn't simply impact everyday golfers, but also those competing at the highest levels, meaning that regular viewers were deprived of seeing the world's best on TV, not least from the Masters at Augusta National, which was quickly postponed until November of last year. Both the Ryder Cup and The Open Championship were deferred by 12 months.
"Without golf on a Thursday night through to a Sunday night, it was dull, it was boring, there wasn't much to do, those are the nights when normally you'd be sitting down to watch the golf. A lot of media companies and personalities did a good job trying to offer some form of content for golfers during lockdown. Social media in general was pretty good for me. Knowing that you're not the only person who is in that situation is quite important. I watched a lot of stuff on YouTube, which I don't normally do, there was The Open For The Ages, which had never been done before, but it was interesting, it was different."
Improving Fitness
But there are only so many repeats and highlights that can be watched before the monotony sets in, and like millions of others who decided to take on a fresh challenge through the lockdown, Matt took up running, something that has been positively life changing.
"It was quite nice weather in that first lockdown in the April. And for my own sanity, I needed to get out of my house. At the time I didn't even own a pair of trainers that I could have gone running in. I remember putting on a pair of shorts that I normally wear round the house when I'm having a lazy day, and throwing a jumper on, putting an old pair of golf shoes on, soft spike summer shoes, and I thought 'right I'm just going to have a run.'
"I remember running round the block where I live and it's about a two kilometre stretch. I'd run for a kilometre, get out of breath, do a bit of walking, a little more running, and it must have taken me about 20 minutes. But then the next day, I thought; 'I'm going to do the same route today and see if I can get a little bit further before I have to stop and walk a little bit'. Then I did that a third day and by the fifth day I had run around this loop without stopping. And I'm tracking it on Strava, looking at my times, and it's telling me, 'you're getting quicker, you're going further', and I can almost compare it to what I did with my golf stats on Golfshake in the sense of you're tracking something, so you have a benchmark, and my personality really buys into that idea of being able to track certain things. So, then I've stretched the 2k out to 3k, and then to 4k and then halfway through April I took on a 5k social media challenge."
Like anything, motivation comes from seeing results, which quickly inspired Matt to continue his fitness drive.
"I noticed that I was feeling better about myself, I had lost a fair bit of weight, and then when golf came back in May, that's when I really noticed the difference. My back nine scores were one, one and a half shots better than what they were before, so the running was having a positive impact on my golf, and I bought into it even more.
"It will never replace the golf, but at the time it was giving me the same sort of thing, I could get out the house, I could clear my head, I've got that downtime to myself, which when you have as many kids in the house as I have, it's quite important sometimes. It was very important to fill the void that golf was leaving, but it wasn't filling the golf void. It was giving me a purpose, giving me something to work towards, because in the back of my mind I was doing this for golf. If I lost a bit of weight, I'd feel better on the golf course, and I'd concentrate more."
The Winter Lockdowns
Returning to the course last May, the improvement was clear to see, as Matt shot level par at his home club (Stowmarket Golf Club) for the first time, ultimately bringing his handicap down from 8 to 5.3 on the new World Handicap System by the end of the year.
Making up for lost time, including a memorable trip to Dundonald Links, Matt enjoyed the summer golf boom, but the subsequent winter shutdowns in England have proven to be a struggle for someone who would usually play multiple times a week and visit the range even more frequently.
"We had two lockdowns last year and we lost April and November. When they've come at a month at a time, it's been easier to break it down and deal with it, but this time round, with it being three months, that's a long time. And while it's nice to have some golf back on TV, I have struggled with snacking, and that's where I think I've missed the driving range, because this time of year I'd generally be at the range three times, maybe even four times a week. Sometimes I'd hit a bucket of 30 balls, other times it would be 100 and I'd be down there for an hour and a half, maybe meet a couple of mates, have a chat and a catch up. I would have normally played close to 20 times in the first three months of the year.
"But this time it's been sitting at home, it's been miserable weather, it's been cold, we've had the snow, and I've struggled a lot more - the whole void."
Despite those difficulties, Matt was better prepared for the winter lockdown, buying a proper practice net, and maintaining his fitness levels ahead of the new season.
"The first lockdown was a bolt out of the blue, no one really knew how long or bad it was going to get, but like anything, once you've experienced something, it sets you up better to be able to cope with it a little bit easier. I've started working with a guy called Ben Herbert, who is a local personal trainer, who used to be a professional golfer, so we can specialise a lot in terms of mobility, strength stuff for golfers, and I bought into that straight away, and I was seeing him a couple of times a week and I continue to do that through Zoom calls and socially distanced workouts. I'm just determined that when I get back on the golf course that I'll be in the best physical and mental shape as I possibly can be."
The Return of Golf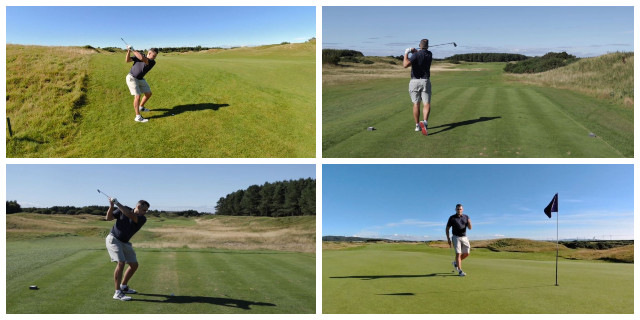 Following the UK Government's "roadmap" out of lockdown, it was announced that golf would return on 29th March, but the news of that resumption of play wasn't an entirely uplifting thing for Matt.
"It had a real negative effect on me, to be honest, because I had gone without golf for two months, and then somebody has basically said 'oh you can play golf again but you're going to have to wait another five weeks'. Whilst it was nice to know that golf was coming back, it was still such a long way away and I found that mentally tough to start with. I was lucky that I was still doing the running and fitness stuff to keep my mind off it."
However, despite personal frustrations, Matt believes that lengthy notice period will benefit the game for its return.
"I think it has definitely helped golf clubs prepare, the way my home course has gone about booking tee times, etc, has been a lot better this time round. I've spoken to a couple of greenkeepers and they've had record rainfall this winter, so the course would have been closed anyway. Maybe that's the silver-lining, it was one of the harshest winters we've had for a long time."
The New Season
Looking ahead to this season, Matt hopes to consolidate the progress he has made to date, and he is already replacing the disappointment of having to cancel a spring golf break to Wales.
"I've booked myself into some open competitions this year, which I've never done before, just to give myself something to look forward to. Go and have a bit of competitive golf, but ultimately play some nice courses for good value.
"Stepping back on the golf course is the number one priority, we go back on the 29th, then you have the Easter Bank Holiday, and then you have the Masters, and that's when you're going to feel like it's some kind of normality. It was nice to have the Masters in November - but it's not the same as having the Masters coming round to start the golf season.
"I always appreciated golf, but it's made me realise that just to start with, go out and have some fun, enjoy yourself. This year is about getting out there, seeing your friends, having fun, doing it with a smile on your face."
The Lessons of Lockdown
In 2020, the industry was stunned by the boom of new and returning golfers, leading to a rise in memberships and unprecedented demand for tee times. This year will likely be an effort to maintain those numbers while also recouping losses through the return of society days, catering and reciprocal deals.
"I don't think the boom will be as big this time round, last year clubs were being more proactive at getting new members through the door, and I'd like to think they'll be smart enough to try and retain those guys and girls, rather than continuing to offer loads of cheap golf, whether that's by green fees and memberships.
"I think a big part of the boom was that you had a lot of nomadic golfers who couldn't get tee times, the right thing in my opinion was for clubs to look after their members, so a lot of nomadic golfers were tempted into joining clubs, so they could also play.
"I'd like to think that some of the momentum golf picked up last year will be continued into this year."
Much will be written about lessons people have taken on during these extraordinary times. We have all been changed to some degree, and Matt sees his experience as a golfer in lockdown as not a wholly negative one.
"I think I'm a better person for lockdown. It has opened my eyes to a lot of things. And just looking after myself a little bit better. If you're looking after your body, your mind is taken care of, and whilst it's not been fun, I will always look at it as a time in my life that had quite a positive impact because of what I've done and the changes I have made, and I'd like to think there's a fair few people out there who might feel the same way. It's about making the most of what it is, and to a certain extent I feel like I have done that. I'm definitely in a much better position for it than I was without it."
---
Related Content
Don't Let Your Golf Progress Stop During Lockdown
5 Tips to Help You Get Ready For Return of Golf
---
What do you think? leave your comments below (Comments)
---
Tags: golfshake GOLFERS Golf daily picks
---
PLAY MORE PLAY BETTER - LATEST TUITION TIPS
---
Leave your comments below
comments powered by

Disqus