Don't Let Your Golf Progress Stop During Lockdown
---
As we entered what feels like lockdown #351 here in England, most golf courses in the UK (courses in Scotland remain open) are closed once again for another period of time. Naturally, this also includes indoor golf facilities and driving ranges.
However, Golfshake Ambassador Matt Holbrook was determined to not let this latest lockdown stop any golf progress he was looking to make and has tried to make the most of the time and equipment available to ensure he is fighting fit and ready to go as and when golf courses are open for play once again.
Here, Matt documents some things that he has been up to and ideas that others might also want to make use of.
Fitness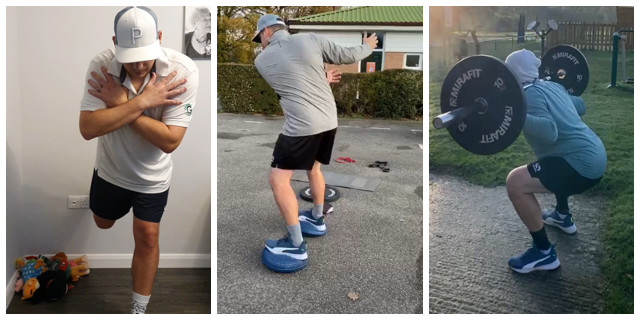 As well as taking up a spot of running during the first lockdown, I had started working with a personal trainer towards the back end of last year. Ben Herbert is locally based to me out of Live Fit Gym in Manningtree. He is an ex-professional golfer and his qualifications include level 4 strength and conditioning, level 3 personal training, BNT (Nutrition Coach) and Golf Biomechanics.
His understanding of the golf swing and movements that make it up are key to being able to tailor specific golf related fitness work regardless of your body shape, type or the range of movement you currently have.
During lockdown, Ben has adapted his programmes to enable us to continue to work from home via Zoom workouts, and where possible (when restrictions allowed) we have been able to meet outside while the gyms have been shut. We have been specifically working on my strength and mobility in order to get my body working a lot better within my golf swing.
You can find out more about Ben on his Instagram page BenHerbertPT.
Swing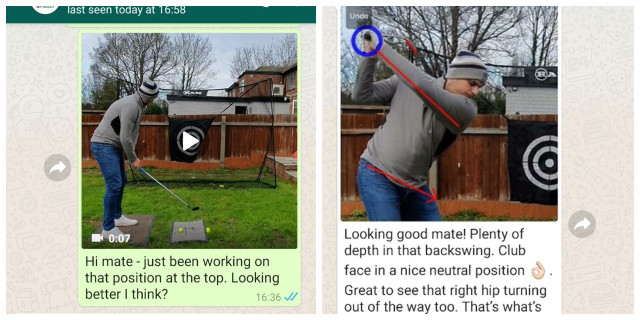 While everyone could potentially go for a run or do a bit of fitness work, some of us are also lucky enough to be able to carry on swinging a club at home.
Whether that is in a fancy indoor swing studio established in a garage or spare room, or a carefully constructed hitting net made from bedsheets and towels hung from a washing line (believe me, I've seen a lot on social media), many golfers have shown their ingenuity.
Given the technology that is available to us, I have still been having some video based tuition from my golf coach Sam Forgan. Sam is waiting for the PGA EuroPro Tour season to start, so it's an ideal time to be working on more technical elements by either having live sessions on a video call or simply sending swing videos over to him. It's something that a lot of PGA Professionals might still be offering, so it's worth reaching out if you are able to.
You can find more out about Sam on his Facebook page facebook.com/samforgangolf.
Putting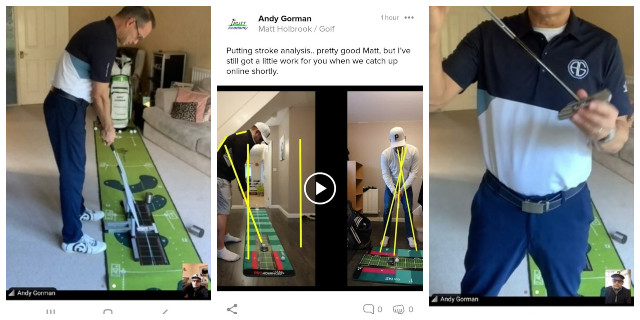 I think putting is the most popular 'at home' golf I see being shared on social media as it is probably the most accessible and easiest thing to do at home.
I recently had the chance to have some home-based tuition with renowned putting coach Andy Gorman who is offering a special lockdown offer (click here for more info).
After the initial discussion with Andy, we were able to make some fundamental changes to my posture and set up – this also included floating the idea of adding extra length on the putter to allow my arm and body to free themselves up a bit more.
For more information about Andy and his lockdown packages, then catch him on Twitter @AndyGormanGolf or his website www.andygormangolf.com.
---
So, as you can see, I have kept myself busy during lockdown in the hope that fitness levels improve, I can keep the swing going, and improve the short game and putting as much as I possibly can during this break from playing.
---
Related Content
Sign Up to Our 'Get Golf Fit' Series
Special Putting & Short Game Coaching Offered During Lockdown
The Self Isolation Guide For Golfers
---
What do you think? leave your comments below (Comments)
---
Tags: Tuition putting Lockdown Improve daily picks coaching
---
comments powered by

Disqus