Popular Alternatives to Traditional Golf Club Memberships
---
IT HAS been well recorded that golf club memberships have gone through the roof since lockdown ended and, unsurprisingly, the likes of England Golf are doing everything within their power to encourage that. But even now, many golfers would rather continue their nomadic existence - and they have lots of choice.
There are many options out there for those of you who would rather not be tied down to one golf course or club. As we have recorded in the past, there are numerous reasons people choose not to join golf clubs - cost is seen as being chief among them, but it runs far deeper than that. For many, choice is the key - they don't want to be restricted to playing the same course every time they go out there.
GolfNow is just one of the golf booking websites that allow golfers access to cheap green frees. There is also Golfbreaks, offering a huge variety of highly affordable short breaks to golf courses in the UK and beyond. And it may be time for us to blow our own trumpet - here at Golfshake we have a huge database, featuring reviews and everything you could ever wish to know about almost every golf course in the British Isles - and beyond. Check out our Course Section and Review service, where our year-on-year traffic has increased by more than 40% It all means that the nomadic golfer has a huge choice - and it is growing all the time.
The Alternatives to Traditional Membership
Play More Golf is a point-based membership scheme that was originally developed from the De Vere scheme and is endorsed by England Golf. It features 260 clubs and provides a flexible membership service that allows golfers to play at one course or at any of the scheme's partner courses - and it includes genuine membership benefits, including full seven-day membership, the ability to invite three guests, online booking and discounts on food and drink.
Play More Golf director Jamie Carroll said: "Our success has been built upon the flexible nature of our membership packages. The new product, now available to partner clubs, takes the concept a step further by providing an online membership that provides a pathway back to full membership at a time when, under normal conditions, clubs would be reaping the financial benefit of renewed memberships.
"These products enable clubs to generate that much-needed cash-flow, allowing them to continue to operate and thrive during this difficult period. Until we went into lockdown, golf was a sport that was still enjoyed by many, though precautions had to be taken by clubs and golfers.
"We set out to design a concept that removes any concerns clubs or golfers may have around not being able to justify the cost of membership and providing the comfort golfers require of not being financially disadvantaged if they cannot play as often."
Increasing numbers of golf clubs, now conscious of the fact that many people only want to play the game occasionally, are offering special packages that allow members to choose the one that is tailor-made for them. They can buy points packages at a fraction of the cost of full membership. So, if, for example, a full year costs £1,000 you can pay £500, which entitles you to a specific number of rounds. For the part-time golfer, it is an ideal solution and the clubs who have bought into this system are reaping the benefits. It also means that if you don't want to play golf in the winter - and many don't - then you are not paying for golf you are not actually playing.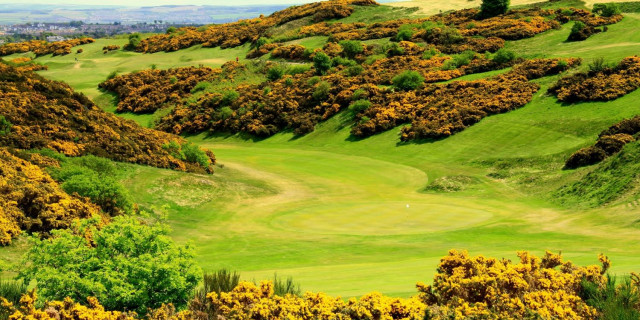 (Braid Hills)
Edinburgh Leisure offers access to several local public courses - the 18-hole courses at Carrick Knowe, Braid Hills, Silverknowes, Craigentinny and nine-hole layout at Portobello. Anybody who has ever played Braid Hills will attest to the fact that it is one of the finest courses in the area - and that is saying something when you consider just how many world-class courses the region boasts.
The Save Par Club was launched in August 2020 and is a new membership club for golfers in the South East of England, securing players discounts across various partnered courses throughout Kent, Surrey, Sussex and Essex. It targets those who do not play enough to warrant signing up to a full membership at a club and those who want to play at different courses, receiving a discounted green fee before deciding where - or if - to join as a full member.
This low-cost membership club offers a new way for golfers to experience what their region has to offer without having to pay full visitor rates each time.
The Save Par Club is also keen to work closely with their partner golf clubs, which include Farleigh, Bletchingley and Lingfield, by attracting more visitors to their course and helping to drive up memberships by golfers who enjoy their experience.
This higher footfall will then also create extra revenue spent in the bar and pro-shop. The Save Par Club is also taking an active role in promoting memberships, events and lessons at their partnered clubs on social media and website.
Co-founders Rob French and Craig Kennedy said: "We understand that golf clubs need full memberships and a healthy number of visitors to fund the successful running of their clubs. We have created a membership that we hope helps the golf industry by getting more people out playing, driving up memberships and increasing visitor numbers across The South East."
(Golfers Love Variety)
Access For Golf is a similar scheme, but based in Northamptonshire and is designed for social golf only but encourages members to play with their family and friends.
Ready Golf features courses in Kent, Surrey and Sussex. Members pay a fee and are then able to book their own tee-time, with each course giving Play Golf members a number of slots every day between certain times. For instance, four balls can play after 9.30am at the weekend. Members are also encouraged to join an existing tee booking to meet like-minded people.
Glendale Golf offers access to a number of golf clubs, including Portsmouth, Castle Point and Richmond Park, with a variety of payment options - £42 per month for Monday-Friday golf, £62 per month for full access. There are also a variety of offers for subscribers and 20% discount on green fees for golfers who book tee-times through their website.
MASHIE Golf offers preferential rates at more than 140 UK and overseas golf courses as well as a range of golf clothing and flexible memberships for both individuals and businesses. Club and corporate members receive a clothing voucher to buy MASHIE clothing online.
They say: "With preferential green fees of up to 60% offered by our partner courses, golfers receive flexibility with a MASHIE club membership. A dedicated membership manager will book tee-times and any extras such as buggies and food. Once booked, members simply show their MASHIE Members Club card upon arrival."
FORE Business concentrates on golf networking for business owners. It was founded in 2013 by Sean Fergusson and Arron Busst when they met at a local networking event and got talking about golf as a common interest. They soon got round to talking about the business successes they had experienced on the golf course. It became clear to them that golf and business have always gone hand in hand, and so FORE Business was born with the ethos "what better way to encourage successful business relationship than to create an actual members club for business owners who enjoy golf and love to network?"
---
Related Content
Golf is Booming - Let's Make Sure it Continues
English Golf Clubs Report Astonishing Surge in New Members
How to Turn Unattached Golfers Into Golf Club Members
The Positive Opportunities for Golf to Embrace
Golf Has a Chance to Grasp That May Never Come Again
Are These the Issues Golf Clubs Still Need to Address
---
Here at Golfshake we value your opinions - indeed, they are what drive us on. And here are just a few views from those of you who choose to be non-members.
"I have two associate memberships which allow me to play with reduced green fees at the two clubs closest to me, and that's a choice I make because I enjoy both courses and would not want to feel duty-bound to play one constantly, simply to be sure I get maximum value from full membership. Also, I have friends who don't live locally who I like to play golf with, so we meet up at locations halfway between our homes. Without guest green fees that income would be lost to the relevant clubs and their bars. I would also add that at the clubs we've visited we've never experienced any animosity – quite the opposite, all have been very welcoming."
"There are so many reasons why people don't commit to one single golf club and those members who want their clubs to turn this custom away have their heads in the sand."
"Nomads tip the balance between a club going bust and thriving. When I finish a round at 4pm, the course is empty, particularly the front nine. There are dozens of twilight tee-off times that could be priced at £10-£15 a round and get the next generation playing golf!"
"It is about time club members started to realise that without nomads and societies their golf courses would become another housing estate as without the money that is brought in by visitors a lot of courses will close."
The bottom line to all of this is that if you do not want to become a golf club member you have choices and options - and lots of them.
---
What do you think? leave your comments below (Comments)
---
Tags: Memberships Golf Clubs daily picks
---
comments powered by

Disqus