Golf is Booming - Let's Make Sure it Continues
---
PLAYING numbers up. Club memberships up. Talk of having to introduce waiting lists…
All the evidence suggests that club golf is booming in the UK. Whether it can be sustained is a different matter but, for now at least, let's celebrate the fact that more people are out there playing the game, and that more clubs are reporting increased memberships. It is not so long ago that we were telling you about a procession of courses around the UK that were planning to close their doors for good. How very different it all looks now.
And perhaps the brightest and best news of all is that we are seeing an increasing number of juniors and younger players joining clubs.
Of course, none of us would have wanted it to happen as a result of the pandemic - just as we could never have foreseen that the enforced closure of clubs because of Covid-19 would increase our appetite for the game. When courses began to reopen, most clubs decided to put members first, with visitors having to take their place in the queue, and many clubs actively discouraged non-members. The result was that thousands of golfers decided that this was the time to throw caution to the wind and join clubs.
Thankfully, all the evidence suggests that those new members have generally been welcomed with open arms. We have been helped by the fact that we have enjoyed some truly glorious summer weather and the gradual reopening of clubhouse facilities. So much has changed within the game, and much of it has been for the better.
We have seen reduced subscriptions. We have witnessed clubs extending the membership year. Standards of hygiene have improved out of sight due to the increased and prolonged use of hand sanitiser. Thankfully, the pace of play has finally increased - and long may that continue.
(Golf is Booming!)
On Golfshake, there has also been rich evidence of this boom period. We have recorded unprecedented levels of traffic to the website, up by a stunning 65% year-on-year, with visitors to our Course Section & Review Service increasing by over 40% year-on-year, in addition to rounds tracked in the Golfshake Score Tracker reaching record heights, rising by over 60% year-on-year.
We can report an influx of lapsed and new members to the Score Tracker, with round tracking trends showing greater increases in midweek play.
Perhaps surprisingly, we have also found that courses were mostly in superb condition when we returned to the game. Golf clubs should be giving themselves a pat on the back as participation numbers increase.
Incredibly, a survey of 75 UK clubs suggests that the UK has probably already seen more rounds of golf played this year than in the whole of 2019, even though most courses were closed for about two months. The research, by SMS, shows that the 75 British clubs saw an average growth of rounds played of more than 40% compared to July 2019.
The months measured were April, May and June, and for much of that time we were in lockdown. There was a 100% decline in April when courses were closed for play, a 27% fall in May as they began to reopen and a staggering 61% increase in June as we all flocked back to the game. And it seems that the figures for July and August are going to show an even bigger increase.
Remember, too, that many individuals were on furlough during that period and had plenty of time on their hands.
Richard Payne, who leads SMS' golf research, said: "It's immensely pleasing to see that the rounds played recovery going from strength to strength. We know how hard golf clubs have worked to make themselves Covid secure and welcoming to members and visitors alike, so they more than deserve to reap the rewards of that now.
"There's been a lot of talk about the new normal, both good and bad. SMS believe that busy thriving golf courses can become a part of that new normal, and the challenge for the industry is to keep up the good work and convert new players to the game to make that a reality."
An added bonus is that a huge number of clubs that seemed certain to close have been given a second chance.
(Courses Are Busy)
In May, Mags Cathcart, the manager of Hollandbush Golf Club, said that no greenkeeping work had been carried out at her venue, or any of the other five courses run by the local council - Biggar, Larkhall, Strathclyde Park, Torrance House and Langlands - in the two months since the coronavirus lockdown was imposed. She feared all six would close for good. But it is a different picture today. "Golf has absolutely gone through the roof here and at the other five council courses," Cathcart said. "We have 41 new members this year and are still taking memberships."
She believes part of the reason for the boom is because people cannot attend football matches.
"I thought in April that the courses could shut (without remedial work) because it might have been too expensive to do the work and get them back. I was very worried, not only for myself and my livelihood, but for the other people's livelihoods who were connected with the clubs and also the membership who are passionate about their club. But now I'm greatly relieved. The future of golf in South Lanarkshire should be secure for the foreseeable future."
Incredibly, membership at Glencruitten Golf Club has risen from 170 to, wait for it, 425. In March it feared closure was an option. And so it goes on. Moray Golf Club has attracted 320 new members and North Inch has risen from 175 to more than 400. This was another course that talked about shutting its doors earlier this year.
In Ireland, Maine Valley Members Golf Club was set up after members from two golf clubs that closed permanently during the lockdown created a new club, which opened for play in May, and already has 350 members.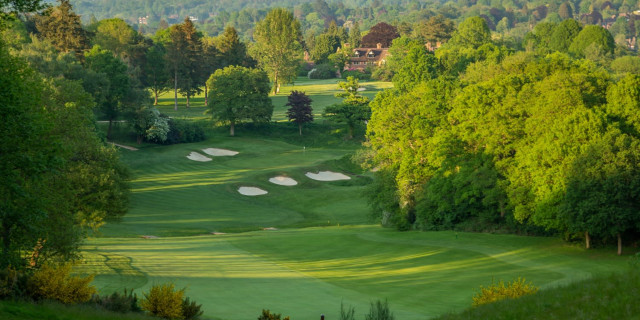 (Tandridge Golf Club)
Tandridge Golf Club in Surrey is seeing membership numbers at a level that club officials hoped to reach in 2024. And that was an optimistic forecast.
Under the leadership of new general manager Luke Edgcumbe, Tandridge has experienced a major increase in applications across all its membership categories, with the number received in the past few months more than it would normally expect to receive for an entire year. In addition to receiving 30 full membership applications, the club has taken on 16 new junior members and added another 10 players to its academy membership programme.
Edgcumbe said: "After everything that has happened this year, golf has provided one of the few beacons of light, and I'm thrilled that so many people are interested in joining this fantastic, forward-thinking, private members' club.
"The most encouraging thing about the number of membership enquries that we have received is that a lot have come from younger people who are relatively new to golf, which bodes well for the long-term future of both the club and the game."
---
Related Content
English Golf Clubs Report Astonishing Surge in New Members
How to Turn Unattached Golfers Into Golf Club Members
The Positive Opportunities for Golf to Embrace
Golf Has a Chance to Grasp That May Never Come Again
Are These the Issues Golf Clubs Still Need to Address
---
But it is not all good news. After hosting The Open Championship in 2019, Royal Portrush budgeted for £2m in green fees from visitors. The shutdown has had a devastating impact. Most of the club's visitors come from abroad and hardly anybody is currently travelling, Portrush is now projecting just £150,000 in green fees, and is predicting job losses. And it is a similar story at Portmarnock.
Martin Slumbers, chief executive of the R&A, believes that while things are looking rosy, the real challenge is to ensure that it can be sustained.
"We have done a really good job of portraying golf as good for your health and mind and is a sport that you can do in a socially distant and responsible manner," he said. "There have always been a lot of sports lovers, but if you love team sport, whether you watch or play, that is going to be a challenge for the foreseeable future, and they are turning to golf. We have to make that sustainable. This could be a real opportunity for the game, if we can grasp it and start showing the game in a positive way. I think there is going to be a huge amount more debate about the need for health and the need for mental well-being out of this. It has been an extraordinary few months, and I think golf is right up there. I intend to use my efforts to maximise the value."
Amen to that.
---
What do you think? leave your comments below (Comments)
---
Tags: Memberships industry insider Golf Clubs daily picks
---
PLAY MORE PLAY BETTER - LATEST TUITION TIPS
---
Leave your comments below
comments powered by

Disqus