---
THOSE of us who love the game of golf don't need to be told that something needs to be done to make it more attractive to newcomers and to persuade those who have walked away that is worth returning.
Knowing that it needs to be addressed and actually doing something about it are, however, two very different things.
Where to start? There is, of course, the issue of slow play. With the best will in the world, it takes the thick end of four hours to play a fourball match, and when you throw in travel time and a visit to the clubhouse after you have played, it means being away from home for the best part of six hours. If you have a young family and work long hours Monday to Friday that is a huge commitment to make. Easier if your other half also plays, but what do you do with the kids?
The Rules
Steps have been taken to speed things up this year - Ready Golf, being allowed to leave the flag in while putting and reducing the amount of time taken to look for lost golf balls are all steps in the right direction. But it simply scratches at the surface of the problem.
There remains a huge issue with etiquette. Too many weekend golfers are oblivious of the rules. We have all experienced a situation where we have witnessed somebody in front of us hitting a wayward drive into thick rough and then traipsing off to look for it, only to end up walking back to the tee to reload. Why are so many of us so reluctant to hit a provisional? And why are so many weekend golfers so reluctant to let faster groups play through? It's not rocket science, is it?
Engagement
Are we doing enough to introduce children to the game? Is it really enough for your club pro to offer group lessons for youngsters on a Saturday morning? Probably not. Consider this…those youngsters are probably the children of existing golfers and would almost certainly find the game anyway. And does anybody really get the attention they need in a group lesson? Probably not.
Why is it that golf clubs are failing to engage properly with their local communities? Write to schools and get your club secretary, junior secretary, your most enthusiastic junior members and your club pro in front of school assemblies to tell them how much fun golf can be. And then head out to the school field and let kids hit some golf balls.
Speaking of engaging with local communities, are golf clubs doing enough to encourage non-members to use their clubhouses? We will all surely agree that the answer to that is a resounding 'No'! When was the last time that anybody you know told you they had been to their local golf club for a meal? Shamefully, kitchens lie empty in the evenings and bar stewards haul the shutters down when the last golfer leaves for home. Pubs that sell good food continue to thrive, so why is it that so many golf clubs have failed to get this message?
Finding Extra Revenue for Clubs
How many golf clubs organise quiz nights? Or dinner dances? Or discos? Or open days where they throw open their doors and invite people to come along have a look? Crusty old secretaries and ancient committees refuse to adapt to change because "we've always done it that way". There is a place for social memberships. And who knows? If you can get non-members through the door and they enjoy themselves at your club they may even come back. And, heaven forbid, they may even consider learning to play the game and could join your club. Whisper it, but there may even be a role for social media in getting the message across.
Is enough being done to attract women to the game? Probably not. Why don't golf clubs send their most proactive people to mother and toddler groups, to Women's Institute meetings? And, while we are at it, do you know of any golf club that offers creche or nursery facilities to look after young children while their mothers, fathers and grandparents are out on the course? Is it really such a radical proposal? Most clubhouses have plenty of room that could be utilised.
Dress Codes
Is your dress code too strict? Many companies no longer insist upon their employees wearing suits and ties, believing that their staff perform better if they feel comfortable in the attire they wear for work. Nobody is advocating allowing golfers to wear jeans on the course (although there might be a case for allowing juniors to do so), but would it really lower the tone of your club if you were to allow visitors to wear denim in your clubhouse? Isn't it more important to get them in, spending their money, wanting to come back?
England Golf has a campaign called Get Into Golf. It asks three straightforward questions:
1: Are you ready to welcome new players and show them how to have a great time at your club?
2: Have you got a team of staff and volunteers, dedicated to supporting new golfers? We recommend this includes your club manager, PGA professional and members who are all committed to welcoming new players into your club?
3: Are you prepared to plan to recruit and retain new golfers?
The answer to all three should be a resounding "Yes", but the overwhelming impression is that too many golf clubs just aren't prepared to go the extra mile. New members will not walk through the door. We all need to get up off our backsides and do something.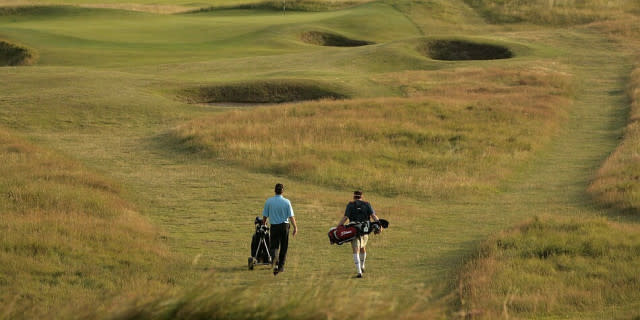 We Need More
Foot Golf was sold to as the future of the game. It isn't. It never really was. Sure, it's a way to get some people on courses who wouldn't otherwise consider such a thing. And some of them will even head to the clubhouse afterwards for a couple of drinks. And probably be turned away because, shock, horror, they are wearing jeans. But there aren't enough Foot Golf layouts - and you can bet your bottom dollar that most club members do not want people kicking footballs around their beloved courses.
It is good news that, by and large, joining fees have been scrapped. And we should celebrate the fact that many clubs have at last woken up to the fact that a way to attract golfers in their twenties is by offering them reduced subscriptions.
But there is much to do. Yes, there is an awareness that plenty still needs to be done. There is a reason that golf clubs continue to close. There are lots of reasons. But nobody has actually gone out and solved the problems yet.
---
Related Articles
Is This How We Grow the Game of Golf?
How to Increase Golf Club Memberships
Survey Highlights Opportunities for Golf Clubs to Increase Revenue
How Technology & Digital Platforms Can Benefit Golf
What Stops Golfers Joining Clubs?
What Stops Golfers Playing More?
---
What do you think? leave your comments below (Comments)
---
Tags: Survey slow play rules Memberships junior golf industry insider Grow Game golfshake Golf Clubs daily picks
---
PLAY MORE PLAY BETTER - LATEST TUITION TIPS
---
Leave your comments below
comments powered by

Disqus