Mizuno Golf Pairs Returns With a Bigger Season in 2022
---
Mizuno Golf Pairs will return in 2022, but this time there are 100 events scheduled for the upcoming season, a substantial expansion on the 60 held during 2021.
Since 2013, Mizuno Golf Pairs has continued its upward trajectory, improving its service on an annual basis.
Ross Forno and Sam Maylott are responsible for the creation, and through their vision golfers have been able to experience some of the greatest courses within the realm of the United Kingdom - and even Europe.
Some of the venues that have previously been utilised includes Royal St George's, The Belfry and Walton Heath.
If you're unaware of Mizuno Golf Pairs, allow us to run through their history and the positive work that they are doing for amateur golfers.
History
(Royal St George's)
Having started in 2013, next year will mark the tenth anniversary of Mizuno Golf Pairs.
The fuel for the idea was the belief that many amateur golfers would thoroughly enjoy being part of a travelling club that play a whole host of first-class courses around the UK.
A year later, the first two events were held to great success, which encouraged another bout of tournaments the following year, this time three.
After three years of operation, the duo managed to secure their first sponsorship in Mizuno, as the club manufacturer enabled Golf Pairs to further expand.
In 2017, after reflecting on an influx of feedback, the team decided to run multi-day events, introducing three multi-day tournaments that would be played over four days.
During this year, there were 15 events and if any golfer had qualified, they would be rewarded with a trip to La Manga in Spain for the company's first tournament held overseas.
Only a year later, and traction started to pick up significantly, more multi days were introduced to the seasonal calendar and world-class venues like Royal Lytham and Gleneagles also played host.
Since then, the team has introduced match play formats that have been held over both the winter and summer months.
2022 Season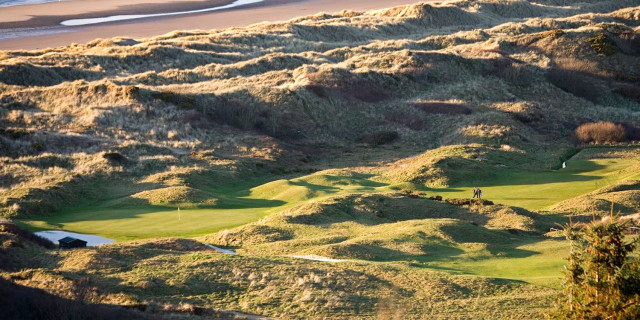 (Royal St David's)
As aforementioned, there will be 100 Mizuno Golf Pairs events in 2022, a growth of 40% in contrast to the previous term.
This time, there will be 14 days spent in north Scotland, where the likes of Royal Dornoch and Castle Stuart will feature for the first time.
Additionally, Woburn Duke's and Ganton have also been included in the line-up, whilst the pairs will be returning to north-west Wales at Aberdovey, Royal St David's and Conwy.
If you were hoping to play Royal St George's or Hankley Common Golf Club, then unfortunately both of those events have sold out.
Fear not, however, as there are still limited spaces available for two alternative renowned locations such as Remedy Oak and The Oxfordshire.
Furthermore, for the inaugural time, a selection of single events have been implemented, where a qualifying process will be followed which will result in prizes being awarded.
This is strictly for those who own a handicap through WHS but those who rely on a Golfshake Handicap will still be given access to the event - although ineligible for prizes.
The prizes will be awarded through four separate handicap brackets, which will undoubtedly make things fairer for those who hold lower handicaps.
Despite this, Mizuno Golf Pairs will keep a keen eye on those who wish to utilise their Golfshake Certificate, and they have not ruled out including a Golfshake bracket, which will be dependent on demand.
Finally, Mizuno Golf Pairs has acquired the Yonex Ladies Tour and there will be six events held throughout the south-east England and Wales.
How to Enter
Registration is simple for any event, simply head over to the Mizuno Golf Pairs website to register, choose which event you would like to attend and pay online.
Moreover, if you would like to gift someone admission to a tournament, then the company offer gift cards that are available for purchase.
The format for the pairings will be Better Ball Pairs Stableford, whilst the singles will be held over stroke play or match play.
With 100 events pencilled in for 2022, this will be the grandest and most demanding season that the Mizuno Golf Pairs has ever experienced.
Due to its large success since its inception in 2013, golfers have continued to lean on this platform as an excellent route onto those bucket list courses.
If you would like to enter or peruse potential events, then the 2022 calendar is available here.
---
What do you think? leave your comments below (Comments)
---
Tags: mizuno golf pairs events Amateur Golf
---
PLAY MORE PLAY BETTER - LATEST TUITION TIPS
---
Leave your comments below
comments powered by

Disqus