Should You Take More Responsibility on the Golf Course?
By: Golfshake Editor | Tue 25 Feb 2020 |
Comments
---
What are the most important qualities that you look for when playing a golf course? That was a question that we posed to the Golfshake Community in the 2019 Golfshake Survey, which gathered the views of 3,500 golfers, leading to a response that has raised a series of thoughts on how our own actions impact the enjoyment of other players.
It may not come as a surprise that the two standout attributes referenced by a majority of respondents were the greens and condition of the course, key things for any venue when it comes to making a positive impression. However, what intrigued us was the fact that a significant 68% golfers rated the condition of some courses as not being good enough.
Reflecting the time of year and the harsh weather we have seen across the British Isles, we received many comments in the survey stating that: "Courses are unplayable for much of the winter".
Clearly, it's a significant challenge for clubs to maintain a quality of condition throughout the low season, but how much responsibility should be placed upon the shoulders of golfers who play there? One particular comment struck a chord.
"Course conditions can sometimes be poor, with bad etiquette such as non-repairing of pitch marks and not raking bunkers letting things down."
So, are the course conditions simply the responsibility of the clubs, or can golfers themselves do more to help?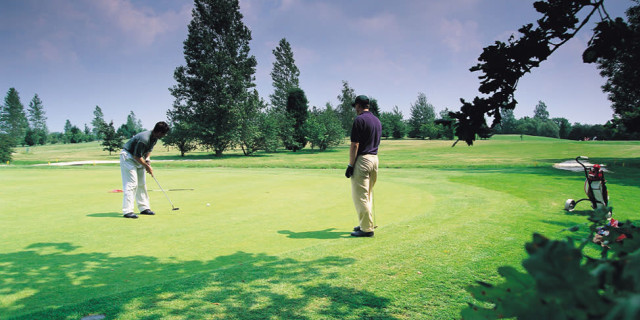 When you consider that not every golfer will take the time to replace divots, rake bunkers, or repair pitch marks, it does conjure the thought that selfishly they are impacting everyone else.
We have all been there, finding an array of pitch marks on greens or footprints in the sand, something that is a huge frustration, particularly for visiting golfers who have paid their money and stopped by the course for the day.
Greenkeepers can only do so much. Thankfully, while the majority of keen golfers are conscientious enough to look after the course, there is still a notable minority who let the rest down, making the job of the staff even harder when it comes to delivering a presentable product in this era of customers determined to find value for money.
One commenter stated:
"Green staff are working hard to keep courses in good condition through wetter and more unsettled weather conditions that now exist in the UK".
It's a subject we have covered before in How to Save Your Course This Winter and Why Does My Course Look Like This?, and we also revealed a series in consultation with BIGGA to encourage better habits from all golfers.
But the impact that the behaviour of golfers can have on others is evident in more than just how they help to maintain the course, but also in how they play.
Looking at the data further in terms important features, it was intriguing to see that 'Pace of Play' outweighs 'Hospitality & Service' for quality factors, especially in an age of customer service. We all know the impacts on time in our lives and the affects on golf, but could golf clubs be doing more to aid pace of play and hopefully create a lasting memory of the golf experience for visitors?
Initiatives such as Ready Golf have been adopted by many venues, but until golfers themselves take responsibility for how their pace impacts other players on the course, then it will remain a common complaint.
You can see the full results from the Golfshake Survey below. Club and non-club golfers were essentially united on each factor with only negligible differences in the percentages.
What Are The Most Important Features in Determining a Course's Quality For You?

Data above taken directly from the 2019 Survey
* The 2019 Survey ran from Oct 2019 - Jan 2020 and was completed by 3,500 golfers.
---
So, are you taking full responsibility for your actions on the golf course? We expect the answer is yes, but if more golfers went that extra mile to look after the maintenance of the layout and were considerate of other players, then customer satisfaction would be higher across the board.
These results from the Survey do raise the potential impact of how our own bad habits can both impact golfers and how a course is perceived, underlining that clubs, venues, members and visitors have to be united together in delivering a greater experience for everyone.
---
Related Features
6 Things Your Golf Club Must Do in 2020
What Golf Needs to Change in the 2020s
---
What do you think? leave your comments below (Comments)
---
Tags: Survey slow play rules Memberships industry insider Grow Game golfshake Golf Clubs daily picks BIGGA
---
comments powered by

Disqus