6 Things Your Golf Club Must Do in 2020
By: Golfshake Editor | Fri 24 Jan 2020 |
Comments
---
Article by Darren Ramowski
---
We all want to see golf growing. While some could argue that less golfers means they have a much better time out on the course, a thriving golf market ensures stability and ultimately the viability of the golf courses that we want to visit and ensures that increased revenue is hopefully put back into the maintenance and development of our beloved venues.
Despite reports that golf continues to see declines, we look at six things that golf clubs should be doing in 2020 to ensure they thrive and grow into the new decade.
---
Are Fewer People Playing Golf in the UK?
---
Showcasing The Biggest Asset - The Golf Course
When was the last time your golf club website was updated? Are the images on the website showing the course at its best? The most recent Golfshake Survey highlighted that a club's website as the second most important thing when looking and planning where to play golf. Coming in a close second to word of mouth/peer feedback, 35% of golfers surveyed said that the 'golf club's website and images' was very to extremely important when it came to 'planning a round at a new course'.
With information now at the finger tips of most golfers through websites and use of tablets and mobile devices, it is vital but also easy for golf clubs to keep on top of this and ensure that their own website is accurate and updated, as well as ensuring the images used are of the highest standard to showcase the most important asset - the golf course.
For clubs wanting to maximise the opportunities then this can be further enhanced by use of social media, linking up with a 3rd-party golf course review sites like Golfshake, or even enlisting the services of a professional golf course photographer such as Kevin Diss or Magic Hour.
Is Social Media Being Used Correctly?
Social Media continues to change the digital landscape and if used correctly could provide a fantastic platform for golf clubs looking to showcase their product, similar to the above, and shout out about what they have to offer and reach a new audience of potential visitors and members.
Golf websites provide access to 100,000s of golfers each week consuming golf related content online, including the latest news, gear reviews, tuition content and golf course information. Digital publishers provide a great opportunity for golf clubs to spread the news about their club, have their club promoted in a feature review or even listed in the growing number of online 'listicles' such as those on Golfshake providing ideas and suggestions of where to play on a wide variety of criteria.
Social media channels such as Twitter, Facebook and Instagram provide great opportunities to reach not only your existing members and 'fans' but also a new audience of golfers who may just want to visit or become a member. But you must ensure that each social platform is utilised specifically based on its functionality. For example, and in brief:
Twitter - perfect for regular posts throughout the week providing insights into your golf club, talking and informing your audience about changes or anything new and sharing topics of relevance.
Facebook - great for longer posts and in-depth discussion topics. Plus Facebook is used by over 67% of the UK population so your members are probably already using it.
Instagram - fantastic for posting images and videos of course and facilities.
WhatsApp - text like system which is great for updates and information to your members.
YouTube - this requires commitment but with the rise of smart TVs and easy consumption of online video content this is a great way to provide real insights into your course and club. Rather than producing your own videos why not reach out to some of the existing YouTube content creators and see if they want to come and play your course with your Pro.
LinkedIn - more formal and business/industry focused.
Snapchat/Tiktok - maybe ones for another day!
Growing a social media audience can be hard, so stick with it, but don't forget that all the social media platforms now provide advertising. Did you know that there are over 1.2 million UK people over the age of 18 regularly accessing Facebook who are interested in golf!
Are You Finding Ways To Make "Noise" About Your Club?
As already mentioned social media provides a great mechanism to reach an audience of golfers but only if you have something to say. What news or information do you have that golfers would be interested in? Is it your centenary year? Are you redeveloping the bunkers?
Finding ways to "talk" about your golf course and making digital "noise" isn't always easy, but what are the key things that makes your course different that your non members may not know about? Insights and history are a great way to create features that either you can post through your own channels or even link up with a digital publishing website similar to Golfshake and the others out there.
If you are looking to reach a new audience of golfers to increase your visitors and find new members, then alongside the content think about how you could even run special offers or even competitions online. These can then simply be posted and shared through your own social channels with the aim of going 'viral', be amplified through the use of social media advertising or distributed through partnerships with golf websites.
And don't forget running competitions is a great way to build your social audience or even capture the contact details of golfers that you can then utilise in the future for your own marketing.
Are You Marketing To The Core Golf Market And Lapsed Golfers?
With so many initiatives aimed at growing the game and targeting other demographics of golfers, are you doing enough to ensure you are targeting the core group which account for around 80% of the golf market - males over 55? This demographic continues to thrive and presented the main area of growth in the 2018 England Golf report so mustn't be forgotten. While golf must continue to break down barriers and be a pastime available to all, this demographic is key to the continued viability and stability of our great game.
Additionally, following several year's of declining participation, this must mean only one thing. There are many of sets of golf clubs just sat in sheds or garages all around the country. How are you looking to target lapsed golfers? The game of golf can be tough at times especially for beginners, so while initiatives may help to get new people to try golf, do they continue playing? Targeting lapsed golfers overcomes aspects of the challenges in playing golf - this audience have already played and likely still have their equipment!
Research shows that golf can be a strain for the demographic in the age category of 35-44 due to socio-economic factors, but how is your club looking to target the audience that is in the 45-54 bracket and may just be finding the time to play golf again. The challenge for this may be to show the game of golf is evolving and some of the negatives aspects from the past are now simply that - a thing of the past.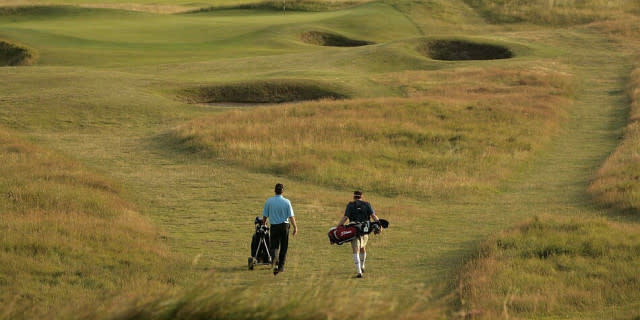 Golf Is Great And So Is The Club
You are reading this so already know this. But how do we ensure that everyone knows this; be that potential newcomers to golfer or the lapsed market. The are several key areas to help achieve this and remove some of the stigmas from the past:
Slow play - we are really talking about 'pace of play' and this is still the biggest frustration for many golfers. Does your course have correct and efficient signage on the course for new visitors? Do you have marshals to monitor pace of play? Or even signage, clocks or score card information detailing average playing times at certain points?
The Clubhouse - is this accessible to all? Are the food and catering facilities worth visiting in their own right? Are you encouraging families and other non golf playing visitors?
Social events - Does your club run regular events outside of the golf? Encouraging a lively club community will bolster the connection with the club. What is done to encourage new members to participate? Is the club available for social hire for additional revenue?
One example of what can be done was recently submitted to us from Duff House Royal Golf Club in Scotland detailing what they have been doing since a major clubhouse refurbishment in 2019. Vice-Captain Barry Bertram explains:
"As well as the clubhouse refurbishment we are fortunate to have an excellent catering service that rivals many a pub/hotel. The combination of the two has pulled in golfers and their families into the clubhouse. We have regular Bingo / Quiz Nights, bands/dances, Speaker evenings, ladies days all from a large well stocked bar.
"We adopt a family friendly ethos were children are most welcome and offer toys/puzzles and games as visual confirmation to families of this ethos. We regularly see plenty of kids in the clubhouse and extends to the course as we offer all under 14s free membership. We have a number of family days and the kids Christmas party just past enjoyed the company of 70 kids.
"We don't have a dress code. We request that phones are on silent but members are free to use these throughout the clubhouse, they don't need to move."
How Do You Facilitate A Younger Golf Audience?
As stated above the main group of golfers are males over 55, but golf is for all. The golf clubs of old are now largely a thing of the past so it is worth thinking about the club and club house facilities - do golfers under the age or 40 want a set-up/environment that may have appealed to golfers over 55 two decades ago? Mobile phones are no longer just phones, but smart devices, mini super computers in the hands of your greatest advocates - do you allow phones in the clubhouse? Just think one golfer posting a picture to Instagram from their round could be showcasing your golf course to thousands of potential future customers.
---
So what is your club doing? Could any of the above be something that you could do? If you already have your own unique approach we would love to hear about it, simply comment below or email direct to help at Golfshake.
---
Related Articles
What Golf Needs to Change in the 2020s
---
What do you think? leave your comments below (Comments)
---
Tags: Survey Social Media slow play rules Memberships industry insider Grow Game golfshake Golf Clubs daily picks
---
comments powered by

Disqus