How to Speed Up Your Rounds of Golf
---
How long is considered too long on the golf course? Well, the answer is different for everyone. Some of us would absolutely love to spend more time striding the fairways, working on our games, fully embracing the sanctuary of playing this ancient sport. However, for a significant group of others, we would rather our rounds were just part of the day, not an activity that consumes the opportunity to do anything else on a Saturday.
Slow play is a much discussed and cited topic, and for many golfers, despite all that has been said before, it perennially remains a huge frustration. When asked in the 2019 Golfshake Survey, 59% of respondents stated that pace of play was a Very/Extremely major issue in social rounds of golf. When you added those who said it was a moderate issue, the stats rise to a staggering 86%, confirming that the vast majority of golfers continue to view pace as a problem in recreational play.
For competitive golf, the numbers are still high. 52% noted pace as a Very/Extremely significant factor, with that total reaching 77% when those with a moderate complaint are added.
Additionally, much has been made about the pace of play in professional tours, but for our golfers, a lesser number - 46% - believe that is a Very/Extremely notable issue. That said, it's nearly half of the viewing public who find that a problem.
So, what can be done about it?
Well, at the tour level, there has been movement in that direction. At the time of writing, during the Abu Dhabi Championship, the European Tour's more stringent regulations have come into effect, with some key revision from the earlier trial period at Wentworth's BMW PGA Championship in September, but there is a return of the Pace of Play Timing System, where officials can accurately assess, while players themselves can see where they stand on each tee.
Changes to Pace of Play Policy
An immediate one stroke penalty will now be applied on the second 'bad time' in a tournament.
Players who exceed time limits whilst being monitored will now incur a 'bad time' and it will count towards the one stroke penalty.
A player can call a 'time extension' for any stroke once in any given round. This will add 40 seconds to the allowance for the stroke in question. If players wish to use this, they must make this clear to the timing referee before they exceed the allowance they have for the stroke in front of them. Referee's advice is for this to be a verbal call or a clear signal which they will acknowledge.
Referees have also been mandated by the Tournament Committee to focus on the players who are regularly taking too much time, even if they are 'in-position'. The 'in position' time limits have been reduced. A breach of these 'in position' limits will incur a 'monitoring penalty', but they will not count towards the one-stroke penalty in a tournament, recognising the significance of being 'in position'. A single monitoring penalty or single bad time in a season will not result in any sanction, but each one after that will incur ever increasing fines starting at €3,500.
The fines for the number of times players have been timed during the season have also been increased.
But what constitutes an out of position time? The time allowance for the first shot in the group is 50 seconds, with that reducing to 40 seconds for subsequent players. For those being monitored in position, which had previously been double the out of position time, has been reduced by 15%, from 100 to 80 seconds, down to 85 and 70 seconds.
Those are the changes being adopted by the European Tour, which have been welcomed, and may set a precedent for the professional game as a whole.
However, what of the regular, amateur game, which ultimately represents the population who have the biggest grievances, as emphasised in our Survey. We've already seen the major alterations to the Rules of Golf in 2019 by the R&A and USGA, which saw the introduction of being free to keep the flagstick in when putting, the reduction of time available to find your ball, and the simplification of rules related to penalties and hazards, all of which were brought in to speed things up.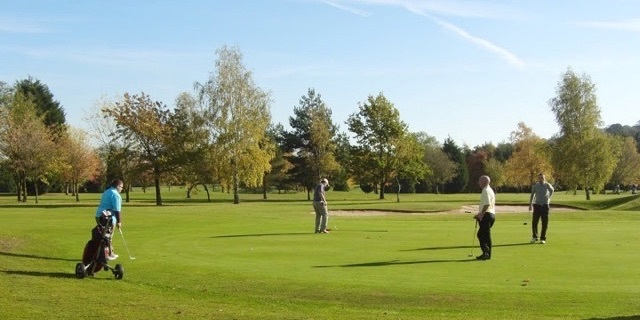 Ready Golf
When surveyed and asked which initiatives could be helpful for the game, 72% of golfers declared that Ready Golf was at least moderately welcome, with the majority of those believing it to be Very or Extremely beneficial.
Simply put, Ready Golf means that golfers should play their shot whenever ready to do so, rather than adhering to the standard principle of the player farthest away going first.
Many clubs have promoted this within the UK, not to mention the reported 94% of venues in Australia having done so, illustrating just how common this school of thinking has become. At the time of writing, the Latin America Amateur Championship - in which the winner receives an invitation to The Masters and Open Championship - the competitors have been encouraged to play Ready Golf.
But what are the specifics related to Ready Golf, which is applicable to stroke play. Here are the R&A's Guidelines.
Hitting a shot when safe to do so if a player farther away faces a challenging shot and is taking time to assess their options.
Shorter hitters playing first from the tee or fairway if longer hitters have to wait.
Hitting a tee shot if the person with the honour is delayed in being ready to play.
Hitting a shot before helping someone to look for a lost ball.
Putting out even if it means standing close to someone else's line.
Hitting a shot if a person who has just played from a greenside bunker is still farthest from the hole but is delayed due to raking the bunker.
When a player's ball has gone over the back of a green, any player closer to the hole but chipping from the front of the green should play while the other player is having to walk to their ball and assess their shot.
Marking scores upon immediate arrival at the next tee, except that the first player to tee off marks their card immediately after teeing off.
It's a philosophy that many have embraced and that golfers clearly believe in. Should everyone playing on a busy day adopt these ideals, it's fair to conclude that all groups will keep moving, reducing round times, and easing the frustrations of a large segment of club members.
Ultimately, as long as you're not infringing on the enjoyment of others, then the length of time it takes you to play is a personal thing, but enough people still believe it's a major issue, so initiatives like Ready Golf, and the shift in regulations on tour should help to change perception.
So, the next time you play, if you don't already do so, why not suggest Ready Golf to your partners and see how that experience compares to average play.
Who knows, perhaps the 2020s will be the decade when slow play becomes a minor problem for the game. It's taken us long enough to get this far.
---
What do you think? leave your comments below (Comments)
---
Tags: Survey slow play Ready Golf industry insider daily picks
---
comments powered by

Disqus