The Worst Winter Golf Experiences You Can Have
---
It doesn't always seem obvious, but playing golf in the winter does have its upsides and can offer some truly wonderful experiences, but on the flip side, you can encounter some horrible weather and situations at this time of year.
From my own perspective, taking to the course on a December morning (many years ago) in icy conditions with snow falling wasn't the smartest or most enjoyable of moves, albeit there was a bit of pleasure taken from watching the ball slide along the fairways and seeing putts create a line through the white coating on the greens. That said, quite simply, never again.
After first hearing about their positive memories, the Golfshake Ambassadors have reflected on the common reality of the situation for those of us battling the elements in the UK.
Matt Holbrook, co-host of the Golfshake Podcast, had his day at one of the ultimate destinations ruined by the climate.
"The Belfry 2015. We played the PGA National on the first day and the Brabazon on the second day. The first day was probably the worst conditions I have ever played in. I don't mind the wind, I don't mind the rain and I don't mind the cold. But the combination of all three on this particular day was not a pleasant experience. My lasting memory was of trying to peel all my clothes off that were stuck to my body but as I was doing it my fingers were so cold and numb that they kept giving way!"
Well, thankfully there were no disrobing struggles in this tale from Mel Davies, but he can also relate to the weather.
"Playing at my old course when the fairways were sodden for months and it really took the joy out of the game for a while."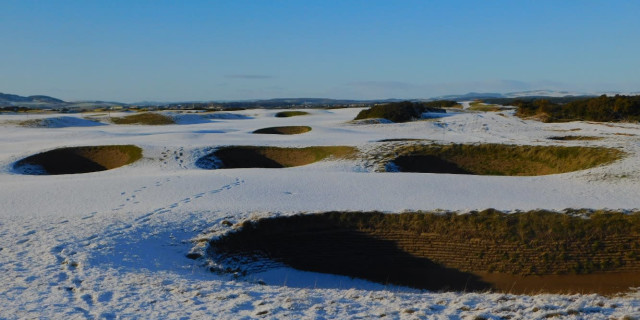 (Snow Makes Pretty Pictures But Bad For Golf)
When playing from crisp fairways during the summer, the sensation of striking a pure shot is tangible and highly satisfying, but that luxury isn't often available during winter, as Rob Treanor describes.
"I think we all know what a muddy fat sounds like and some rounds are just so wet and sodden it is hard to enjoy them properly."
We certainly do, but sometimes it can be even worse and you may not find your ball in the first place! Richard Moore has some thoughts on that and helpfully puts things into perspective.
"Anywhere where the water does not drain and you get plugged lies on the fairway and can't find your ball. We have to accept British winter golf is just about getting some exercise, but at least you can practice your target golf as long as there is not frozen ground."
Fortunately, spring is fast approaching, with better conditions and the beginning of the full season. Many of you nonetheless find playing throughout winter rewarding for your health and game, and it's an effective way of giving yourself an edge on rivals who have packed their clubs away for six months!
---
Related Content
10 Things That Every Golfer Needs to Have This Winter
18 Golf Courses That Offer Perfect Winter Drainage
6 Benefits of Playing Golf Through Winter
Reasons to Keep Playing Golf This Winter
The 5 Most Frustrating Things About Winter Golf
30 Golf Courses You Need to Play This Winter
20 Golf Courses You Should Play This Winter
25 Golf Courses You Must Play This Winter
18 Affordable Golf Courses to Play This Winter
The Winter Golf Courses You Need to Play
The Golf Courses You SHOULD Play This Winter
Bargain Golf Courses You Must Play This Winter
The Golf Courses You MUST Play This Winter
Great Value Golf Courses to Play This Winter
The Best Winter Golf Shoes You Can Buy
The Best Winter Golf Jackets You Can Buy
The Best Winter Golf Mid Layers, Hoodies, Jumpers, Tops
The Best Winter Golf Base Layers to Buy
How Many Winter Layers Do You Need on The Golf Course
The Best Winter Golf Accessories to Buy
The Best Winter Golf Hats to Buy
The Best Winter Golf Gloves to Buy
---
What do you think? leave your comments below (Comments)
---
Tags: winter golf winter GOLFERS Golf daily picks
---
comments powered by

Disqus