10 Things That Every Golfer Needs to Have This Winter
By: Golfshake Editor | Fri 23 Dec 2022 |
Comments
---
There's no way to sugar coat it, golf in the winter can be tough going if you're not properly prepared. But for those looking to keep playing throughout the year, we've compiled a list of our must-have winter essentials. Check out some of our favourites below, and let us know if there's any that we've missed!
Baselayers
A staple of many golfers' winter wardrobes, baselayers are a must-own piece of kit. Designed to be worn tight to the body, trapping warm air between its fabric and your next layer, baselayers are relied on by golfers from around the world as temperatures start to dip. Modern versions retain a huge amount of stretch, allowing for a full range of movement - and with them being available in every colour imaginable, there's always one to match the rest of your outfit! Those not keen on wearing multiple layers of outerwear may also find that a baselayer can work well for them through into the spring, being paired with just a polo shirt to offer the perfect mix of comfort, playability and warmth.
A Proper Woolly Hat!
Whilst having your favourite football team's or local building supplier's logo on your headwear might be a supportive gesture, there's nothing quite like a proper woolly hat for the winter months - ideally with an insulated lining. Golf-specific headwear will have been road-tested by the manufacturer to keep the wearer warm (and relatively dry), and can be depended on when the weather is at its most brutal. If you still want to stand out from the crowd, you'll find plenty of colourful options too - but we'd always recommend going for function over fashion when it comes to golf in the winter.
Winter Bucket Hat
And speaking of function over fashion … waterproof bucket hats can be a Godsend when the rain starts to come. Don't let a bit of the drizzle on the forecast prevent you from heading out to the course. Simply throw on a bucket hat to keep you nice and dry throughout the round. Particularly when paired with our next items …
Proper Waterproof Clothing
Like our woolly hat suggestion, waterproofs aren't an area in which you should be looking for short cuts. Your walking jacket might be great for watching the kid's football, but it's unlikely to provide the same amount of stretch as a modern golf jacket, and probably won't keep you as dry either. Likewise, golf waterproof trousers are better than ever, with a myriad of fits designed for golfers of all shapes and sizes. You needn't break the bank to find a good pair, and these should last for several seasons if looked after properly. Many golfers live in their waterproof trousers throughout their time on course during the winter, and so these can be one of the most important (and cost effective) purchases you'll ever make in the sport.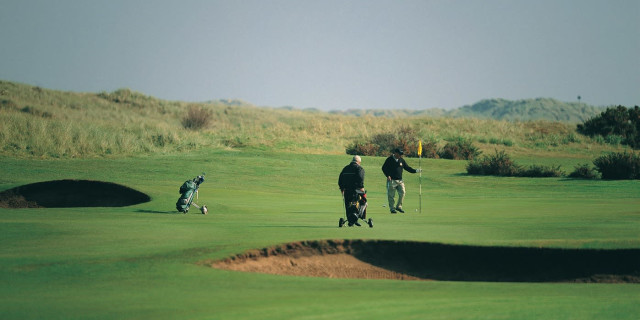 Snood
Quick one, and something that's risen in popularity over recent years … the snood! A versatile piece of clothing that can be worn solely around the neck, or pulled up over the mouth and nose in the harshest of weather, snoods are an incredibly effective way of keeping you warm, without restricting any of your movement. Plus, with many clubs mandating face coverings within indoor spaces over recent years, snoods can be a slightly more stylish way of being a health-considerate club member!
Flask
Another item that has seen more of a resurgence over recent years as technology has developed is the humble flask. Brands such as Chilly's, Yeti, and the iconic Thermos brand have developed products that can be taken anywhere, allowing you to load up on hot coffee before you head out to the course. The beauty of these flasks is that they can also be used through the summer to keep your drinks cold and refreshing, making them an essential for golfers. Why not do your bit for sustainability too by getting your halfway coffee or tea put into your flask, alleviating the need for the club to dispense yet another polystyrene cup.
Hand Warmers
Seemingly ever present in pro shops throughout the winter, hand warmers can be one of the most satisfying ways of spending a couple of quid known to man. There's nothing that can beat the surprised satisfaction of putting a cold hand back in your pocket, only to be reminded that you popped a warm hand warmer in there before the round! But … we've got a suggestion to take things one stage further …
Mittens
STICK YOUR HANDWARMERS IN YOUR MITTENS! We know, genius, right?! And if you don't have mittens, you definitely should. Your hands and your scores will both thank you as your fingers retain some level of sensation throughout the round. But honestly, chuck some handwarmers in there this winter - it'll change your life.
Extra Gloves
In the wet and muddy conditions, it can be easy to wear through more gloves than usual. Particularly if you're still playing a few times each week. We'd recommend grabbing a couple of additional gloves next time you're stocking up, and perhaps look at a more durable model for the winter. Whilst these might lack some of the feel of a premium cabretta model, they'll last you a heck of a lot longer, allowing you to save some of your pro shop credit to purchase our final suggestion …
Yellow Balls
Yes. Yellow golf balls. Golfers once had a stigma about playing with yellow golf balls, but with all of the major manufacturers now offering their most premium balls in yellow too, it's no longer the reserve of the low-mid price option. Yellow balls are infinitely easier to see in the muddy conditions, and have the added benefit of usually differentiating you from your playing partners, saving you from bending down to inspect who's ball belongs to who when you both carve it into the right-hand side rough!
---
Related Content
6 Benefits of Playing Golf Through Winter
Reasons to Keep Playing Golf This Winter
The 5 Most Frustrating Things About Winter Golf
The Best Winter Golf Shoes You Can Buy
The Best Winter Golf Jackets You Can Buy
The Best Winter Golf Mid Layers, Hoodies, Jumpers, Tops
The Best Winter Golf Base Layers to Buy
How Many Winter Layers Do You Need on The Golf Course
The Best Winter Golf Accessories to Buy
The Best Winter Golf Hats to Buy
The Best Winter Golf Gloves to Buy
The Best Winter Golf Hand Warmers
---
What do you think? leave your comments below (Comments)
---
Tags: winter golf winter GOLFERS Golf daily picks
---
comments powered by

Disqus