Reasons to Keep Playing Golf This Winter
---
The spring and summer months provide the optimal climate to play golf in; warm weather, dry days and elongated roll-out certainly assists to reach those par 5s in two.
However, away from the sunshine and golf can still be played, in fact, it can be argued that the colder season is more reflective of a golfer's ability considering it's primarily carry distance due to the waterlogged course.
Many golfers stop their weekly or monthly trip to the course during the period leading up to Christmas, but there are several outstanding benefits that would provide a stern argument for continuing to play.
Below, we list five reasons why you need to keep golfing this winter.
Course Activity
(Image Credit: Kevin Diss Photography)
Perhaps the most obvious benefit is just how quiet the courses are during the cooler months.
While golf has experienced a substantial boost over the course of the last 18 months, there were several negatives that established themselves during that period.
Firstly, while it was fantastic news that golf courses were brimming with golfers, the traditional round time rose dramatically.
Whereas the usual standard for a round of golf is anywhere between three to three-and-a-half hours, that increased to comfortably over four during the latest boom.
We can expect round times to return to normal this winter as the courses won't be fully booked, meaning that pace of play will improve significantly.
A few golfers mentioned that the pace of a round has actually deterred them from playing recently, but that excuse can be thrown out of the window during the winter months.
Golfers will be more likely to return to their favourite hobby if the actual timing of the activity is shortened, which is something that will happen during the final few months of the year.
Exercise
Make no mistake, exercising is mandatory all year round - not just when the sunshine is glaring!
It undoubtedly takes more effort to prepare yourself for exercising in the winter but it's still highly recommended and we all know the positive relationship between golf and exercise.
A single round can burn up to 800 calories - which only increases if you carry or push your clubs - meaning that golf is an excellent resource for keeping yourself fit.
If you don't fancy tackling the course on a particularly chilly December morning, then the driving range still boasts an excellent location for a fitness session.
Don't expect to burn as many calories but you'll still be in the motions of exercising, which is essential.
Moreover, unlike the gym that many people don't feel passionate about, you'll be able to work on your game and further improve your ability.
Keep Progressing
(Image Credit: Kevin Diss Photography)
If we are to look at this argument exclusively from a golfing perspective, then why are we willing to let all the hard work of summer come undone?
During the sunshine, we were out on the course as much as possible and, as a consequence, we improved greatly over the hotter months.
By sitting idly and refusing to visit the course/range during the winter, we are effectively allowing all of our hard work to evaporate right before our eyes.
Similarly to anything in life, if you want to improve at something, it's pivotal you allocate sufficient time for practice and development.
Unless we can physically drag ourselves to a golfing facility, then we won't further enhance our skill and next season's aim for a lower handicap is in serious jeopardy.
However, you may be fortunate and have a net in your garden - or even a simulator stored in your house.
If you are lucky enough to be in possession of either of these, then don't neglect your luxury status and keep practicing.
Ultimately, did you know that playing in the winter will improve you considerably for the warmer months?
Winter's Challenge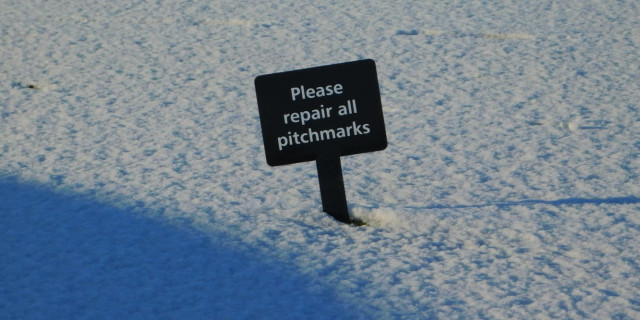 Look, we know that golfing in the winter is a gigantic juxtaposition to the summer months, but there are certain positives that aren't discussed.
Not every golfer has the knowledge of their carry distance - which is a key to unlocking lower scores - and the winter period can help provide a refresher on those statistics.
During the summer, our shots will typically receive rollout - which is especially true with the driver - and therefore, we'll be unaware how far we carry each club.
Considering that many golfers have access to some sort of GPS aid, the colder months becomes an ideal time to reaffirm your carry distances - or discover them for the first time.
Your ball is going to plug a lot and you can realistically forget about any rollout if the weather has been particularly poor.
So, contemplating this, measure how far you're hitting your 9-iron on the course; what distance are you getting with your woods?
If you know you can carry your 8-iron 160 yards, you can then begin to bridge the gaps for the other clubs but the most important aspect is knowing what club to take for approach shots.
Follow this advice and you'll soon see those high scores begin to lower and lower!
Winter Deals
You've played golf at your club for the last seven months and you're starting to look a little burned out with the same 18 layout.
You try a few other clubs in the local area, but again, you've played these courses far too often and they're just not providing the entertainment you thought they would.
Do you give up? Or, alternatively, do you look to secure cheap booking deals that will take you to courses you've never played before - even in the sunshine if you're looking abroad!
When the cold bite arrives in the United Kingdom, there are several countries who can offer a respite from the bitter conditions.
Whether you book to go to Spain, Portugal or France, there are plenty of cheap and reduced deals out there for a last minute golfing getaway.
On the other hand, you may wish to stay at home and battle the colder conditions and there are hundreds of locations that can offer both golf and accommodation.
The winter period is an ideal time to book too, considering that a lot of resorts are looking to fill both tee times and rooms - which will be offered at a reduced rate.
While golf is best enjoyed during the summer months, it can and should still be played during the winter period.
These five standout benefits are evident to see and you can enjoy all of them if you take to the fairways this winter.
Additionally, the poor conditions indicates that it is absolutely vital you take care of any course you visit, so please repair pitch marks, replace divots, rake bunkers and take general care of your facility.
Whatever the reason, please make sure you frequent your club and show your face as the weather takes a turn for the worst.
---
Related Content
The Items You Need For Winter Golf
Are You Ready For Winter Golf - Tips To Keep Playing
How to Get Ready for Winter Golf
7 Reasons Why Winter Golf is Great
---
What do you think? leave your comments below (Comments)
---
Tags: winter golf winter GOLFERS daily picks
---
comments powered by

Disqus