The Best Winter Golf Experiences You Can Have
---
What are some of the best experiences you have had playing golf in winter, was it a particular course, a great round or shot, which memories stand out?
That was the question we posed to our team of Golfshake Ambassadors, looking to find a positive spin on playing the game at this time of year, which can be a tough sell for many when you consider the weather, course conditions and lack of daylight.
From the perspective of yours truly, who posed the question in the first place, the answer goes back to the beginning of January 2017, when I was part of a memorable four-ball on The Old Course at St Andrews.
Yes, it can be bitingly cold and breezy on the Fife coastline, but the climate that day was fabulous, surprisingly warm and sunny with the famous layout in truly immaculate shape.
Ultimately, playing my favourite course in fine company on a beautiful day is difficult to surpass. That said, Matt Holbrook, Richard Moore, Mel Davies and Rob Treanor have some rather enchanting tales of their own below.
Magical Winter Golf Courses
Co-host of the Golfshake Podcast, Matt Holbrook has a couple of experiences that are true standouts in his mind.
"The first one was actually last year when I went to play at Royal West Norfolk in February. It was a perfect winter day for golf. The sun was shining, golf by the sea, gorgeous golf course, hardly a drop of wind and you could have placed me anywhere in the world and I would have wanted to be where I was.
"There is clearly a theme here for me. I play in some winter events run locally to me at Felixstowe Ferry Golf Club - Highly Recommended on Golfshake - and we have had some spectacular days over there with the sunrise and sun setting. You play in four balls as pairs so you get golf with your mates, by the sea, and a perfect fish and chips after."
It doesn't get much better than that, although fellow Golfshake Ambassador Richard Moore has a strong contender that he would like to share with you.
"I just love the winter dormy package at Formby. Waking up in the dormy accommodation looking out on a misty morning across the first tees on the Championship and Ladies courses is magical. Such good value to play both courses and stay overnight. That is my all-time favourite English winter golf. Still great weather to be had in October and November. Julie Strong in the office will sort you out!"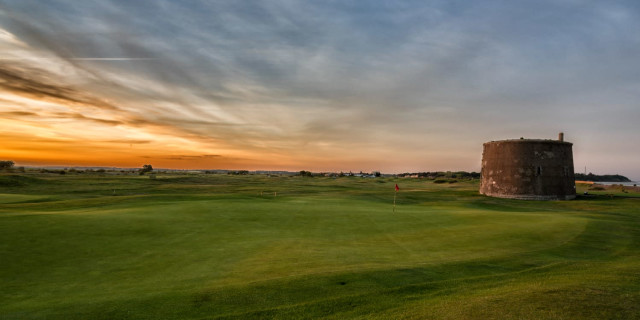 (Felixstowe Ferry Golf Club)
Enjoying The Challenge
Sometimes you just have to embrace the elements, which is probably the most effective mindset to enjoy winter golf, as Mel Davies confessed to a momentary lapse of sanity.
"It may sound mad, but for me it was playing at Kington a couple of years ago in 40 mph winds. So tough, but I thoroughly enjoyed the challenge. Must be the sadistic side of me."
That is a trait that Rob Treanor can emphasise with.
"In the UK, links courses hold up very well and sometimes the wind and rain is so atrocious you just have to laugh! Aiming off for wind when putting a five footer is pretty funny."
Playing Golf Abroad
However, Rob has also enjoyed taking himself overseas for golf at this time of year, a tactic that many would love to emulate!
"I have fond memories of golf in Cyprus and the Canary Islands during the winter months!"
Richard is a frequent traveller and can relate to the golfers you see on the DP World Tour who spend their December and January in the Middle East.
"I probably get boring saying this, but Dubai is for me. Packing my clubs on a work trip and playing in the baking sun is like nothing else. Just returned from there and played some great courses like Al Zorah in Ajman (just an hour north of Dubai) and then the Majlis at the Emirates GC is just bliss."
---
Related Content
10 Things That Every Golfer Needs to Have This Winter
6 Benefits of Playing Golf Through Winter
Reasons to Keep Playing Golf This Winter
The 5 Most Frustrating Things About Winter Golf
30 Golf Courses You Need to Play This Winter
20 Golf Courses You Should Play This Winter
25 Golf Courses You Must Play This Winter
18 Affordable Golf Courses to Play This Winter
The Winter Golf Courses You Need to Play
The Golf Courses You SHOULD Play This Winter
Bargain Golf Courses You Must Play This Winter
The Golf Courses You MUST Play This Winter
Great Value Golf Courses to Play This Winter
The Best Winter Golf Shoes You Can Buy
The Best Winter Golf Jackets You Can Buy
The Best Winter Golf Mid Layers, Hoodies, Jumpers, Tops
The Best Winter Golf Base Layers to Buy
How Many Winter Layers Do You Need on The Golf Course
The Best Winter Golf Accessories to Buy
The Best Winter Golf Hats to Buy
The Best Winter Golf Gloves to Buy
---
What do you think? leave your comments below (Comments)
---
Tags: winter golf winter GOLFERS Golf daily picks
---
comments powered by

Disqus