5 of the Most Fearsome Bunkers in the UK
---
Article by Will Trinkwon
---
If there's one thing guaranteed to strike fear into the heart of the average golfer, it's a bunker. When you're stuck in the sand all the rules of chipping fly out of the window – professionals tell students to aim for the sand, not the ball, maintain the bounce and make a positive swing. But these mantras can just as easily perplex as enlighten and bunkers still remain a real difficulty for many players. Imagine then, how intimidating it would be to be hitting out of something like this?
At the risk of further cementing your terror of bunkers, here's a list of five sand traps even the most competent of bunker players wouldn't want to be stuck in in the UK.
6th Hole at St Enodoc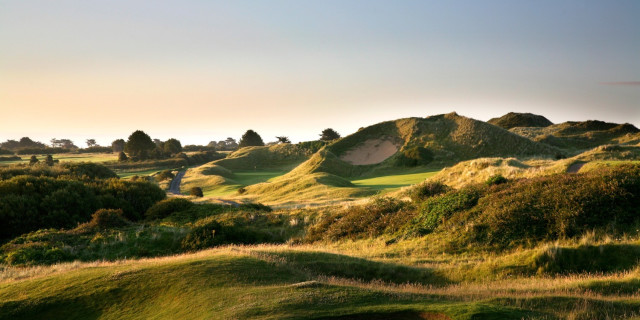 St. Enodoc's Church Course is a class act all round and well worth a visit if you haven't already sampled it. But be warned, for all its panoramic vistas and brilliantly designed holes, the Church Course is as difficult as it is beautiful. One of the chief reasons for its difficulty is the course's copious and terrible bunkers, none of which is more dangerous than the cavern of sand that greets players when they arrive on the 6th tee. Even from over 200 yards away, the bunker registers an imposing sight, and the fear-factor only increases when you have to fire over it for your approach shot to a blind green. Skull one or under-club and you're in the sand, and facing a treacherous recovery shot. The trap, known as the Himalaya bunker, has been rumoured to be the largest in Europe, and has been measured at 75 feet. No matter how nifty your bunker play, this is one trap you want to avoid.
4th Hole at Royal St. George's
Another bunker which is frequently referred to as the Himalayas, the gigantic sand trap which fronts the fairway of the 495 yard par 4 fourth hole at Royal St. George's is also deserving of its title. Like the Himalaya feature at St Enodoc, this bunker is not just a visual scare – it's terrifyingly also in play. Over 40 feet deep, the bunker is positioned at around 200 yards out from the tee, which, while this might not trouble long hitters or tour players, is at exactly the right distance to catch the hits of a typical amateur. The last time I played St George's I was so paranoid about finding the trap that I seriously considered hitting a layup. In the end, I took it on and managed to sneak my tee shot just off to the left of it. But I wouldn't want to be faced with the prospect again.
7th Hole at Hunstanton
The 7th Hole @Hunstanton_Golf. A Par 3 guarded by a sleepered bunker. A beautifully positioned hole, but don't be short. #sandtrap #top100uk pic.twitter.com/mlbT4Tv9VP

— Hunstanton Golf Club (@Hunstanton_Golf) June 29, 2017
Hunstanton 's par 3 7th hole is a nightmare. And the bunker that sits at the heart of it is no different. Despite being only 167 yards, the green is often rock hard, flanked by a corridor of imposing dunes and, most terrifyingly of all, fronted by a steep and cavernous looking bunker that looks as likely to swallow you whole as swallow your ball. While any recovery shots from this bunker will be difficult, however, its true fearsomeness is arguably mental. A raft of conspicuous wooden sleepers telegraph the bunkers presence and ensure that its always on your mind on the tee. With such a fear of coming up short its almost impossible to commit to your yardages, and the result is that players often miss long. Still, better than being buried in THAT bunker.
17th Hole at St. Andrews
Without a doubt the most iconic and best-known of the bunkers on this list, the road hole bunker on the 17th hole at St Andrews is as treacherous as it is famous. Stood in the middle of the 17th fairway (a rare place to be!) this little trap may not look like much – indeed, it is easy to mistake it for a mere mound – but end up inside and you'll quickly come to appreciate why the hazard is so feared. What makes recovering from the road hole bunker so tricky is not only its steep face, but its overall size. Like many of the pot bunkers that litter St Andrews, the trap on the road hole is really very small, meaning a player's stance can often be awkward and balls are more likely to end up nestled against the lip. The fearsomeness of this bunker is attested by the many famous casualties it has caused over the years. David Duval's attempt to track down Tiger Woods in the 2000 Open here came to an end when he took 4 shots to get out of the bunker and signed for an 8. 22 years earlier, Tommy Nakajima had taken 5 shots to get out from the trap and recorded a 9. Suffice to say, the bunker's reputation as one of the toughest in golf is thoroughly deserved.
8th Hole at Royal Troon
There's a reason the bunker to the left of the 8th hole at Royal Troon is called the Coffin, and it isn't because it gives you a sore throat. No, the bunker is called the Coffin because of its small size, as well as (I suspect) for its likely effect on the health of your scorecard. Like the road hole bunker at St Andrews, the Coffin is only a couple of yards long at its widest and therefore frequently prevents the unlucky golfer who has to play out of it from making a full swing. Add this to its already perilously steep face and you have a truly terrifying sand trap, which is capable of bringing even the world's best to their knees. Don't believe me? Check out Rory McIlroy taking SIX shots to escape from the trap during his practice round for the 2016 Open. A terrifying bunker indeed.
---
What do you think? leave your comments below (Comments)
---
Tags: daily picks Courses Bunkers
---
PLAY MORE PLAY BETTER - LATEST TUITION TIPS
---
Leave your comments below
comments powered by

Disqus