By: Golf Shake | Fri 26 Jul 2013 |
Comments
---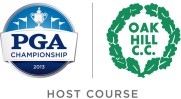 Just over 12 months ago, Rory McIlroy destroyed a world-class field to win his second major, the US PGA Championship.
Despite a second round of 75, McIlroy brought the Kiawah Island course to its knees, beating Englishman David Lynn by eight shots. It was a great week for British golf, with Justin Rose and Ian Poulter sharing third place with the hard-to-like Keegan Bradley and the cuddly Swede Carl Pettersson. Tiger Woods finished 11 shots off the pace.
McIlroy will defend his title at New York's magnificent Oak Hill Golf Club, from August 8-11, and nobody gives him a prayer.
Since signing his Nike contract, the Northern Irishman has gone backwards in a hurry, and he reached a new low at The Open Championship at Muirfield when, after opening with a 79, he admitted that he felt unconscious on the course and in need of psychological help. He said that he was guilty of over-thinking things off the course and doing the opposite while competing.
It was a shocking admission from a golfer for whom the game has always seemed to be absurdly easy. McIlroy missed the cut by a mile at Muirfield and he will not be looking forward to Oak Hill, a course that calls for accuracy from the tee and a deft touch around the greens. A year ago, you would have said that it was made for him. Now?
Well, right now he might well struggle if it was being held on a pitch and putt course.
McIlroy will work it out, of course he will. After he gets Oak Hill out of his system, it might be an idea to get away from it all for a few weeks and come back refreshed and recharged.
They call the season's fourth major Glory's Last Shot and, without being unkind, it has produced more than its fair share of journeymen winners – Rich Beam, YE Yang, Mark Brooks, Shaun Micheel, Bob Tway and Hubert Green hardly constitute a Who's Who of golf; more like a Who's That of golf.
But it has also been won by amost all of the greats, although it eluded Arnold Palmer. Jack Nicklaus won it five times, Woods has won it four times (although you have to go back to 2007 for his last triumph), Sam Snead three times and Gary Player and Ben Hogan twice each.
So who is going to come out on top this time? Let's deal with Woods first. It is now more than five years since his last major success and although he has been in contention plenty of times since (including at Muirfield), he really hasn't looked like winning any of them.
Remarkably, his 14 major successes were all achieved on the back of going into the final round in the lead. The only time he has had a 54-hole lead and lost was when Yang beat him in 2009 and, in truth, that was the last time he genuinely appeared to have a chance to win.
We will never know what effect the turmoil in his private life has had on him. One thing is certain though – you could not find two more different individuals than Woods and Phil Mickelson, the 2013 Open champion.
As things began to fall apart at Muirfield, Woods resorted to the spitting that has disgusted to many of us for so long. It is a filthy habit and it does nothing for his reputation. Tiger will frequently walk past fans seeking autographs. Mickelson will wait around at the end of the day until there is nobody left looking for his signature.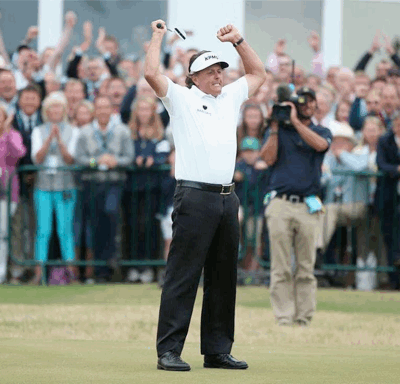 It was plainly obvious at Muirfield that Mickelson lives for his wife and three daughters, and he was delighted to allow them to bask in his victory. Woods is a loner, a man who shuts everybody out.
When Mickelson walks down the fairway he will acknowledge fans who call out to him. Tiger never does. Perhaps most tellingly of all,
Mickelson and his caddy, Jim "Bones" McKay, have been together since Mickelson first came out on tour more than 20 years ago. Their relationship is one of genuine friendship (Mackay broke down and wept when Mickelson won The Open), while Woods has always kept his bagmen at arm's length and parted company with them the minute they have stepped out of line – in Woods' eyes, at any rate.
Most of us thought that when Mickelson finished runner-up in the US Open at Merion in June it would take him months to recover. He had, after all, just recorded his sixth second place in his national open. Instead, he took a few days off and then flew across the Atlantic with wife Amy and his daughters and won the Scottish Open and The Open.
He has finally discovered that with his length from the tee, he doesn't need to carry a driver, instead bombing it out there far and true with a three wood, keeping the ball in play and depending on his glorious short game to make his scores.
If you thought the greens at Muirfield were tough and the pin positions were unfair, you ain't seen nothing yet. Oak Hill will be the ultimate test of patience. It is a test Mickelson has now passed with flying colours, and it will be a surprise if he is not in the mix again. Woods will no doubt be there or thereabouts, but don't bet your mortgage on him.
It is also a course that should suit Ian Poulter. If the Englishman had spent more time focusing on his game and less on Twitter moaning about the supposed unfairness of Muirfield then he might well have won.
During the last round he summoned the spirit of the Ryder Cup, willing putts to drop. He once said that when he is at the top of his game he is good enough to look an in-form Woods in the eye and beat him. Pundits laughed at him, but do you know what? If Poulter can harness that special something that he finds every two years when the Ryder Cup comes around then he can beat anybody.
And don't write off Lee Westwood. This will be his 63rd major, and he has yet to win one. No golfer finished in the top three of each major and never triumphed, other than Westwood. He will be sick of hearing that, at 40 years of age, time is running out. Instead, he will seek inspiration from the recent achievements of Mickelson and Ernie Els, who are both older than him.
It is especially ironic that at the point in his career when he finally sorts out his short game that his driving and iron play should start to let him down, but he will work it out. Westwood has been so close so many times that the pressure is no longer an issue for him. If he hits it straight and true at Oak Hill he will contend once again. Definitely.
Image Credit: Twitter @DirectGolfUK
---
Derek Clements is a sports journalist with a particular passion for golf with over 12 years of experience covering golf and other sports including Chief Sub-Editor on the sports desk of The Sunday Times. To contact Derek email direct via [email protected]
---
Related Articles
PGA Championship - News, Opinion and Insight
US Open Review: Rise of Rose, Everyone Loves Phil
McIlroy v Woods - A heavyweight rivalry is born!
---

Be part of the action with a selection of unique golf tournament experiences, from playing in a pro-am with the stars to watching the action at golf's most illustrious events. Whether it's the Masters or The Open, The Ryder Cup or WM Phoenix Open, build your own bespoke package with the experts at Golfbreaks.com.
---
What do you think? leave your comments below (Comments)
---
---
PLAY MORE PLAY BETTER - LATEST TUITION TIPS
---
Leave your comments below
comments powered by

Disqus