McIlroy v Woods - A heavyweight rivalry is born!
---
These types of sporting moments don't come along all that often, but when they do they can offer an extra edge, a little more intrigue, some more drama! Whether its Ali v Frazier, Fergerson v Wenger, Senna v Prost, the entertainment is undeniably more enthralling.
Golf has seen a few; Nicklaus v Palmer, Faldo v Norman, Woods v Duval (briefly). We are talking serious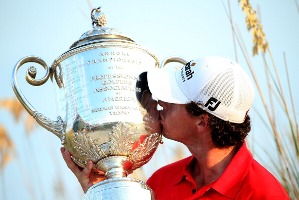 s rivalry, the type that occurs when either one threatens to dominate a sport and the other stands in their way!
On Sunday night on the shores of Kiahwah Island another of these iconic sporting rivalries was born. Rory McIlroy stormed home to an 8 shot victory in the USPGA, his second major coming at the age of 23 and his second by a massive 8 shot margin.
McIlroy become the first repeat winner in the last 16 majors that have been played, in doing so he announced himself as a potential great. No longer a player who might achieve. A player who has now erased all doubts about his ability to close out after his demise at Augusta last year. He now stands with just one other as a player with the ability to dominate the World of Golf. The battle for supremacy between Woods and McIlroy has begun!
Many will say Woods is finished, but he has shown serious signs of form this year. If his name was not Woods, press and fans alike would be shouting his name from the rooftops. He has featured in the Majors, holding halfway leads in 2 and has won three of the biggest events on the PGA Tour. He leads the American money list and has clawed his way from 53rd in the world back to the top 5! His trend is most definitely upward and there is only one final step for him on that curve; a 15th major victory.
It is not only that the rivalry includes arguably the two most talented golfers of the past 20 years, but the fact that there is a coolness between them, undoubted respect, but a knowledge by both, that one could beat the other. This adds a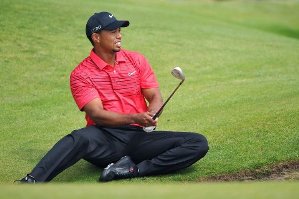 n additional edge. McIlroy was critisised by some last year after commenting on Woods:
"Before I sort of met him, you feel as if he's super-human," he said. "But once you meet him you realise he's a normal guy and works hard on his game and sort of gets the most out of it. But after what's happened in the last 18 months, you know, [his aura is diminished] a little bit. He's still a fantastic guy and I'm sure he'll get back to winning the way he used to. Yeah, for the meantime, I suppose a little bit of that aura is probably gone."

"I would love to face him. Unless his game rapidly improves ... I think anyone in the European team would fancy their chances against him."
Woods was not impressed, but maybe McIlroy new something we didn't. His self belief was there and he has since gone on to prove that that he is Woods biggest rival.
The next chapter in this sporting rivalry will be written next week when Woods and Mcilroy will square up in the first Fed-Ex cup playoff event at the Barclays. Woods and McIlroy have been paired together and I for one can hardly wait!
---

Be part of the action with a selection of unique golf tournament experiences, from playing in a pro-am with the stars to watching the action at golf's most illustrious events. Whether it's the Masters or The Open, The Ryder Cup or WM Phoenix Open, build your own bespoke package with the experts at Golfbreaks.com.
---
---
PLAY MORE PLAY BETTER - LATEST TUITION TIPS
---