Reflections on The Open ....
By: Golf Shake | Mon 22 Jul 2013 |
Comments
---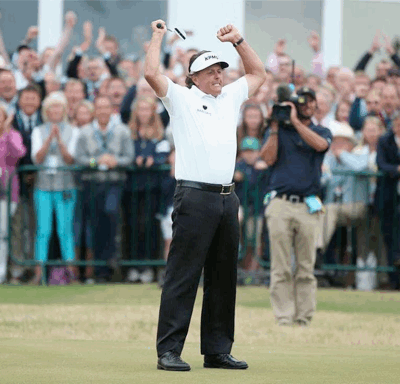 Phil Mickelson will go down in history as the first man to four-putt and go on to win The Open. He will also go down as one of the most popular winners of the world's oldest major.
After the bitter disappointment of finishing second in the US Open, Mickelson flew across the Atlantic and won the Scottish Open and then the biggest prize in golf. And he did so playing a brand of golf we are not used to seeing from him.
The left-hander has always played the game like Arnold Palmer, ripping it, going to find it and working out a way to get it out of the jungle. A gossamer-like touch around the greens has got him out of trouble time and time again, along with his unbelievable ability to play the most incredible flop shots from all kinds of lies.
But at Muirfield, just as at Merion, he left the driver out of the bag, added an extra wedge and used a "strong" three wood when a big hit was called for. Because the fairways were so full of running, he was able to propel the ball more than 300 yards. In fact, Bubba Watson hit a five iron 325 yards in the third round. 325 yards!
Of course the home crowd wanted to see Lee Westwood win. He is the only player ever to finish in the top three of all four majors without winning one, and he did it again at Muirfield. Westwood tried his heart out, but he played the par threes terribly, hitting a series of wayward iron shots that led to a plethora of dropped shots. Maybe he has reached the point where he is trying too hard to land that elusive major.
He is 40 years old now, but he should take heart from the fact that Mickelson is 43 years old and has just won his fifth major. There is no doubt that his short game has improved beyond all measure since he took the decision to move his family to Florida.
For a time it appeared that Adam Scott, the Masters champion, might be about to put last year's Open nightmare behind him as he moved into the lead. But, just as he had done at Lytham in 2012, he frittered shots away and came up short. At least the big Australian now knows that he has what it takes to win the biggest prizes.
Jason Day always seems to contend in the majors, and he briefly challenged too, but once again the examination paper was too stiff for him. Others came and went too.
Angel Cabrera, who lost in a playoff to Scott at Augusta, looked like he might bring the course to its knees, but he reckoned with the wiles of Muirfield.
Many have tipped Hunter Mahan as a future major winner. He went out in the last round with Westwood and, like the Englishman, struggled from start to finish. He is a glorious ball striker, but until he sorts out his short game, Mahan will never land the game's biggest prizes.
Ian Poulter thrilled the Scottish fans with a fantastic charge in the final round and for a while most of us thought that he was going to set a target that might be too god for anybody to better, but the closing stretch caught him out, just as it did so many other players.
Then there is the enigma that is Tiger Woods. He started the tournament brilliantly, but in his second round all the old fallibilities were on display again, and it was only a supreme display of scrambling that kept him in the hunt. He has never won a major when he has gone into the final round trailing the leader and it is beginning to look like he never will.
Irons from the tee found knee-high rough, putts for birdie rolled six feet past and while he holed them on the first two days, he never looked like doing so on the Sunday. He is now 37 years old and has won 14 majors – it is a brilliant achievement. But perhaps he is destined never to win another. His chances of catching Jack Nicklaus now look extremely slim.
When you see the likes of Fred Couples, Tom Lehman, Sandy Lyle and Mark O'Meara comfortably making the cut, it just goes to highlight how far away from his best Woods really is.
The woes of Rory McIlroy continue. It was bad enough that he didn't make the cut, but the interview he gave after his opening round of 79 provided plenty of cause for concern. It is one thing to admit you are struggling to find form, but it is a totally different matter to tell the world's press that you might need to consult a psychologist or psychiatrist.
There is nothing wrong with his Nike clubs. He knows that, Nike know that and everybody who understands the game of golf knows that. But perhaps the huge contract he signed is weighing a little too heavily on his mind. McIlroy defends his US PGA championship in August. After that, he might be well advised to take a break from the game and come back only when he feels ready to do so.
But none of this is of any concern to Mickelson. He played the last six holes in four under par and his final round of 66, in the toughest conditions of the week, was just sensational. The American looked serene from first until last, shrugging his shoulders when he dropped a shot, determined to get it back at the next.
He found fairways and greens, and when he missed the target he found a way to get the ball up and down.
As Westwood admitted, Mickelson was just too good. The American now has his sights set on overhauling Woods at the top of the world rankings. Right now, it would be a foolish man who would bet against him.
Image Credit: Twitter @DirectGolfUK
---
Derek Clements is a sports journalist with a particular passion for golf with over 12 years of experience covering golf and other sports including Chief Sub-Editor on the sports desk of The Sunday Times. To contact Derek email direct via [email protected]
Related Articles
---

The oldest & most prestigious major, a trip to The Open is a must for every golf fan. From tickets and transfers to hospitality & golf, Golfbreaks.com can build the perfect package to help you experience The Open in style.
---
---
What do you think? leave your comments below (Comments)
---
---
PLAY MORE PLAY BETTER - LATEST TUITION TIPS
---
Leave your comments below
comments powered by

Disqus