Cabrera and Scott still within striking distance at Muirfield
---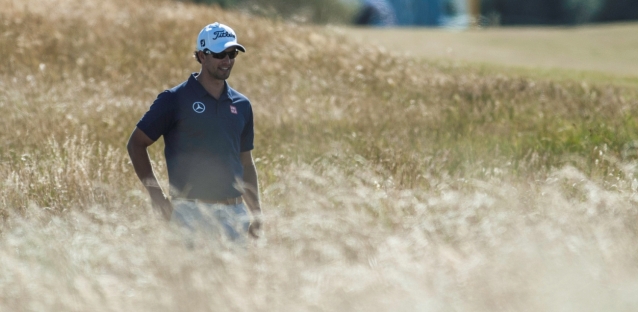 He ambles along the fairway, feet splayed like a duck. Not any old duck, mind you, but one who is capable of propelling the ball more than 320 yards on a regular basis. Hence his nickname, El Plato.
Angel Cabrera would be the first to admit that he is not a fan of the gym. He is a fan of steak, and he also enjoys a glass or two of wine and a cold beer.
The big Argentinian doesn't win many tournaments outside his own country, where he has claimed 34 victories, plus a further seven in elsewhere in South America.
But he does have a happy knack of producing the goods in the majors. He has won twice in America – the 2007 US Open and The Masters two years later. He held off a charging Tiger Woods to win the US Open and proved he could handle the pressure when he claimed the Green Jacket after defeating Chad Campbell and Kenny Perry.
Carbrera's game then fell off a cliff and his world ranking plummeted until, without any warning, he bounced backed this year and played brilliantly at Augusta before losing in a playoff to Adam Scott. Earlier, he had birdied the 72nd hole, knowing nothing else would do.
And so he arrived at Muirfield. Having shown little form since Augusta, few gave him a chance, but that all changed after he kicked off his challenge with a 69. At the worst, he should have shared the 36-hole lead with
Miguel Angel Jimenez
, but three dropped shots in the final five holes meant he began the third round two off the pace.
For 12 holes he was the model of consistency, grinding out par after par with a mixture of sheer brute force and a gossamer-like touch around the greens. His first dropped shot came at the 13th, but he got it straight back with a birdie at the next.
The par-three 16th has brought many players to their knees this week, and Cabrera duly let another couple of shots go there, but a birdie-par finish gave him a round of 73. He is one over par, just four behind Lee Westwood.
One ahead of him is the man who denied him his second Masters title. Scott suffered a meltdown at Royal Lytham 12 months ago that handed The Open on a plate to Ernie Els. There was a feeling within the game that the likeable Australian was turning into a choker when the chips were down in major championships, and it is to his eternal credit that he was able to exorcise the demons within and claim The Masters.
He has been the model of consistency at Muirfield, with rounds of 71, 72 and 70 leaving him on level par. And so the golfing gods offer him a chance of salvation today.
Unsurprisingly, his mood was upbeat after a round that was one of the best of the day. "It was a good round of golf today. I hit a lot of really good shots and made a couple of very good putts. Yes, I made a couple of mistakes but I think a 70 is a really good score out there today," he said.
Scott's career was revived when he turned to the long putter – a
club that will be banned at the end of the 2015 season.
Like several other top players, he is going to have to once again adapt to using a traditional putter. In the meantime, he continues to roll them in from all angles and distances with the big stick.
Naturally, the events of 2012 have played on his mind and he is certain that if he can play his way into the lead today then he will have no problems finishing the job. "I will go out there not carrying the weight of being in the lead or having not won a major, and that means it is a totally different feeling," he said. "Hopefully I can play enough quality shots to give myself chances to be in the hunt right at the end.
"But on this course, things can turn around in a heartbeat if you are not careful. I will be treading cautiously."
Muirfield has come in for more than its fair share of criticism since the world's best players got their first sight of it and Scott said that he thought it was playing more like a par 75 than a 71.
He was quick to add: "The course played the best today and is right where you want it to be for the third round of The Open. The greens were consistent. They were fast and true and the pins placements were all very fair. I am satisfied with the way I am playing this week, especially as I haven't been at my best in recent weeks."
Scott certainly can't claim that he isn't properly prepared. He arrived nine days before the tournament began, played nine times and insisted that the course played differently every day.
Many of the field say that the difficulty of the course has been the reason it has taken so long to complete 18 holes, and the pace of play cost Japan's Hideki Matsuyama a one-shot penalty, turning his 71 into a 72.
David Rickman, the R&A's executive director of rules and equipment standards, defended the decision, saying that Matsuyama had already been warned earlier in the round. He was penalised for taking two minutes 12 seconds to play a shot at the 17th.
"That is well over twice the allotted time, so I indicated to him that a penalty stroke was appropriate," Rickman said. "This week we've had a number of groups get out of position, although this is the first penalty to be imposed. I can confirm, however, that Matsuyama is the only player to be twice warned about bad times."
Earlier in the day, Graeme McDowell was also put on the clock. "We are not in the business of unsettling players, but we do have our pace of play policy, and that is designed to get players around in a reasonable amount of time. If players keep up with the group in front they will not be subject to timing," Rickman said.
At least the rules officials know that there is no chance of Cabrera being penalised for slow play today – he is one of the fastest players at Muirfield, whether in contention or not.
---

The oldest & most prestigious major, a trip to The Open is a must for every golf fan. From tickets and transfers to hospitality & golf, Golfbreaks.com can build the perfect package to help you experience The Open in style.
---
---
---
PLAY MORE PLAY BETTER - LATEST TUITION TIPS
---