Mickelson Magic at Muirfield
---
Vardon, Braid, Hagen, Cotton, Player, Nicklaus, Trevino, Watson, Faldo and Els. That is the company that Phil Mickelson has joined in winning the 142nd Open Championship at Muirfield.
The fact that the roll call of winners is consistently full of the greats of the game is a testament to the quality of the course. The cream always rises to the top at Muirfield. Hailed as a fair test of golf by the players it was no surprise to see a leader board packed full of big names on Sunday morning.
It was a morning that saw a stiff breeze and an ever present threat of a Scottish Har rolling in off the North Sea. Despite the threatening conditions early scoring indicated that a special round might be out there for someone with a host of the morning players breaking par and so it turned out to be, there was a special round, a 66 that equaled the best of the week, but in the context of a major Sunday, may have been one of the greatest rounds ever played on Scottish turf.
They said that Mickelson would never win The Open, he did not have the game, the ball flight control or the ability to read the tricky links greens. They said that the heart break that he suffered just a month earlier in finishing second at Merion had broken him. Mickelson himself doubted that this major was for him, but all that determination not to beaten by the course, any links course, won out in the end.
Mickelson's story is one of pure grit and determination. It is in a nutshell what makes golf stand apart from many other sports, the fact that you play the course and not an opponent. Mickelson has grappled, wrestled and been beaten by links golf for over 20 years. Yes he has been beaten by Woods, Els and many more over the years, but he knew it was the mastery of the links land that held the key to greatest prize in golf and so he turned to Butch Harmon to help him unlock the shots that would ultimately see him crowned Open Champion.
Mickelson credits 2004 and The Open at Turnberry as the year that he started to understand how to play the low running shots that any player needs to win an Open. It was also the year that he learnt to love the links, a state of mind that is so important for any player not from British shores to find, this coupled with the work he did with Harmon on getting the ball on the ground faster saw him finally realise the secret to playing great links golf.
Many will also credit Mickelson's preparation for this year's Open as a major factor in his win. His win on the links at Castle Stuart last week must have a had a huge effect on his confidence and other players must now look to reassess their pre Open schedules and look to play links golf in the lead up to next year's Open. It should not be lost on them that the last three winners of The Open, Darren Clarke, Ernie Els and now Mickelson have all played the Scottish Open on a links course the week before winning their titles.
With the Open Championship now under his belt Mickelson can now rightly be called one of the all time greats. He is three quarters of the way to winning a career grand slam and has five majors in total. Only Nicklaus, Woods, Hogan, Player and Sarazen have won a career Grand Slam, although Mickelson's time is running out it is hard to see him not joining that exclusive group by adding the US Open, in which he has finished 2nd a record 6 times and who begrudge him that moment of glory?
While one forty something was celebrating another will be looking at what went wrong. Lee Westwood did everything right for three days, but that final hurdle was yet again just too big an obstacle to jump.
Despite a last round 75 there are encouraging signs for Westwood, namely his putting. He was the best putter at Muirfield this week, his pitching and chipping also looked much improved and ironically it was his much vaunted long game that let him down.
Much has been made of the Englishman's move to Florida in the autumn of his career, but Westwood can take comfort in the fact that it seems to be bearing fruit. His primary goal for the move was to be able to work on his short game in good, warm conditions year round and he has undoubtedly seen an improvement in recent months.
---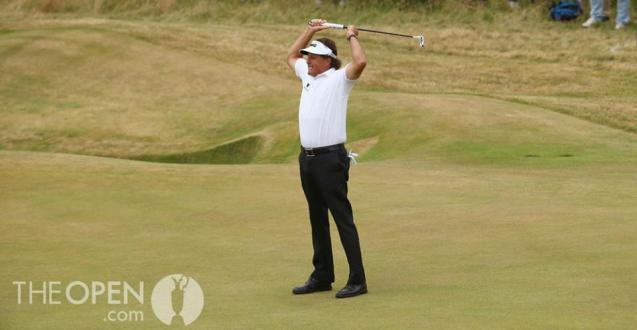 ---
Westwood has also switched coaches and is now working with Sean Foley who recently coached Justin Rose to US Open glory and is credited for Tiger's much improved form in 2013. It will take time for Westwood to interpret any changes Foley is making and it may be those changes that saw Westwood uncharacteristically spraying the golf ball into Muirfield's penal rough on Sunday.
If Westwood is to win that elusive major he must believe that if he can marry his new found short game skills with his normal long game prowess. A major is still within his reach and despite his age he still has three years on Phil Mickleson!
The one man that perhaps took a step backwards at this Open is Tiger Woods. His limp final round will be a huge worry to him. He looks like a man bearing the weight of his own dreams on his back and they are becoming just too heavy to handle. Tiger has a horrible record of coming from behind to win a major having never achieved that feat in any of his 14 major wins to date.
In previous years he has been gifted majors as players fell away around him, he also won majors by record margins and brilliant play, but it looks like those days are now behind him. Players are no longer fearful of his presence on the leader board and are stepping up to the plate and winning majors for themselves.
Tiger has time on his side and should he stay fit it is hard to see him not winning another major, he is putting himself in contention too often for that not to happen, but it seems as if he needs to throw off those shackles of expectation and grab a major with both hands. He is a genius of course management, but you cannot help but wonder what might have happened if we had seen a more aggressive game plan from him at Muirfield. It may be time for Tiger to cut loose and just go for it, try and blow the field away, over power a golf course and perhaps then we will see the Tiger of old.
The final word has to go to Mickelson , he is an illustration of what a player can achieve if he believes In himself and is determined enough to dedicate himself to a cause. There is something special about a victory that has not come easy, that has been 20 years in the making, it is even more special when that victory comes from the perfect round. That look on Mickleson face on the final green simply said that he had won a deeper victory. Not over the field, but over the course itself.
---

The oldest & most prestigious major, a trip to The Open is a must for every golf fan. From tickets and transfers to hospitality & golf, Golfbreaks.com can build the perfect package to help you experience The Open in style.
---
---
---
PLAY MORE PLAY BETTER - LATEST TUITION TIPS
---