The Second-Hand Golf Club Market: Making Golf More Accessible
By: Golfshake Editor | Tue 07 Nov 2023 |
Comments
---
Golf has long been associated with wealth, exclusivity and elitism, largely due to the costs associated with the sport. Expensive club memberships and the cost of equipment have long been a barrier for new golfers taking up the sport. But fortunately, this is starting to change.
Today the landscape is changing, golf is booming and more people are playing golf than ever. With the support of a new, emerging, younger audience led by popular YouTubers and celebrities, golf has become somewhat cool again and accessible to a much wider audience.
More and more women are also playing golf. During the Covid pandemic the number of women playing golf tripled, which is fantastic.
This shift is driven in part by the growth of the used golf club market, which offers an excellent opportunity for those looking for quality equipment at a more affordable price. Part of this movement is London-based second-hand golf equipment specialist, Nearly New Golf Clubs.
We spoke with Nearly New Golf Clubs to find out why golfers are shifting to buying second hand.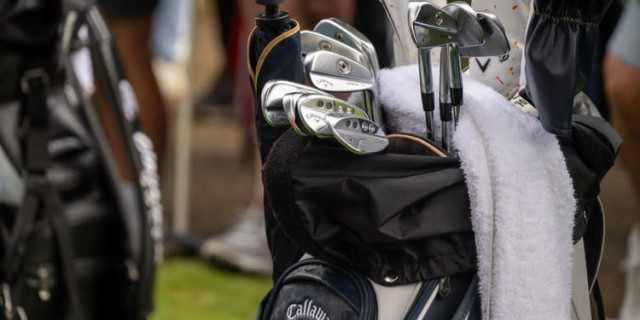 (Image Credit: Kevin Diss Photography)
Quality Equipment at Affordable Prices
With the price of new equipment skyrocketing, the used market offers golfers the opportunity to purchase high-quality golf equipment without breaking the bank. At the time of writing (October 2023), golfers could purchase a Callaway Rogue ST Max driver, released in 2022, for £250 at nearlynewgolfclubs.co.uk, which is less than half the retail price of the new Callaway Paradym driver. "We can offer golfers nearly new golf clubs, equipped with the latest technology and at huge savings compared to current models. In the environment we live in currently, this helps golfers justify their new purchase much easier," said Harry, founder of Nearly New Golf Clubs. And this drive towards pre-loved is not solely applicable to golf. From cars, to clothing, second-hand shopping is growing, Bloomberg reported sales of second-hand clothes, shoes and accessories jumped 28% in 2022 and that has continued into this year.
A Wider Range of Choice
There is such a wide array of choice when buying used golf clubs online. Equipment manufacturers launch their latest range every year. This means that the second-hand market is constantly growing, with golfers able to browse thousands of clubs in search of their next trusty. "Different golfers buy from us for different reasons," says Harry. "Many golfers attempt to recreate a particular club that has worked so well for them in the past, while others simply enjoy the tremendous selection we offer." This reminds us of a cool Daniel Berger story, who in 2022 reverted back to playing his 10 year old set of TaylorMade Tour Preferred MC irons. "Personally I would say they're maybe the best irons ever made," said Berger. "I'm going to go on eBay and order as many sets as I can and ride 'em out until I can't find any more". So if buying second-hand is good enough for PGA Tour winner Daniel Berger, it should be good enough for the rest of us…
Better For The Environment
Golf's impact on the climate and environment has led to growing calls to make the sport more sustainable. Buying second hand is a great way to help reduce golf's carbon footprint. "By reusing equipment we bring clubs back into circulation and find them a new home. This extends the life cycle of a set that sits gathering dust in your garage or spare room," says Harry. And this step towards a more sustainable sport is not only important for the environment, but also for the game itself, "buying second hand is just one easy way to help the sport move towards a greener future!" So if you've got some old golf equipment in your shed, spare room or under the stairs, why not turn it into cash and find it a new home? Nearly New Golf Clubs make the process extremely simple. Just fill out their online form and they will take care of the rest.
Try Before You Buy
One of the main practical advantages of buying used golf clubs is the ability to try them out. The contrast between simulator performance and on course experience can be significant. We've all been there; after bombing your new driver on the range and in the simulator, you just can't get on with it on the course.
Nearly New Golf Clubs offer a 30-day "try before you buy" guarantee on all used golf equipment, allowing you to get used to your latest purchase on the course, with the peace of mind that if it's not right for you, you can return it for a full refund or choose to try something else.
Rare Finds, Limited Editions & Hidden Gems
If you know what you're looking for, the second-hand market can be a treasure trove for hidden gems. Aftermarket shafts from brands such as Graphite Design, VA Composites and LA Golf can come at a significant cost when bought new and can be hard to get hold of, however they often provide real value second hand.
As well as aftermarket shafts, the second-hand market is a fantastic place to pick up limited release and Tour grade quality equipment. Nearly New Golf Clubs work with a network of Tour Professionals and custom fit experts meaning Tour Issue equipment gets traded in frequently. Tour Issue equipment can be hard to find - and come from a limited production run too, meaning that they are normally unobtainable to the general public. The second-hand market can give you a rare opportunity to play some of the same clubs as the Pros. So if you're looking for a Tour Issue driver head, or a limited edition Scotty Cameron, Nearly New Golf Clubs is definitely worth a browse.
Where Can You Buy Second Hand Golf Clubs?
There are plenty of options available to purchase second hand golf clubs, online sites such as eBay and Facebook Marketplaces are great options for golfers looking for a bargain. However, these marketplaces do come with their risks, from the dangers of counterfeit golf clubs, to the risk of them not being in the condition they are described as. Buying from a reputable retailer such as Nearly New Golf Clubs eliminates that risk.
Nearly New Golf Clubs consist of a team of experts that individually assess each club before uploading onto their site, guaranteeing the authenticity of the products they sell. The head, shaft and grip of each club will be graded through a strict rating system, ranking each club from 5-10 (they do not sell any clubs below the rating of a 5). This provides you with the knowledge that the club you are buying has been inspected by a professional and meets a strict minimum standard.
Who Are Nearly New Golf Clubs?
Born out of the Covid pandemic, London based Nearly New Golf Clubs is a pre-owned golf equipment specialist that is on a mission to make golf more accessible. They source their clubs from a trusted network of PGA Professionals, custom fit centres and golf shops around the UK. With thousands of unique items in stock at any one time, and with hundreds of new items being added weekly, you'll be sure to find the next club you're after.
Offering free, fast and reliable shipping, you can be assured that your latest purchase will be at your door, the next working day. This is just one of many reasons that Nearly New Golf Clubs boasts over 1,000 5 star reviews on Trustindex.
Why Choose Nearly New Golf Clubs?
If you're in the UK and on the hunt for high-quality second-hand golf clubs, it is definitely worth checking out Nearly New Golf Clubs. You will find quality equipment at affordable prices. Backed up by a team that are always keen to share their knowledge and provide you with the guidance you need, whether you're a golfer new to the game and looking for somewhere to start, or would just like a second opinion, the team is there to help.
Conclusion
As the golfing landscape continues to evolve, the second-hand golf club market remains a driving force in making the sport more accessible and sustainable. With the rising popularity of golf and an increasing demand for affordability and environmental consciousness, Nearly New Golf Clubs is helping provide golfers with quality equipment at affordable prices.
---
Related Content
---
What do you think? leave your comments below (Comments)
---
Tags: Second Hand Nearly New Golf Clubs Golf Clubs gear equipment
---
comments powered by

Disqus