Best Used Golf Irons 2023
By: Golfshake Editor | Thu 31 Aug 2023 |
Comments
---
A set of irons makes up the bulk of your golf bag and usually requires the largest investment - meaning that it's incredibly important to find a set that will perform best for you. With that in mind, we have teamed up with used club specialists, Nearly New Golf Clubs to take a look at some of the best used golf iron sets across three different price ranges and for three different types of golfers. These three different categories of irons are:
Game Improvement: Game improvement irons are designed for maximum forgiveness and feature larger profiles and chunky soles to provide a larger hitting area to make life as easy as possible for higher handicap golfers.
Mid-Handicap: It may sound obvious, but in general terms a mid-handicap golfer is someone who plays off a handicap of between 10-19. Most mid-handicap golfers will break 90 in the majority of their rounds.
Single Figure: While the range of ability in single figure handicappers is stark, they are the better players among us. They tend to demand more workability and feel in irons, as opposed to the added forgiveness higher handicap golfers desire.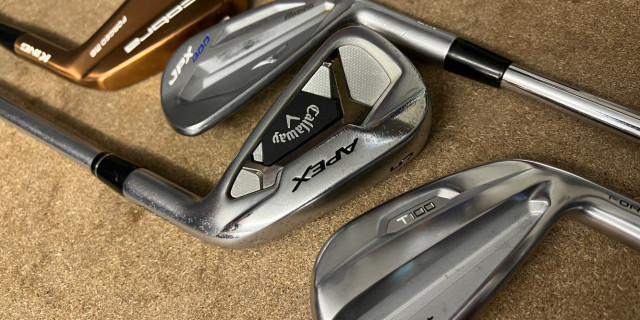 Best Used Golf Irons Under £750
With a set of irons now costing easily over £1,000, it leaves plenty of room to find your next set of irons. For under £750, you'll be sure to find top of the range releases from the last few years that feature up to date technology, while making a significant saving against a brand new model.
Ping G425
Game Improvement / Released in 2021
The Ping G425 irons (See Golfshake Review) retailed around £899 for a set of seven irons. Now available for under £600, these irons offer distance, forgiveness and feel in a more compact form than its predecessor for incredible game improvements.
As pointed out earlier, the G425 has a smaller and more compact head than the previous Ping game improvement iron, the G410. Importantly, however, the head offers a 3% increase in MOI. Add that to the 8% gain from the G410 to the G400 and that's a serious improvement. More speed is created across the face due to the variable thickness. The Hyper 17-4 stainless steel face with a metal-wood style design delivers the fastest ball speed a Ping G-Series iron has ever produced to date - craftsmanship inspired by technology seen in a driver.
Callaway Apex Forged 2021
Mid-Handicap / Released in 2021
For those looking for more workability while still benefiting from some extra forgiveness, the Callaway Apex Forged 21 irons (See Golfshake Review) offer a little of both.
They're Callaway's first forged iron designed with Artificial Intelligence for faster ball speeds and improved spin consistency. The unique AI architecture in each iron creates high ball speeds and improved spin robustness across the face.
The forgiveness comes from Callaway's massive tungsten energy core. Apex 21 irons contain five times more tungsten than the previous generation, which means more precise CG placement and promotes consistency across the face, helping you on off centre strikes. As we've come accustomed to with Callaway's Apex range, they have managed to maintain a compact feel that top players prefer and a level of feedback that better players need.
Titleist T100 2021 Irons
Single Figure / Released in 2021
Played by Jordan Spieth, Tom Kim and Will Zalatoris, the Titleist T100 irons have been the most popular irons on the PGA Tour in 2023.
The T100 face features a continuous cradle design which results in a more consistent leading edge and smoother face. Iron faces 4 through 7 have been updated to offer a bit more spin for better shot shaping and stopping power.
So, if you're looking for a compact players iron that has been gamed by the best players in the world, look no further than the Titleist T100 irons.
Best Used Irons Under £500
You can find some fantastic irons sets, packed with technology and cutting edge materials for under £500. While there are dozens of top options out there, we have picked a set from Callaway, TaylorMade and Cobra that may take your fancy.
Callaway Rogue ST Max
Game Improvement / Released in 2022
It was only last year that Callaway's Rogue ST Max (See Golfshake Review) irons hit the market. A great game improvement iron. Featuring the strongest lofts in the Rogue ST family. They suit a wide range of golfers looking for incredible ball speed, forgiveness and performance.
As we've come to expect from Callaway, AI is the primary technology used to maximise ball speed. 62 grams of high-density tungsten has been added to improve launch conditions and further maximise ball speed across the face, a 260% increase over Mavrik irons!
So, if you're looking for a super game improvement set, packed with the latest technology, Callaway's 2022 offering is worth a second look.
TaylorMade P790
Mid-Handicap / Released in 2017
An iron that has taken the world by storm! TaylorMade P790 irons (See Golfshake Review) are distance irons for the better player, combining the best parts of a blade and cavity back iron through a hollow body, forged face and Speedfoam.
The aim was to create the look and feel of a blade, while providing the forgiveness of a cavity back. And this was achieved by filling the internal cavity with a polymer TaylorMade called Speedfoam meaning that you get the forgiveness and playability usually expected of a perimeter weighted iron.
The success of the P790 saw TaylorMade launch a series of P790 irons, in 2019, 2021 and in 2023, and lead their competitors to follow in their quest to create a hollow bodied distance iron for players.
Cobra King RF Forged MB Copper
Single Figure / Released in 2020
Forged five times from 1025 carbon steel, each clubhead features a custom "RF" logo at the tip, denoting Rickie Fowler's involvement in the shape, design and finish of these irons. The result is an exceptionally smooth feel demanded by top players.
Every face and groove is CNC machined to maximise trajectory and spin control, allowing better players to work the ball to achieve the shot shape and desired outcome. Like Rickie's irons, these clubs are fitted with a tungsten toe weight to optimally position CG behind the sweet spot, providing incredible stability and further enhancing feel on every shot.
The rich copper finish paired with the iconic Rickie shape takes style to a whole new level. So, if you want a set of slick blades that'll stand out on the course, Cobra's RF Forged MB's are the one for you.
Best Used Irons Under £300
For golfers looking for a more affordable option, we've picked three iron sets from Ping, Titleist and Mizuno that have more than stood the test of time. While these iron sets may not have the latest technologies, their success has influenced their more modern counterparts, and many of these technologies can still be found in iron sets today.
Ping G Series
Game Improvement / Released in 2016
A classic game improvement set. The Ping G Series Irons have everything you need to help you shoot lower scores. Ping G Irons are famous for their deep centre of gravity that made it easier to launch the ball and perimeter weighting system that defined the MOI for generations to come. This G-Series features thinner faces, achieved through a heat treatment process that increases the strength of the steel by 40%, resulting in an extra five yards carry in each shot!
Titleist 714 AP2
Mid-Handicap / Released in 2014
Titleist 714 AP2 models are a multi-material, forged iron that provides distance with trajectory control.
They feature forgiveness and workability in a solid feeling while maintaining the compactness preferred by tour players. To provide extra forgiveness in this compact look, AP2 irons were forged with tungsten weights in the toe and hosel that increased the MOI without increasing the blade length. The forgiveness of these irons ensures consistency even on minor mishits, and the workability allows you to find that precise shape and distance when you need it most.
Mizuno JPX 900 Tour
Single Figure / Released in 2016
The saying goes, 'Nothing feels like a Mizuno', and that is exactly how we feel when reviewing the JPX 900 Tours. They feature Mizuno's patented Grain Flow Forging and are constructed from 1025E Pure Select Mild Carbon Steel, creating a pure, solid feeling iron. These irons have a Power Frame Design that distributes weight to the clubs' corners for increased stability. This classic Mizuno player's iron boasts a satin finish, straighter lines and a toe profile that combines with a compact face and narrow tapered sole to promote crisp ball-striking, excellent workability and enhanced trajectory control. Brooks Koepka gamed Mizuno JPX 900 Tour irons for a few years, including on his way to winning the 2017 US Open at Erin Hills.
Conclusion
In conclusion, finding the right set of used golf irons is crucial for every golfer. Whether you are a high handicap player looking for forgiveness, a mid-handicapper seeking a balance between workability and forgiveness, or a single-figure handicapper demanding feel and workability, there are options available in different price ranges to suit your needs.
For those with a budget of under £750, the Ping G425 irons offer game improvement features with distance and forgiveness in an improved more compact shape. The Callaway Apex Forged 2021 irons are perfect for mid-handicappers, providing workability and forgiveness through AI-designed technology. Single-figure handicappers can look towards the Titleist T100 2021 irons, which have been popular on the PGA Tour and offer improved spin and performance.
If your budget is under £500, the 2022 Callaway Rogue ST Max irons provide game improvement features such as incredible ball speed and forgiveness. The TaylorMade P790 irons combine the aesthetics and feel of a blade with forgiveness through a hollow body construction. For single-figure handicappers, the Cobra King RF Forged MB Copper irons offer exceptional feel, trajectory control, and a stylish copper finish.
For more affordable options under £300, the Ping G Series irons provide classic game improvement features and increased distance. The Titleist 714 AP2 irons offer forgiveness and usability in a compact design. Finally, the Mizuno JPX 900 Tour irons provide the pure and solid feel that Mizuno is known for, and they offer enhanced workability and trajectory control.
Overall, these sets of used golf irons offer a range of features and performance for golfers of all skill levels and budgets. It's important to consider your specific needs and preferences when choosing the right set for you.
---
This article was written in collaboration with Nearly New Golf Clubs
---
What do you think? leave your comments below (Comments)
---
Tags: irons Golf Irons Golf Clubs gear equipment clubs
---
comments powered by

Disqus