How Technology Has Dramatically Changed Golf
---
The game of golf has dramatically changed over the years as new inventions are introduced to bring more appeal to the sport.
Technology plays a vital role in golf and its impact is influential across all pillars of the industry. There is technology for professionals through the creation of launch monitors or other performance-enhancing kit.
A trip to the driving range is also drastically different to what it would have been 20 years ago.
Modern facilities feature technology which enables golfers to play interactive games or even experience a virtual loop of many revered layouts.
Ultimately, as technological breakthroughs occur and are then introduced to the sport of golf, the game becomes more enticing and accessible.
Technology For Professionals
To say that performance over the last 60 years has changed would be a fundamental understatement. For anyone who has been for a custom fitting, you'll understand just how many numbers are present when looking at data.
Whilst many amateurs will simply look past these figures and rely heavily on the fitter themselves, professional golfers absolutely love to number crunch.
If you ever attend a professional event, journey to the range and look at how many golfers will have their trusty TrackMan positioned behind them ready to collect instant feedback.
The invention of technology has enabled Long Drive competitors to really push the boundaries as well. Ball speed, height, carry distance, spin rate and swing speed all need to be in sync for these athletes, and TrackMan or similar technology enables them to crank it to the maximum.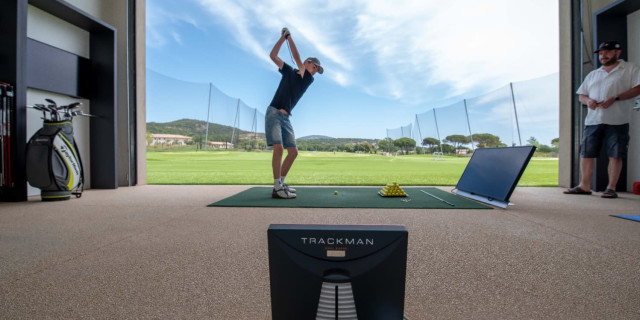 Technology For Golf Fans
Through the invention of Toptracer and ShotLink, fans of professional golf have never been more informed about the sport.
ShotLink truly was a revolutionary introduction, as it captures statistical data on every shot by every player in real-time.
Through this, we know the precise statistic for every element of a golfer's game - which means there's no hiding behind a certain strong point anymore.
The PGA Tour, Champions Tour and Korn Ferry Tour all utilise ShotLink, whilst Europe takes a slightly different approach via ShotTracker.
ShotTracker was created in partnership with IMG Arena and it effectively allows fans to follow their favourite golfer by providing a shot-by-shot update of their round(s).
All the data collected by the technology is then generated into statistics - which enables us to tell you who the most accurate driver is!
In 2022, the PGA Tour and TrackMan established a partnership where the latter will use its technology to provide tracking information for golf fans. This is created through a graphic and real-time information is then recorded from the golf shot.
The partnership is another interesting introduction that brings fans of the sport closer to the action on their screens.
Technology For Amateurs
We've intentionally avoided the technological advancements in golf clubs and balls as that is a lengthy topic that spans across decades.
Instead, we'll look at the impact of Toptracer installed into driving ranges, which completely revolutionised the practice experience.
Toptracer is now a renowned brand in golf, having delivered hours and hours of enjoyment across the entire globe for amateur golfers. For the better players, Toptracer is a tool that can seriously help you out on the golf course.
It enables you to know your carry distances - which means you can update your gapping charts - and provides other useful information such as ball speed, launch angle and curvature.
From a recreational perspective, driving ranges with tracking technology has brought newcomers into the sport.
The days of arriving at the range and recycling through 100 balls are firmly over; amateur golfers can play courses such as St Andrews, Bethpage Black, The Belfry, and many other impressive locations.
Practice sessions have never been more fun and we can thank the advancement of technology for that.
Reflections
Technology has played such a fundamental role in the sport of golf by offering access previously conceived as impossible.
Professionals rely heavily on their tracking equipment to ensure they are in perfect form as each week passes.
Golf fans are now closer to the action than ever before thanks to TrackMan and ShotLink providing plenty of niche information about your favourite players.
Recreational golfers can now gap their own yardages, play world-class venues through a virtual experience or enjoy interactive games amongst friends.
Us golfers have a lot to be thankful for through the invention of technology!
---
Related Content
What Needs to Be in Your Golf Bag This Season
5 Must Have Modern Day Golf Gadgets
5 Things We Now Use in Golf That We Didn't 40 Years Ago
---

Be part of the action with a selection of unique golf tournament experiences, from playing in a pro-am with the stars to watching the action at golf's most illustrious events. Whether it's the Masters or The Open, The Ryder Cup or WM Phoenix Open, build your own bespoke package with the experts at Golfbreaks.com.
---
What do you think? leave your comments below (Comments)
---
Tags: PGA Tour lpga LET GOLFERS Golf dp world tour daily picks
---
comments powered by

Disqus