5 Must Have Modern Day Golf Gadgets
---
Article by Will Trinkwon
---
The 21st century is undoubtedly a technological age. Everywhere you go, you spot people buried deep within their smart phones, joggers shuffling through music on their iPods, or keeping track of their fitness on multipurpose digital watches. Although it's often proverbially associated with the past and old age – assumptions which, depressingly, still linger despite the increasing athleticism and fashion-consciousness of many of today's younger and older stars – golf has long been a player in this technological revolution. To dispel the myths of golf's fustiness and to showcase the best of what 21st century golfing technology has to offer, here are five must have golf gadgets for the modern player.
---
5 Things We Now Use in Golf That We Didn't 40 Years Ago
---
1 – Putting Mirrors (£30)
Once one of the most overlooked areas of the game for practice, putting drills and training aids are now a hot commodity in both professional and amateur golf. In their quest to trim shots from their scores, golfers such as Ian Poulter, Rory McIlroy and many other players now make use of innovative 'putting mirrors'. The premise is simple – good putting relies on consistent postural ticks, such as keeping your head and eyes steadily over the ball and always setting up the same way. It makes sense therefore to have a mirror under your ball and club when you are putting, so you can keep track of your positions throughout your stroke and groove a more consistent motion. The mirrors are marked and lined to help you keep your putter face square and your shoulders and eyes similarly in line with your target. A must have for any player looking to improve their stroke. The PuttOut Putting Mirror is just one example.
2 – Laser Range Finders (£200)
When, as an ambitious young junior, I wanted to take my golf game to the next level, I asked one of my best mates the easiest way to do this. He replied with two words. Range. Finder. Especially if you're a decent player who hits the ball a fairly consistent distance, a range finder is an invaluable tool in your golfing armoury. Just point and click and it'll give the exact distance (usually accurate to within a couple of yards) to any feature (flag, mound, bunker etc.) you require. No more will you risk misclubbing due to a botched yardage, a change which, for me, resulted in at least a half a shot gained per round. What's more, the range finders of 2019 are also stylish brutes: the perfect accessory to hang flashily on the side of your bag.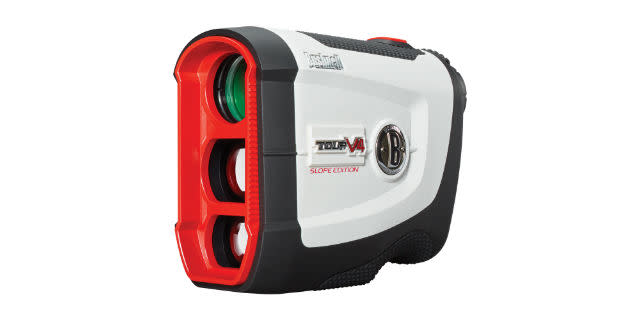 3 – Electric Trolleys (£400)
Once upon a time electric trolleys were associated with decrepitude – you used them when shouldering a golf bag became impossible. Nowadays, however, a good electric trolley is a staple of any serious young golfer's technological arsenal. Players of all ages are wising up to the potentially damaging effects carrying a heavy golf bag can have on the back and on posture and the electric trolley is associated with infirmity no more. Motocaddy and Powakaddy are the two main players in the ET market, and will set you back about £400. If you're a golfer who carries a lot of clubs and heavy gear, however, plays lots of unusually hilly courses, or just wants to look out for his spine, a good electric trolley is a prudent buy.
4 – Hack Motion Wrist Sensor (£650)
Another expensive item I'm afraid, but well worth the money if you can afford it. The Hack Motion Wrist Sensor does exactly what it says on the package – it measures changes in the angle of your wrist throughout your swing and feeds back the information to pretty much any electronic device you can think of (PCs, phones etc.) in real time. This may seem like quite a pernickety thing to be picking up on, but the fact is that wrist placement, especially at impact, is crucial for achieving, amongst other things, proper compression and consistent spin rates, which have a huge influence on ball flight and distance. The Hack Motion is also useful for chip shots, where the right amount of wrist cock is so important to getting consistent contact and stopping those pesky thin shots and embarrassing flubs. For a fuller explanation of how the Hack Motion works, watch below.
5 – Golf Simulators (£2,000+)
There was a time when Tiger Woods PGA Tour was the closest you could come to the world's best and most famous golf courses, without a) knowing a fifth generation billionaire, or b) paying an extortionate green fee. But no longer. Step forward golf simulators, which use state of the art technology and increasingly realistic graphics to simulate rounds on top courses and in which you can actually hit your own shots. Of course, for many golfers the prospect of owning one of these bad boys is likely to be prohibited by their price (which starts at a minimum of around £2,000), but if you've got the money to blow and are serious about improving both your golf game and your enjoyment of the sport, a golf simulator is a worthy investment. We reviewed the SkyTrak in 2016, just one example of a simulator/launch monitor.
---
What do you think? leave your comments below (Comments)
---
Tags: Trolleys Simulators Rangefinders gear
---
comments powered by

Disqus