5 Things We Now Use in Golf That We Didn't 40 Years Ago
---
Article by Will Trinkwon
---
The 1980s is generally associated with modish styles, garish colours and outrageously puffy hair. For us golfers, however, the 1980s is more likely to call into mind visions of a glossy-haired Jack Nicklaus sewing up major championships, or Seve Ballesteros making wizardish recovery shots from seemingly inextricable rough. It's the players we remember, not what they wore or what clubs they used. Yet although 80s golf didn't quite match up to the sartorial excesses of the 80s club scene, the equipment used by golfers was very different to how it is now. To give you a sense of how much golf has changed since the 1980s, here's a list of five things we use now which golfers didn't 40 years ago.
(Laser) Range Finders:
Remember the days when golfers judged distances by eye? When yardages were calculated by finding the nearest distance marker and pacing off the difference between that and your ball? While range finders did exist in the 1980s – Bushnell pioneered the first range finder for golf in 1955 – they were comparatively crude devices which enjoyed little of the popularity that they do today. Laser range finders were introduced in the 1990s and it's only been in the last 20 years or so that range finders (and their cousins, GPSs) have really taken off. These days it's rare to see a serious amateur player who doesn't rely on some kind of space-age measuring device and 99% of tour pros now use them to measure and check yardages during practice rounds (though the PGA and European Tours still ban them for competitions). They don't come cheap, but if you can afford to splash out and buy one, the confidence about distances that a good range finder provides is well worth the dent in your wallet.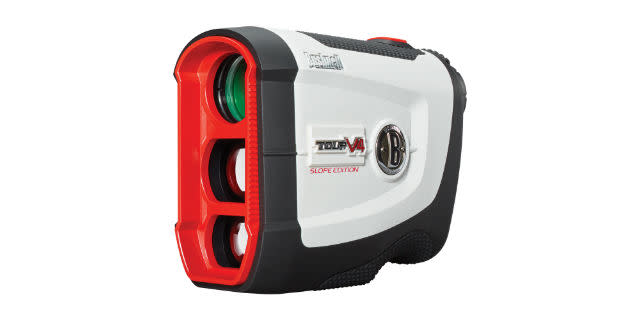 Putters:
Yes, they had putters in the 1980s. You didn't think the golfers of yesteryear were that antiquated, did you? That said, the putters that players like Jack Nicklaus and Tom Watson relied on were subtly different to the sticks wielded by many professionals and amateurs today. The famous Ping Anser putter head (which is still highly popular) was a fixture on the PGA Tour (in the 1980s, 26 out of the decade's 40 major champions used Ping putters), but the mallet putter head and other of the weird and wacky shapes that have become so prevalent in recent years were vastly outnumbered by traditional blades. Things began to change in 1989, however, when Nick Faldo won the Masters using TaylorMade's experimental TPA XVIII mallet putter, shaped like today's popular Odyssey #9. The first really widespread mallet putter, however, arrived on the scene in 1995. This pathbreaking club was the Odyssey Dual Force 2 Rossie (and the original model is still used by some professionals today, such as Brandt Snedeker, who's used it to lethal effect during his years on tour). In recent years, putter heads have grown even larger, with bulky and extra-terrestrial looking designs like TaylorMade's Spider range, becoming fixtures in both amateur players' bags and on tour.
Hybrids:
In the 1980s, when you needed to hit a long approach shot, you reached for a club called a 1 iron. The sleekest of irons with a face like a butter-knife, the 1 iron was the one club in the bag even God couldn't proverbially hit. Jack Nicklaus had its number, as did many other pros, but amateurs and even a good number of professionals were much more ambivalent about the club. Plainly, a solution needed to be devised, and in the late 1990s, this longed for long-iron substitute materialised: the hybrid. The Cobra Baffler had technically been created in 1975, but it wasn't until it was updated in 1998 that it and its hybrid design began to really gain traction. Other manufactures such as TaylorMade followed suit, but perhaps the most famous early hybrid club was the Sonartec MD hybrid which was used by the American professional golfer Todd Hamilton for what looked like almost every shot that he had en route to winning the 2004 Open. Compared to long irons, hybrid clubs' larger soles mean that they're much easier to hit out of the rough. And they're also incredibly versatile. Not only are they great for escaping the long grass, but they're also a reliable go-to club from the tee and can even be used for chipping, offering a more forgiving alternative to a bump and run with, for example, a 5 iron. It's no coincidence that many amateurs' bags these days resemble plant pots, so multiple are the headcover-adorned hybrids which dominate their bags - Top 5 Hybrids of 2019.
Clothing:
Although the 80's famously garish fashion sense didn't really migrate to the golf course, the average golfer of the period still dressed differently to how many of us would take to the links today. At the start of the 1980s, the turtleneck was in full bloom and the hound's-tooth pattern trousers which had been such a hallmark of the 1970s were still just about kicking. As the decade progressed, however, golf clothing became more traditional – a set of slacks and a tidy cotton shirt was the flavour of the day. Whilst this time-honoured look is still the basis for many a golfing outfit, however, these days, golf clothing tends to be more obviously 'sporty'. For especially younger players, and professionals, figure hugging shirts and tight trousers are now the norm, showing off the buff physiques that many serious players now work hard to develop in bids to improve their games. This push towards athleticism has also been complemented by an increased emphasis on multi-utility. Phil Mickelson's infamous 'dress shirt', which he's been sporting for the last few seasons, is a case in point, being as suitable for wearing in a business meeting as on the golf course. Indeed, in the amateur game many golf clubs have ditched dress codes altogether, as golf seeks to attract new players and shed stereotypes of stuffy plus fours.
The Arrival of Soft Spikes:
Softly, softly catchy monkey, or, at least, that's the logic today's golf shoe manufacturers seem to take in regard to their products. The difference between the metal spiked clogs which were prominent 40 years ago, and the softer, rubber-spiked trainers which now dominate today is subtle but significant. While lagging around metal spikes didn't stop the likes of Jack Nicklaus from playing some of the most magnificent golf of all time, we in the 21st century now have more comfortable and, arguably, stylish alternatives to pick from. The switch from metal to rubber occurred in the 1990s, due to fears that metal spikes were damaging greens. But the quest for greater comfort and sleeker styles was no doubt part of the motivation too. These days, golf shoes are as much fashion statements as they are equipment. Adidas's Samba Golf Shoe (2012) looked more like a sneaker than a traditional golfing clog and, in 2010, Freddy Couples caused a stir when he wore what were essentially spikeless skate shoes on his way to a strong finish in the Masters. Top 5 Golf Shoes of 2019. Since then, golf shoes have only become more casual, with many amateurs and professional's choosing to favour such sneaker-like designs. Viva la golfing trainer!
---
What do you think? leave your comments below (Comments)
---
Tags: shoes Rangefinders hybrids gear daily picks Apparel
---
comments powered by

Disqus