The 10 Most Accurate Drivers in Golf
---
There is no better feeling than seeing your drive head straight down the centre of the fairway.
The subsequent walk towards your ball is one full of joy and hope as you look to dial in your approach to reward your drive for a splendid, fairway splitting effort.
Whilst the focus of driving has certainly shifted to distance, finding fairways will always be the secret to unlocking lower scores.
Here are ten names that opt for accuracy over relentless - and often uncontrollable - power.
Satoshi Kodaira (PGA Tour)
Since the 2020/2021 season, Satoshi Kodaira has been positioned inside the PGA Tour's top 10 in Driving Accuracy. Ironically, he is yet to add to his maiden PGA Tour title, when he won the RBC Heritage back in 2018. The Japanese star finished 9th in Driving Accuracy in 2021, finding the fairway 69.64% of the time. Fast-forward 12 months and the seven-time Japan Golf Tour winner culminated his campaign in 2nd for Driving Accuracy with a percentage of 71.88. From his 704 tee shots, Kodaira only missed 198 fairways, which is truly remarkable. He's currently ranked 1st in that category for the 2023 season, which shows real signs of improvement across the last three years. Considering he is only 32, will his accuracy spur him to another PGA Tour title in the near future?
Abraham Ancer (LIV Golf)
There is SO much to like about Abraham Ancer's golf game. The Mexican has been a permanent fixture on the PGA Tour in recent years, but fans of his will have to settle for fewer sightings of the star as he commits to a 14-event LIV season. Ancer finished the 2022 campaign 4th in Driving Accuracy, but his PGA Tour stint came to a thumping close when he announced his decision to defect to LIV after the U.S Open. However, Ancer has not solely made this list through last season's performance with the big stick, as he was just as potent off the tee during the previous year in 2021 too. In fact, only one player played more holes than him within the top 10 of Driving Accuracy in 2021 - Corey Conners - which demonstrates just how precise Ancer is with his driver.
Jordan Smith (DP World Tour)
Jordan Smith's golfing journey began at the very bottom, having started on the PGA EuroPro Tour before progressing to the Challenge Tour in 2015. The Englishman added two more titles on the Challenge Tour before settling on Europe's premium tour in 2017. A win during his rookie season was then followed up with his second, winning the Portugal Masters in October 2022. Smith was the standout performer with the driver last season, finishing 1st in SG: Off the Tee. He finished 22nd in Driving Accuracy (61.50%), which is highly impressive considering his explosive distance. Although we are in the infancy of the 2023 season, Smith has surged up the rankings in Driving Accuracy and is currently 7th for the year (69.94%).
Maria Hernandez (LET)
Maria Hernandez has been a constant fixture on the Ladies European Tour across the last decade. The Spaniard enjoyed a glittering college career, winning 13 times whilst studying at Purdue University. She turned professional in 2009 and earned her LPGA card through qualifying the following year. Her rookie season would also be the best on record to date; Hernandez won the Ladies Slovak Open on the Ladies European Tour and she also finished T14 in the Women's British Open. Since first featuring in 2010, Hernandez has finished within the top 10 of Driving Accuracy on the Ladies European Tour on nine occasions (including this campaign). She's currently finding 94.64% of fairways for the 2023 season, which is simply unbelievable.
Megan Khang (LPGA)
Megan Khang's parents migrated to America from Vietnam in the 1970s and when the 25-year-old was born in 1997, her father taught her the game of golf. It looked destined for Khang to break into the professional ranks when she qualified for her first U.S. Women's Open at the age of 14! She had a glittering college career - winning multiple times - and culminated that spell by representing the United States in the Junior Solheim Cup. Khang has always been reliable with the driver, which is reflected truly in Driving Accuracy stats on the LPGA across the last few years. The American finished 7th in Driving Accuracy in 2021, locating 750 fairways out of a possible 919 (81.6%). Whilst she dropped down to 11th during the last full campaign (83.3%) her performances actually improved despite being ranked lower - which shows a general improvement from the entire tour. Khang is currently 2nd for Driving Accuracy this year; can her precision help capture her long-awaited maiden title in 2023?
Ryan Armour (PGA Tour)
Ryan Armour has enjoyed a lengthy spell as a professional, recording two wins in a career that has almost spanned two decades. The 47-year-old secured his maiden professional win on the then Web.com Tour, before adding further glory on the PGA Tour the following year in 2017. Prior to declaring professionalism and Armour lost to Tiger Woods in the 1993 U.S. Junior Amateur Golf Championship. The American golfer has always had control of his driver, which is reflected in the PGA Tour statistics. Armour finished 2nd for Driving Accuracy in 2020 (73.86%), 4th in 2021 (72.79%) and 1st in 2022 (73.95%). Despite remaining confident with the driver, Armour is yet to add to his one PGA Tour win and considering his age, time certainly isn't on his side if he is looking to bow out in style.
Lily May Humphreys (LET)
This will be a new name for a lot of golf fans, but a name that you should be very excited for! Lily May Humphreys enjoyed an overwhelmingly good amateur career; the 21-year-old won the Fairhaven Trophy, the Girls Amateur Championship and the English Women's Amateur Championship amongst many more notable titles. Humphreys turned professional in June 2021, which was postponed a year due to the COVID-19 pandemic bringing a halt to the LPGA and LET Q-schools. Since breaking onto the Ladies European Tour in 2021, Humphreys has performed peerlessly with her driver. The Englishwoman finished 3rd in Driving Accuracy last year (87.87%), and she is only trailing the tremendous Maria Hernandez in that category for the current season (91.82%). In March 2023, Humphreys secured her maiden Ladies European Tour title at the Joburg Ladies Open despite being six shots behind the overnight leader.
Lizette Salas (LPGA)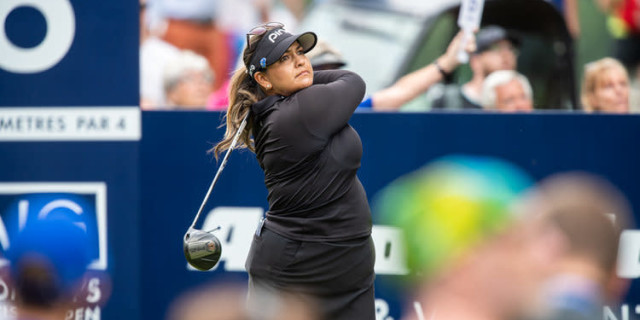 (Image Credit: Kevin Diss Photography)
Lizette Salas has been involved with golf for the entirety of her life. After finding a passion for the sport in high school, she went on to play college golf at the University of Southern California before breaking into the professional ranks. The American turned professional in 2011 and would only need to wait three years for her first professional win. The 33-year-old probably didn't expect to wait another eight years for her second title, but it eventually came in 2022 after a comprehensive five-stroke victory at the Dow Great Lakes Bay Invitational. Salas has always had confidence in her driving, frequently finishing in the top 10 on the LPGA for Driving Accuracy. In fact, Salas has finished inside the top 10 for that category every year since 2014, which is beyond impressive. She's finished runner-up on three occasions in major championships too!
Russell Henley (PGA Tour)
Russell Henley is someone who has actively been working on their performance off the tee - and it's clearly making a difference! Henley finished the 2021 season in 27th for Driving Accuracy (67.07%), but he has experienced improvement in each passing year. During the following campaign, the American jumped 13 places to 14th with an accuracy of 67.52%. If we fast-forward to the present, Henley is currently 2nd in Driving Accuracy on the PGA Tour (72%). The 33-year-old is a four-time PGA Tour winner, with his latest scoop coming in the World Wide Technology Championship at Mayakoba in 2022. He is yet to record a top 10 finish at a major championship, but he's come exceptionally close with results of T11, T12, T13 and T20.
Mikko Korhonen (DP World Tour)
Mikko Korhonen is another name who started from the very bottom. After progressing from the Nordic League Tour, he enjoyed five seasons on the Challenge Tour before advancing to the then European Tour. Despite turning professional in 2005, he had to wait 13 years for his inaugural victory - which came at the Shot Clock Masters. Thankfully, Korhonen would only have to wait 11 months for his second victory after he bested Benjamin Hebert in a playoff for the Volvo China Open. The Finnish star is another figure who has enjoyed progression with his driving precision. After finishing 19th in Driving Accuracy for 2021 (60.57%), he shot up the rankings the successive year, culminating his season in 2nd (68.79%). Although we're early into the season, the 42-year-old is currently inside the top 10 for Driving Accuracy and he'll be hoping his newfound precision will help land title no.3!
---
We may enjoy the rush of blood as we fly 280+ with our driver, but keeping the ball in play will always produce better results.
In contemporary times, driving has centred all around distance, but these ten stars would like to correct that theory!
Take a lesson from the names above and don't always opt for your most adventurous option off the tee.
---
Related Content
How Many Fairways You Need to Hit a Round
Who Is The Longest And Most Accurate On Tour?
---

Be part of the action with a selection of unique golf tournament experiences, from playing in a pro-am with the stars to watching the action at golf's most illustrious events. Whether it's the Masters or The Open, The Ryder Cup or WM Phoenix Open, build your own bespoke package with the experts at Golfbreaks.com.
---
What do you think? leave your comments below (Comments)
---
Tags: PGA Tour lpga LIV Golf LET FedEx Cup european tour dp world tour daily picks
---
comments powered by

Disqus